National Health and Fitness Day
June 16, 2014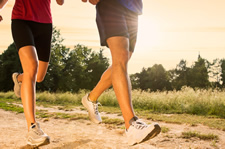 National Health and Fitness Day (NHFD) takes place on June 7, 2014 and is about involving local governments in increasing the physical activity of their communities in response to declining rates of physical activity and increasing rates of heart disease and obesity. The project was initiated by MP John Weston in the fall of 2012 to motivate and encourage Canadians into actively taking responsibility for the health of themselves and their families.
"The long-term goal is for Canada to be the healthiest, fittest nation in the world. – Nancy Greene Raine Senator and Former Olympian
There are many organizations involved in the initiative, the Heart and Stroke Foundation, the Canadian Medical Association, Sport Matters Group, Physical & Health Educators of Canada, and the Canadian Parks and Recreation Association. Many participants mark the day with local events to celebrate and promote the use of local recreational, sports and fitness facilities. If you wish to get involved in inspiring Canadians to participate in a healthy lifestyle, the Fitness Industry Council of Canada (FIC) is collecting information from clubs who support the initiative.
If your community or club is already involved in National Health and Fitness Day, feel free to share your particular event in the comments or tweet your photos @SIRCTweets – we would love to hear from you!
---
---
The information presented in SIRC blogs and SIRCuit articles is accurate and reliable as of the date of publication. Developments that occur after the date of publication may impact the current accuracy of the information presented in a previously published blog or article.