Athletes2Coaches: A mentorship program for athletes experiencing disability
August 24, 2022
Coaching athletes with a disability requires many of the same skills as coaching non-disabled athletes (for example, developing skill progression). However, coaching athletes with impairments often requires coaches to have disability-specific knowledge as well (Fairhurst, Bloom, & Harvey, 2017).
Coaches' understanding of disability is critical, not only to athlete skill development, but also to athletes' experiences of inclusion and connection. When athletes with disabilities perceive coaches to be unaccommodating or not knowledgeable about disability (for example, by not playing athletes with a disability), they may feel excluded.
Alternatively, research shows that athletes with disabilities form strong bonds with and relate well to coaches who also live with disabilities (Ferguson and Spencer, 2021). However, there are not enough coaches in sport who have a disability (LaVoi, 2016). Increasing the number of Para athletes who become coaches can provide much needed role models for athletes to see themselves in leadership roles.
This blog will illustrate how leadership development and mentorship programming for youth and young adults with disabilities can increase coaching capacity. Supporting athletes with disabilities in undertaking coaching development helps to fill a gap in inclusivity in the sport sector.
Athletes2Coaches mentorship program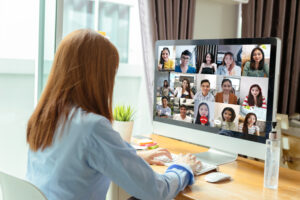 To address this gap, The Steadward Centre for Personal & Physical Achievement launched Athletes2Coaches (A2C). Athletes2Coaches used a virtual environment to provide youth and young athletes with disabilities structured learning opportunities and space for connecting with others with similar lived experiences. By establishing an athlete network across Alberta, athletes with a disability were able to build skills, share experiences and learn from one another.
In this first year of Athletes2Coaches (A2C), 13 participants took part from a variety of sport backgrounds including: para ice hockey (2), para swim (6), blind hockey (1), goalball (2), wheelchair basketball (1) and athletics (1). Participating athletes included 6 women and 7 men, the majority of whom resided in Edmonton, with others located in Calgary, Medicine Hat, and Red Deer.
Athletes met virtually once a week in the fall of 2021 while also contributing to an ongoing online community of practice. Session topics covered mentorship, leadership, and coaching content. The program also included a National Coaching Certification Program mentorship module, transformational coaching workshop and panel discussions led by Para coaches and Para athletes.
Athletes2Coaches experience
Participants joined the program to gain coaching experience and knowledge. We summarized athlete learnings, experiences and take-aways (garnered through focus groups and surveys) into three themes: connecting with others, becoming a coach, and role modeling and mentorship. We offer these themes alongside recommendations for other groups who may wish to offer mentorship programming for athletes with disabilities.
1. Connecting with others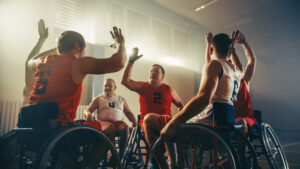 The theme of "connecting with others" refers to the social aspects, feeling of community, opportunities for networking and mutual learning experienced in A2C. Connection was described as a main outcome and benefit by participating athletes, as they valued the chance to relate to peers of similar experiences and learn from one another's sport and coaching experiences. One participant said:
"I found A2C to be a great way to connect with other aspiring coaches across Alberta. I think it was a really cool opportunity to meet other Para athletes from such a variety of sports in an online platform".
To help foster connection in mentorship programs for athletes with disabilities, we recommend focusing on building personal connections through icebreaker activities, open discussions and special events for participants to get to know each other. When possible host in-person activities such as workshops, social events, conferences or coaching practicum experiences to complement virtual engagement opportunities.
2. Becoming a coach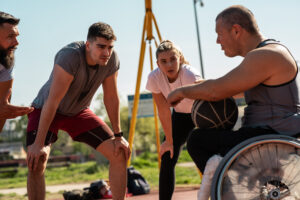 The theme "becoming a coach" refers to athletes' discussion of their roles as coaches, instructors and volunteers, and the impact of A2C. Building skills and capacity for coaching among athletes and early-career coaches was a main goal of the program. As such, participants had many reflections on their coaching trajectory and the relationship to A2C. Having access to Para specific training for coaches was especially valuable to participants. One participant said:
"I just never really trained properly to coach Para sport so I think [A2C] gave me the knowledge and just helped my confidence to be able to coach [at a] better capacity."
Another participant added:
"I really wanted to learn a little bit more about what goes on behind the scenes as far as how to coach Para especially because I feel like it's such a different world than coaching able-bodied [athletes]."
To empower athletes with disabilities to consider coaching as a potential vocation, we recommend choosing a level of coaching to focus on, such as performance coaching, and communicate that focus to potential participants. Feature sessions hosted by coaches and leaders who experience disability to share insights specific to being an athlete with disability who transitioned to coaching.
3. Role modeling and mentorship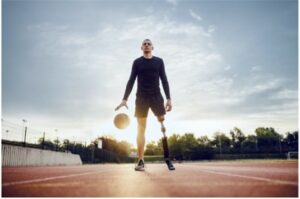 The theme of "role modeling and mentorship" refers to athletes' understandings of leadership among other athletes, within their community, and beyond the world of sport. This includes more holistic and informal mentions of leadership, as athletes expressed the impact of A2C not only on coaching roles but how leadership looks in other aspects of their lives. A participant said:
"I think the program has taught me that you don't have to be an actual head coach or something to be a leader or a mentor, [even as] an athlete that is playing with these kids on the same ice surface, I can always…be a leader and mentor to them…trying to continue that role is kind of where I see myself going."
At the beginning of A2C, many athletes defined leadership and mentorship in terms of formal roles, such as coaches, or as someone in charge. By the end of the program, their definition was more nuanced and it related to how the athletes see themselves as leaders in many different contexts, both in their sport and beyond. One participant described:
"Mentorship means relationship building in formal and informal ways. By looking at mentorship as little moments, it doesn't rely on a mentoring relationship with a really clearly defined mentee and mentor. Mentorship allows for both parties in the relationship to be the mentor in some moments, and the mentee in others."
To foster mentorship for athletes with disabilities, we recommend including hands-on component (for example, practicum or volunteer placement) with training and development, to give participants a chance to take on the role of mentor. Talk with participants to understand their goals and the type of mentorship opportunity that would best help them achieve their learning outcome.
Final thoughts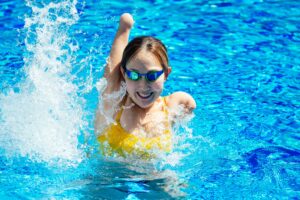 Supporting the leadership development of Para athletes is a key strategy to building capacity within Para sport. In order to see more coaches who bring lived disability experience, we need to start from the beginning and foster the leadership and mentorship skill development in young athletes. Athletes2Coaches was one approach doing so through The Steadward Centre. Please consider the recommendations identified throughout this blog post and how you can apply them within your own context. If you would like to learn more about Athletes2Coaches, please check out the full A2C Evaluation and Summary Report.
---
About the Author(s)
Jessica Ferguson is Sr. Sport Coordinator at BC Wheelchair Sports Association. Jessica has focused on supporting mentorship of Para sport coaches and students in the areas of strength and conditioning, para athletics, and para swimming, and works directly with athletes experiencing disability as a strength and conditioning coach. She has a strong interest in advancing quality athlete and coach experiences in Para sport in Canada.
 Carrie Millar is the Community Impact Coordinator at The Steadward Centre for Personal and Physical Achievement. Her role involves research, community outreach, and instruction in children's programming. Her background is in applied research as well as diverse experience in instructing children's physical activity- including dance, outdoor education, and adapted physical activity. Her research interests include children's experiences of play and the importance of outdoor and nature play in childhood.
 Jennifer Leo, Ph.D., is the Director of The Steadward Centre for Personal & Physical Achievement in the Faculty of Kinesiology, Sport, and Recreation at the University of Alberta. With over 15 years of research and community-based experience, Jennifer has focused on understanding experiences of access, inclusion, and participation in adapted physical activity settings. Collaboration and partnerships are critical to Jennifer as she is part of the Sport & Exercise Team in the Canadian Disability Participation Project, serves as a Co-Chair of Knowledge Mobilization with the Active Living Alliance for Canadians with a Disability, and is a member of the leadership team for the Inclusive Sport and Recreation Collective in Alberta.
References
Fairhurst, K. E., Bloom, G. A., & Harvey, W. J. (2017). The learning and mentoring experiences of Paralympic coaches. Disability and Health Journal, 10, 240-246.
Ferguson, Jessica J., & Spencer, Nancy L.I. (2021). "A really strong bond": Coaches in women athletes' experiences of inclusion in parasport. International Sport Coaching Journal, 8(3), 283-292.
LaVoi, N. M. (2016). A framework to understand experiences of women coaches around the globe. In N. M. LaVoi (Ed.), Women in Sports Coaching (pp. 13-34). Abingdon, Oxon: Routledge.
---
The information presented in SIRC blogs and SIRCuit articles is accurate and reliable as of the date of publication. Developments that occur after the date of publication may impact the current accuracy of the information presented in a previously published blog or article.