Long-Term Athlete Development: A Primer for Coaches, Athletes, and Parents
June 7, 2017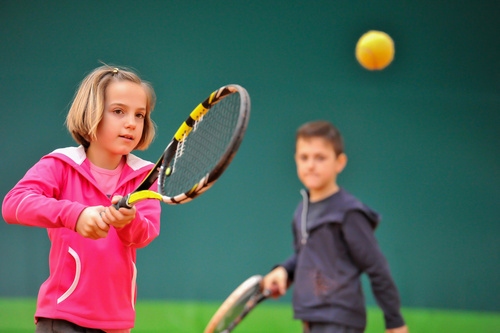 The Long-Term Athlete Development (LTAD) Framework was developed by Sport For Life to address several problems and gaps affecting low participation and excellence in Canadian sport, such as lack of fun, burn-out, poor skill development, and failure to reach optimal performance. Now applied by countries worldwide, LTAD provides guidelines for the "when" and "what" of skill development, aiming to increase the physical activity of all and to help those on the high-performance track attain sporting success.
Awareness and First Involvement
Awareness describes the understanding of the opportunities available, regardless of ability or background, to participate in sport and physical activity. First involvement is the first experience that individuals have with sport. It is essential that it be a positive one to encourage future engagement and participation.
Following an introduction to sport, coaches, parents and athletes should match skills and activities to the physical, emotional, cognitive, and mental characteristics of the appropriate stage of development. Although each stage has intended age ranges, each sport has different peak ages, and people develop and mature at their own rate. The ranges serve as a very general outline, mainly for context.
Active Start: 0-6 years
Physical activity needs to be fun and part of everyday life
Develop fundamental movement skills and build neural connections through active play
Games and activities should be non-competitive, fun, and comfortable
FUNdamentals: Males 6-9 years, Females 6-8 years
Emphasize the development of general physical capabilities, fundamental movement skills and the ABCS of athleticism: Agility, Balance, Coordination, Speed by engaging in multiple sports
Fundamental movement skills are the foundation for sporting success and long-term participation
Develop skills, confidence, and enjoyment of sport through fun, inclusive experiences in a variety of sport
Include some instruction in addition to structured and unstructured play
Focus on developing competence and confidence
180 minutes of activity per day, with at least 60 minutes of those as vigorous physical activity
Learn to Train: Males 9-12 years, Females 8-11
Opportunities are inclusive and skill-based and must remain fun
Participate and compete in multiple sports, positions, activities, and environments, with the focus on skill development and retention
Train strength using body weight exercises, medicine balls and Swiss balls, and uphill wheeling for athletes in wheelchairs
Train for speed
Avoid specialization in late specialization sports
Training and competition should follow a 70:30 ratio
Keep participating in unstructured free play
Coaches should provide a chance to compete for everyone, not just the best players
60 minutes or more of moderate-to-vigorous physical activity per day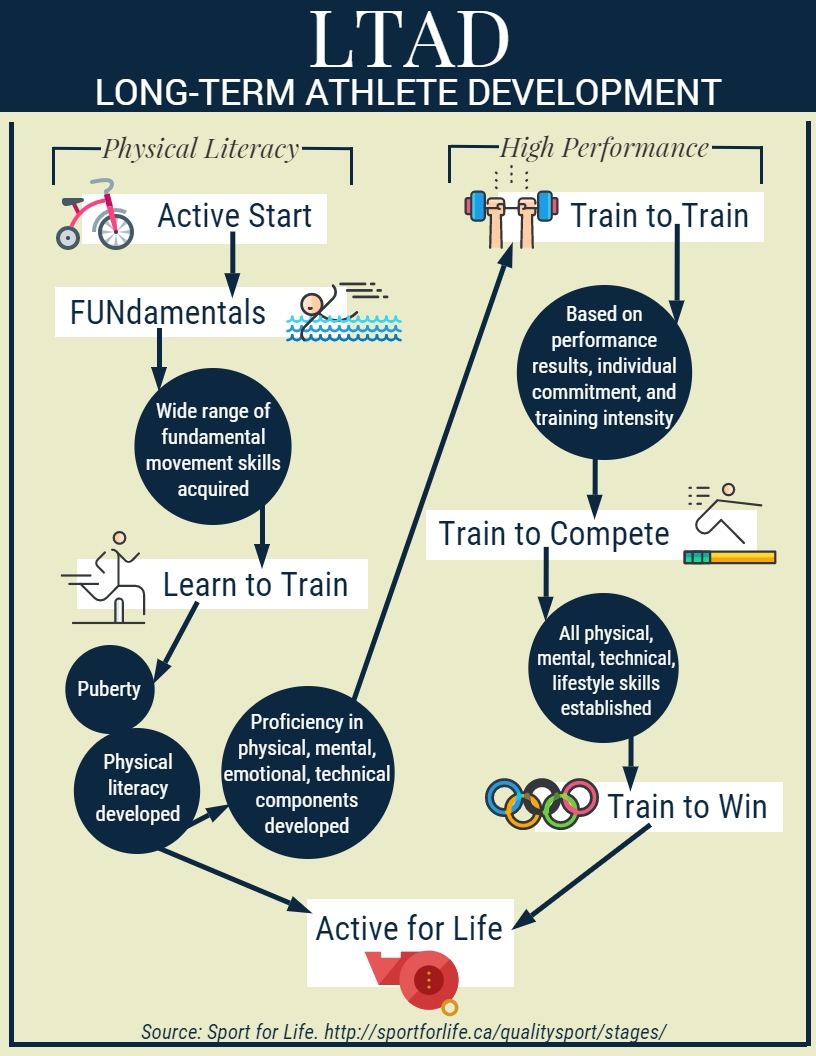 Train to Train: Males 12-16 years, Females 11-15 years
Major growth spurt begins
Develop commitment and capabilities as competition transitions from local to provincial
Train stamina and aerobic capacity after peak height velocity (PHV)/puberty
Maintain or improve flexibility as the musculoskeletal system grows
Begin training mental-preparation skills
Learn and understand the rules and values of sport and the consequences of effort and actions
Equipment needs to suit the size and ability of athletes, and introduce sport-specific equipment to athletes with a disability
Specialize in one sport near the end of this stage
Training and competition should follow a 60:40 ratio
Coaches should develop regular, periodized plans for training and competition
Train to Compete: Males 16-23(+/-) years, Females 15-21(+/-) years
Training is almost full-time, high-intensity, and event or position-specific
Competition is at a national level, transitioning to international
Specialize in one sport, though event specialization may not occur until the end of the stage
Develop mental fitness and schedule time for regular recovery
Train to Win: Males 19(+/-) year, Females 18(+/-) years
Athletes competing at world class levels with a focus on maximizing performance
Personalize training and competition plans to the individual and use multiple periodization to schedule peaks for major competitions
Schedule preventative breaks to minimize injury and avoid burnout
Active for Life: Males and females of any age
People who participate in physical activity and non-organized sport (Active for Life) and those who compete in organized sport like rec leagues and masters (Competitive for Life)
Continue involvement as a coach, official, instructor, or volunteer
150 minutes or more of moderate-vigorous physical activity per week
Each Canadian sport organization has LTAD guidelines available online for coaches and others and provide sport-specific recommendations and training examples and are highly worth looking at.
Sources:
Long-Term Athlete Development Information for Parents. Coaching Association of Canada.
Long-Term Athlete Development Stages. Sport for Life.
About the Author: Lily is a fourth-year student in the kinesiology program at Western University. With a background in synchronized swimming, she continues to be actively involved in the sport as a coach and varsity athlete.
---
---
The information presented in SIRC blogs and SIRCuit articles is accurate and reliable as of the date of publication. Developments that occur after the date of publication may impact the current accuracy of the information presented in a previously published blog or article.