Let the 2015 Winter Games Begin!
February 12, 2015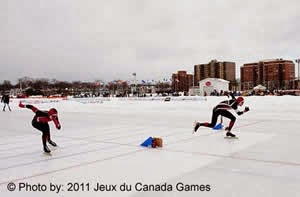 The Canada Winter Games, which run from February 13 to March 1, 2015, will be hosted in Prince George and Northern B.C. These multi-sport games are the largest games in Canada for young athletes and are held every 2 years, alternating between summer and winter.  Prince George will play host to 10 provinces and 3 territories; each carries hopes of winning the Canada Games Flag, which is awarded to the province or territory with the greatest number of points. Others will hope to win the Centennial Cup, awarded to the province or territory with the greatest improvement from one Winter Games to the next.
The Games promote traditional winter sports but are unique in that they feature some indoor sports as well:
Archery (indoor)
Artistic gymnastics and trampoline
Badminton
Squash
Synchronized swimming (females only)
Table tennis
Target shooting (air pistol and air rifle)
These Games also include athletes with disabilities who participate in events such as:
British Columbia will be hosting the Canada Games for the third time but it will be a first for the Winter Games. There will be over 2400 athletes ranging from ages 12 to 35 years taking part in 19 sports. The 18 days of the Games will showcase talented young athletes while promoting the local culture through art, music performances and literature.
The Canada Winter Games have an illustrious alumnus that includes Olympians and Paralympic athletes and champions such as Brian Mckeever, Catriona LeMay Doan, Brian Orser and Hayley Wickenheiser. When it comes to developing our future stars, these Games should be no different as they are an invaluable stepping-stone for talented athletes aspiring to represent Canada on the world stage.
---
---
The information presented in SIRC blogs and SIRCuit articles is accurate and reliable as of the date of publication. Developments that occur after the date of publication may impact the current accuracy of the information presented in a previously published blog or article.