In with the new! Making Lifestyle Behaviour Changes
October 7, 2015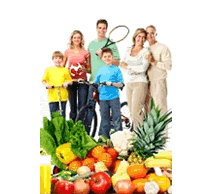 According to Conference Board of Canada research, Canada gets a "B" grade on the health report card, ranking 8th among 16 peer countries compared in their study. While that doesn't sound so bad in the grand scheme of things, we also hear from ParticipACTION's Report Card on Physical Activity for Children and Youth that Canada gets a D- for overall physical activity levels with only 9% of 5-17 year olds getting 60 minutes of activity each day. With physical activity and healthy eating making up a large portion of healthy lifestyle behaviours, this should be of great concern to all of us as our kids get older.
So how many times have you told yourself that today is the day that I will start eating better and exercising more? We all know that sometimes it is easier said than done. Knowing that we need to make behaviour changes for a healthier lifestyle is one thing, following through on them and then sticking to them is something else entirely. So how can we best help ourselves and our kids get moving on some of these behaviour changes?
Five tips to help make behaviour changes that stay with you:
Make a plan – Be specific and set goals. Double check to make sure that everything you've planned is realistic. Write your plan down and put it somewhere you can see it.
Start small – Break your goals down into small, manageable steps that you can measure. Being able to achieve small steps builds confidence.
Change one behavior at a time – Focus on one change at a time, too many changes can become overwhelming. Habits are something that are developed over time, so slow and steady wins this race.
Involve a buddy – Including someone in your plan provides you with motivation and accountability. Sharing trials and successes makes the change more manageable. Choose someone who is positive and supports your short and long-term goals.
Ask for support – Don't be to ask for help, it can help bolster you when times get tough. If you feel you can't do it on your own, there are professionals (nutritionists, fitness professionals, therapist, etc.) who can provide you with the information you may need to make health decisions.
Creating healthy habits can be a rewarding experience. And since making changes can take a lot of time and energy, it is worthwhile making sure the changes turn into lifelong habits. Investing in learning how to make changes and making sure those changes are healthy ones are key to a successful lifestyle makeover.
Additional Resources:
American Psychological Association. Making Lifestyle Changes that Last
American Psychological Association. Harnessing Willpower to Meet Your Goals
SIRC Blog. When does a routine become a habit?
Minding Our Bodies. Behaviour Change Toolkit
Shaw Academy. How to Change your Lifestyle Behaviours Once and For All
European Food Information Council. Motivating Behaviour Change
---
---
The information presented in SIRC blogs and SIRCuit articles is accurate and reliable as of the date of publication. Developments that occur after the date of publication may impact the current accuracy of the information presented in a previously published blog or article.