Exercise and Fitness Trends – Adding Something a Little Different to your Workouts
January 10, 2018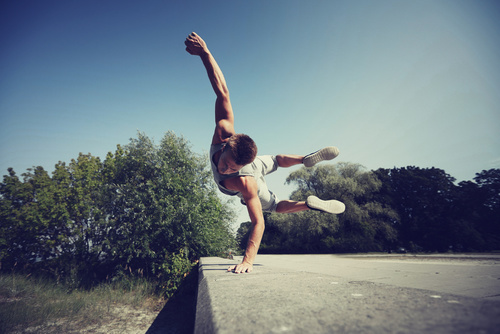 Sometimes a new year inspires us to shake things up a bit and try new things. And often, changing things up on the workout scene brings changes to your body and your fitness by forcing you to adapt to new movements and new cardiovascular challenges. If you are looking to add a little inspiration to your workout, why not try one of the following workout trends.
This training style is an urban workout the focuses on moving from point A to point B as quickly as possibly by navigating obstacles with a free flowing combination of movements such as running, swinging, jumping, flipping, vaulting, climbing, and/or rolling. It is a workout that challenges your mind and body to see pathways of movement for your body to work with obstacles as facilitators of movement rather than barriers. It incorporates all types of movement, aerobic, anaerobic, strength, flexibility and agility.
Afraid to unleash your inner ballerina … well don't be! Barre fitness classes incorporate postures of traditional ballet in combination with other disciplines like yoga, Pilates, dance and functional training. Equipment is used within the class like the barre to support movement and balance, but also small pieces like small hand weights and mini balls. Exercises focus on isometric strength training combined with small range of motion movements to work through the entire body.
Ninja warrior competitions have become vastly popular around the world over the past few years and have created a movement of training that encourages fun while challenging the body to its extreme. Ninja warrior training involves navigating an obstacle course that challenges all-around fitness. Obstacles alternately require feats of strength, agility, balance, and cardiovascular fitness. They engage the mind as the individual must determine the best way to navigate each challenge often against a clock. Many gyms have recreated the most famous obstacles and teach and train individuals of all ages in the art of ninja warrior.
If you really like to get moving to the beat, this new fitness trend using weighted drumsticks may be just the thing for you. Incorporating drumming movements into aerobic fitness routines encourages individuals in full body movements to get their heartrate up by pounding out rhythms to the beat of the music within fitness or even Pilates classes. Equipment for the classes have been evolving by adding weight and comfort designs to the drumsticks to up the challenge and the fun factor.
Looking for a new way to get your dance on? Try the next dance fitness trend, bokwa. In a group fitness setting, bokwa participants draw letters and number with their feet while engaging in an cardio fitness routine to music. Because the movements are based off of numbers and letters anyone of any age can join in. And because of the structure of the basic steps, participants can adjust the level of intensity and impact according to their needs by adding in their own freestyle moves.
These new fitness trends are upping the ante by proving that fitness doesn't have to be boring. By focusing on an element of fun, these different programs appeal to a broader audience who are looking to challenge themselves in creative new ways. Shake up your routine and try something a little different.
---
---
The information presented in SIRC blogs and SIRCuit articles is accurate and reliable as of the date of publication. Developments that occur after the date of publication may impact the current accuracy of the information presented in a previously published blog or article.