Esports and Cycling: A Match to Stand the Test of Time
December 8, 2020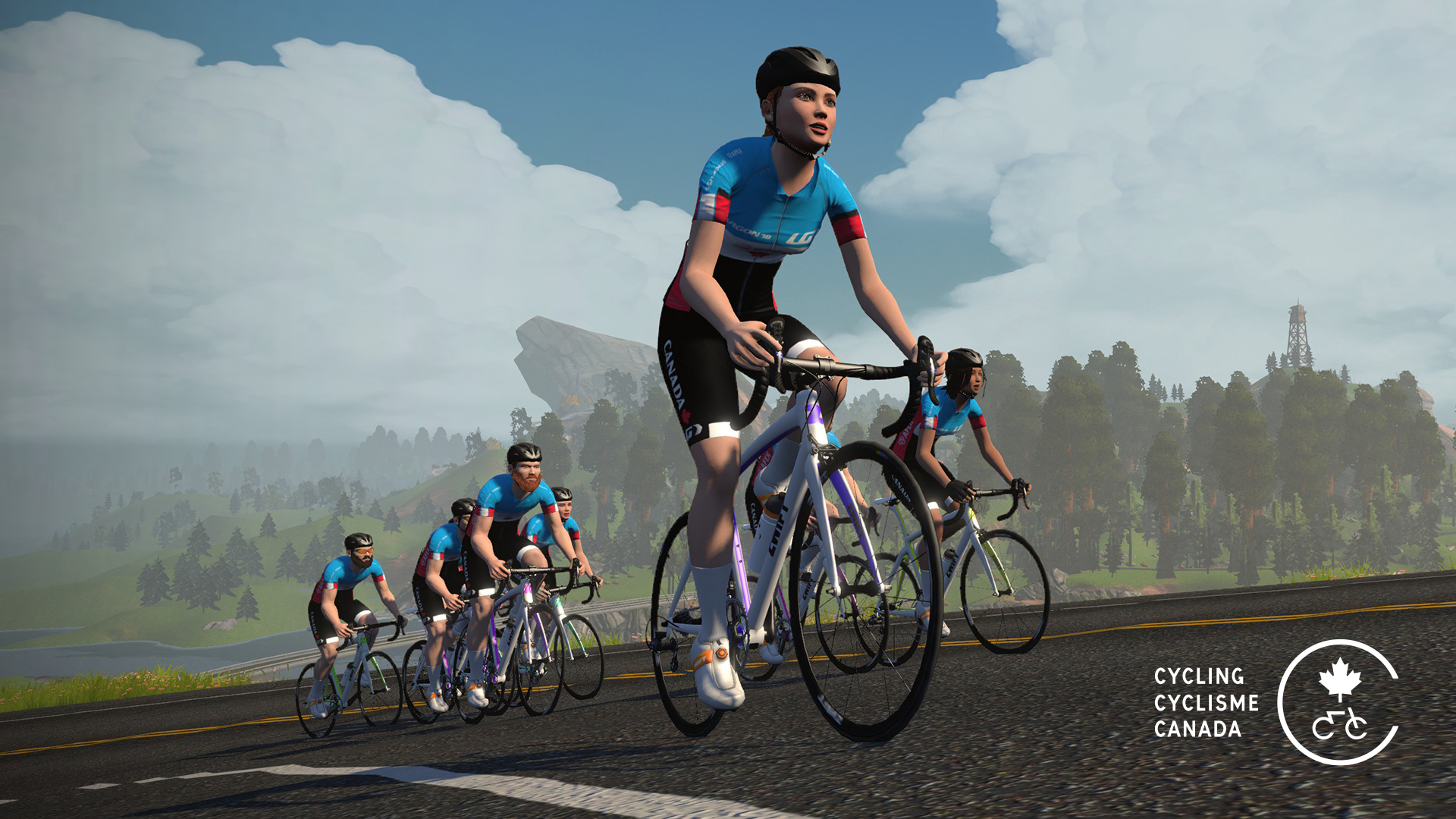 On December 9, 2020, the inaugural UCI Cycling Esports World Championships will be hosted on Zwift. For more information on following the Canadian team at this event, and Cycling Canada's multi-platform virtual cycling calendar for the 2020/2021 winter season (including all-level group rides and public races!) click here.
Esports have experienced a meteoric rise in the last few years. According to a recent Reuters article, worldwide esports industry revenues are expected to top $159 billion by the end of 2020 with projections to surpass $200 billion by 2023. It is projected that more than 2.7 billion gamers will have participated in esports by the end of 2020. Within those staggering numbers, virtual cycling has carved out a not insignificant piece of the pie. Pre-pandemic numbers for the Zwift platform alone showed 1.6 million active users with over 600 million virtual miles logged, boasting a recent valuation of north of $1 billion.
So what is virtual cycling and why has it developed such a following? Virtual cycling, while still falling under the wider esports banner, stands apart from most other esports in that you actually "play" by virtue of physical exertion. To actively participate in a virtual cycling event, be it a ride, race or workout, you must turn the pedals on your bike. Virtual platforms such as Zwift, RGT, Fulgaz and Peloton have "virtualized" the long-standing activity of stationary cycling by developing sophisticated products that connect consumers to workout plans, virtual worlds, and a global community – all from the comfort of home. The result is a user experience with exciting new challenges and opportunities to stay connected. Amidst a worldwide pandemic, virtual cycling has allowed us to ride and compete with thousands of fellow cyclists and travel to vast virtual worlds without fear of breaking physical distancing protocol or even leaving our living rooms. Although virtual cycling communities have existed for a number of years, this discipline of cycling is certainly still "new" relative to the sport itself and we're continuing to learn about its vast potential. Over the past year, I've had a chance to dive head-first into the virtual cycling world and familiarize myself with the various platforms and communities that have developed within them. This blog shares some of my learnings.
Virtual cycling is a true community builder
When I started riding and dabbling in racing, the biggest bummer every year was when the snow really started to come down and the temperature dropped to the point that riding outside was literally painful. Most of the time, that meant putting the bike away and saying so-long to my riding buddies until the spring. Since then, a lot has changed.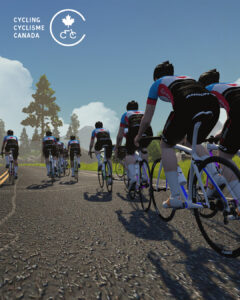 Alongside exciting industry developments such as the fatbike to better enable year-round riding outdoors, people also began "warming up" to the idea of riding indoors, sparked by advancements in smart trainers and virtual cycling platforms. Local races, clubs and meetups began popping up on platforms such as Zwift, and with the advent of apps like Discord you could actually heckle your friends in real-time voice chat. All of a sudden, you could plan group rides with your riding buddies despite the foot of fresh snow, or connect with other riders from around the world. Since my own foray into virtual cycling, I've developed friendships with riders from across the globe stemming from a virtual finish line sprint or ride-along, cemented by regular "ride ons" to keep the stoke level high. The community-building aspect of virtual cycling platforms is one of the most important benefits. Virtual platforms have allowed us to stay in touch and continue to challenge each other in a whole new connected world, easing the traditional pain of indoor stationary riding. With the right equipment, a stable internet connection, and a subscription to the platform(s) of choice, users can connect to a like-minded community built around a similar objective of improving health and fitness while maintaining some level of fun.
Esports can effectively complement "traditional sport"
Esports are often criticized as promoting a more sedentary lifestyle, encouraging laziness, and distracting people from the importance of physical activity. There can be merit to these arguments, but we need to look at the bigger picture. Many sport organizations are finding unique ways to integrate esports into their programming. One great example is Canada Basketball's recent Hoops at Home initiative which connected fans and esports consumers to star athletes such as Chris Boucher and Aaliyah Edwards to raise funds for their charity foundation. It is also not uncommon to see traditional sports leagues use esports as a way to keep the community connected during the offseason by virtue of in-house esports leagues, events and tournaments.
One pre-pandemic study showed that 4.4 million Canadians have followed esports in the past year, with 57% of Gen Z, 43% of millennials and 31% of Gen X taking in the action. Our younger demographic is actively consuming esports, and traditional sport administrators should be looking closely at ways to seize this opportunity for increased engagement and overall relevance. Esports initiatives such as those mentioned above have provided traditional sport organizations an expanded audience, offering new opportunities to promote their wider initiatives, perhaps even leading to increased participation "on the field."
With virtual cycling, If you've ever participated in an event and had to clean the resulting pool of sweat off the floor, you'll know the word sedentary has no business being associated. Not only does this new realm of cycling complement existing riders' training when it comes time to put the rubber side down outdoors, it has encouraged a new group of people to take up the sport. It is reasonable to assume that the same person who purchased a Peloton bike as a means of winter exercise or saving money on a gym membership may very well be interested in buying a traditional bike and riding outside when the temperatures rise.
An all-new equalizer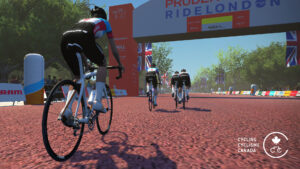 From a national cycling federation perspective, virtual cycling possesses great equalizing power. Over the years, North American athletes competing at the highest level of cycling have grown accustomed to making the annual pilgrimage to Europe to access the highest level of training and competition. With virtual cycling, Canadian cyclists can compete against the best, without the added costs and inconvenience of travel. The result is a more diverse playing field when it comes to top level virtual racing events such as the Virtual Tour de France and the inaugural UCI Cycling Esports World Championships. These events have provided a platform for the emergence of new virtual cycling specialists – often athletes not associated with traditional top-level teams, not stemming from traditionally strong "cycling nations," and sometimes not even stemming from a background in cycling itself.
From an event hosting perspective, virtual cycling has significantly reduced the capacity needed to host large-scale events – gone are requirements relating to local officiating capacity, road closures, financial support, and climate conditions. With the right equipment, some marketing know-how, and a sound knowledge of the platform/community of choice, an organizer from anywhere in the world can host a competitive virtual cycling event.
Final thoughts
At the heart of virtual cycling lies the essence of indoor cycling's humble beginnings – a means of building fitness from the comfort of home. As this exciting new discipline continues to develop, virtual cycling is quickly building an identity of its own that extends well beyond the circumstances that attracted many to indoor cycling in the first place. In a relatively short time, virtual cycling has progressed to the point of becoming a distinctly recognizable discipline of cycling, not unlike road, mountain bike or BMX. As we continue to weather the COVID-19 storm, virtual cycling has been an invaluable tool in keeping the cycling community connected, and in fact, growing our numbers.
To consider virtual cycling as a fad that will end when the pandemic restrictions are finally lifted would be incredibly short-sighted. Virtual cycling existed well before the pandemic and will continue to exist beyond it, albeit with a fresh boost of participants. We are seeing the industry develop specialized gear, federations nominate national teams, and average Joes and Janelles around the world take up cycling from the comfort of their homes. We are also being presented with brand new challenges such as technological doping – a term that wasn't anywhere near federation radars only a few years ago. Alas, with growth inevitably comes challenge, and I remain confident that the cycling world will rise to the occasion and embrace an exciting new way of participating in our favourite pastime. Perhaps the most exciting outcome is that virtual cycling has done incredible things to attract new people to the wider cycling community as a whole. The end result: more people on bikes – an outcome we can all get excited about.
---
This blog is a collaboration between SIRC and Cycling Canada. Check out Cycling Canada's Shifting Gears blog, featuring posts from athletes, coaches, the integrated support team, and staff on what drives them in the sport of cycling through triumphs and tribulations.
---
About the Author(s)
Josh Peacock is the Events & Partnerships Manager at Cycling Canada. A graduate from Laurentian University's School of Sports Administration, Josh has administered the sport of cycling from a regional/provincial level during his time at Alberta Bicycle Association, to the international pinnacle of the sport as a part of the local organizing committee that delivered the London 2012 Olympic cycling events. Outside of his work with Cycling Canada, Josh also works in Strategic Partnerships with Uniting Gamers, an organization established to build esports communities throughout Canada and beyond.
---
The information presented in SIRC blogs and SIRCuit articles is accurate and reliable as of the date of publication. Developments that occur after the date of publication may impact the current accuracy of the information presented in a previously published blog or article.