Creating welcoming, equitable spaces for new Canadians in sport
March 13, 2023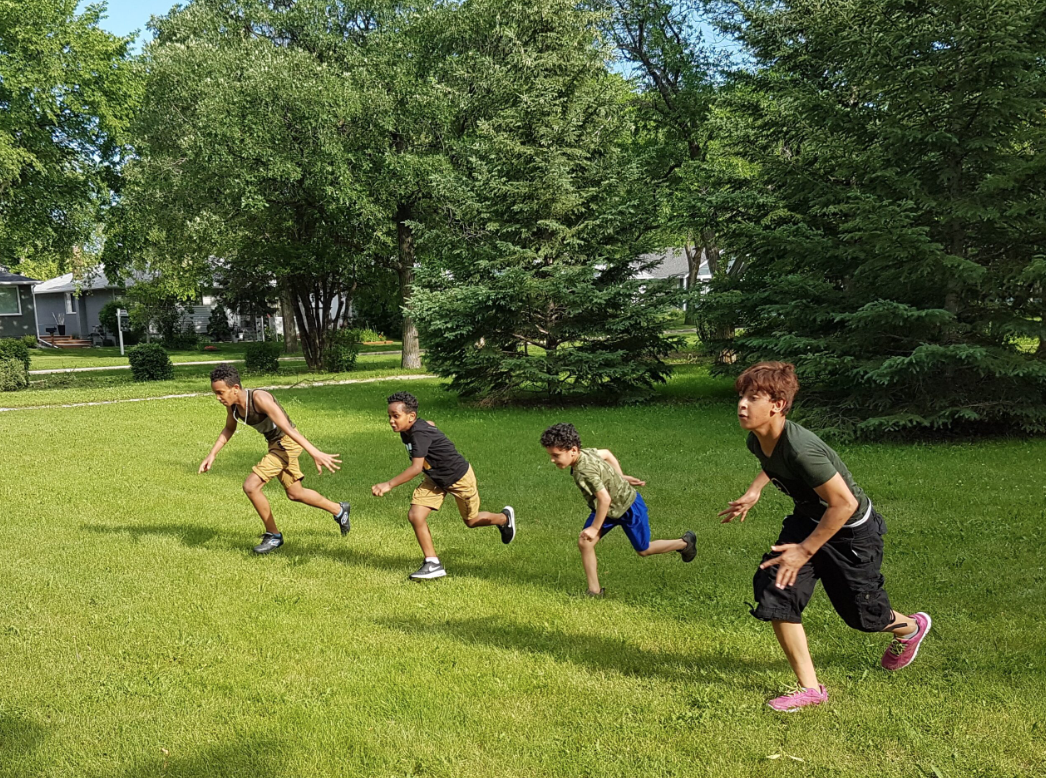 Highlights:
Sport can help to promote physical and mental health, build social connections and support integration into Canadian communities among newcomers to Canada
Research shows that newcomers face unique barriers to sport participation, including cost, transportation, language, access to information, racism and religious or cultural considerations
In this article, newcomers in participant, parent, and coaching roles in the Canadian sport system discuss the benefits, challenges, and opportunities of sport for newcomers
The Winnipeg Newcomer Sport Academy and the WinSport Welcomes Newcomers Initiative are featured as best practice examples of newcomer sport programs
Co-designing programs, collaborating with partners, innovating to reduce barriers, and fostering quality sport programs are ways to create welcoming, equitable spaces for newcomers in sport
Aisulu Abdykadyrova remembers standing at a bus stop in Edmonton, Alberta on a cold winter night, the wind chill making it feel like -30 degrees Celsius. Her daughter, who had just finished practice at the Edmonton Rhythmic Gymnastics Club, was so cold she started to cry. It would be another 2 buses and 2 hours before they arrived home.
Abdykadyrova came to Canada from Kyrgyzstan to complete her PhD at the University of Alberta. She arrived in Edmonton with her husband and 2 kids, then aged 8 and 10, in 2014. With Abdykadyrova enrolled in a full-time graduate program and her husband working in construction, the family often found it difficult to make ends meet.
"The training fees were around $600 per month… That's why I began to work while I was still in grad school," says Abdykadyrova, referring to the cost of her daughter's involvement in rhythmic gymnastics after she reached the national level. "It's been so difficult. Nobody gave us a discount," she adds.
Affording training fees and long trips on public transit are just a few of the many challenges that Abdykadyrova faced when trying to involve her children in organized sport. Sport can help to promote physical and mental health, build social connections and support integration into Canadian communities (for example, learning English or French) among newcomers to Canada. But research shows that newcomers, including recent immigrants and refugees, face unique barriers to sport participation. The cost of registration fees and equipment, transportation to and from sport facilities, access to information about sport programs, and experiences of racism and discrimination keep many newcomers out of sport, despite all it has to offer.
Why sport matters
Gololcha Boru knows these barriers all too well. Boru's family, originally from Ethiopia, came to Canada as refugees when he was a young child. They settled in Winnipeg, Manitoba, where Boru was introduced to sport through school. His early experiences in the sport system weren't entirely positive, so he didn't stick with it for long.
"A lot of it came from, you know, you don't have money to register, then sometimes coaches bring that up in a team setting, so everyone knows you don't have money to play," he explains. "And then there's also instances of microaggressions. If you talk up, you're seen as you lack discipline. A white player talks up, they're seen as having leadership skills."
Boru returned to sport in his early 20s when he began coaching the Immigrant and Refugee Community Organization of Manitoba's (IRCOM) youth soccer team. It was as a coach that he realized the positive impact that involvement in sport could have on newcomer youth.
"I think sport itself is a tool or a mechanism that can be used to improve one's life, not only to be physically active for life, but also… to learn important life lessons. So, you know, the importance of hard work, the importance of persistence, the importance of teamwork," he says.
He sees sport as an avenue to develop newcomer youth into leaders who give back to their communities, but only if the sport environment is intentionally designed to foster positive experiences and development. Such was the goal of his work with IRCOM: "We tried to create environments where young people would feel safe and have that sense of pride and empowerment to not only participate in sport, but also take active roles in coaching, officiating and so forth."
Now Boru works in the City of Winnipeg's Community Services Division, where he played a key role in writing and implementing the city's Newcomer Welcome and Inclusion Policy. He is also one of the leaders of Immigration Partnership Winnipeg's Anti-Racism in Sport campaign.
Advocating for newcomers in sport
Like Boru, Abdykadyrova has become a fierce champion for newcomer sport participation in her local community. It all started when she enrolled her daughter in rhythmic gymnastics, a popular sport in Kyrgyzstan, where her family is from. Abdykadyrova knew that the cost of the sport prevented other newcomer families from getting involved, and she wanted to change that.
"I said to our head coach, we can create a free program for newcomers, and everyone was telling [me] 'It's not possible,'" she says. "I said, 'It's possible.'"
Abdykadyrova held volunteer positions as the Vice President and then President of her daughter's rhythmic gymnastics club from 2015 to 2020. During this time, she fundraised and applied for grants until the club had enough to launch free summer camps and a recreational rhythmic gymnastics program for newcomer girls. Around 100 girls participate in the free programs each year. The club hired Abdykadyrova as its program director in 2020.
She's also a staunch supporter of her son's swim club, the Race-Pace Swim Club, an Edmonton-based organization serving the Ukrainian community, including newcomers to Canada. The club was denied Swim Alberta affiliation in 2019 because it's in an area that is already well serviced by existing clubs. This meant that members of the Race-Pace Swim Club couldn't compete in sanctioned competitions. While Swim Alberta offered to help transfer swimmers to existing clubs, these clubs did not offer the cultural community and reduced barriers that Race-Pace provides, says Abdykadyrova.
"What is the difference of this club from other clubs? It has a cultural component," she explains. "And our club and board members and the coaching staff [have created a program that] helps newcomers to integrate into Canadian society through the swimming program."
Abdykadyrova and other club supporters continued to advocate for the club. Race-Pace swimmers were able to compete in sanctioned competitions for the first time in December 2022.
Outside of roles with her children's sport clubs, Abdykadyrova works as a project coordinator at Action for Healthy Communities, a settlement organization that provides capacity-building services for newcomers, including in sport. She coordinates the PASS (Participating in Arts, Sports, and Society) Program, which offers youth after-school sport programs, "try-it" introductory sport events, sport-focused community information sessions, a forum to share best practices for inclusive sport programs, and research focused on the barriers to sport participation among racialized newcomer youth. She also sits on the Edmonton Sport Council's board of directors.
The Winnipeg Newcomer Sport Academy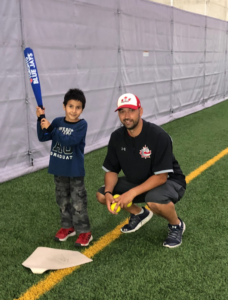 Back in Winnipeg, 16-year-old Ali Aljoumah has experienced firsthand the benefits of a sport program designed for and with newcomers. Aljoumah was born in Syria and moved to Canada in 2019. At the time, he didn't speak English. The language barrier made it challenging for him to participate in organized activities such as sport. That changed when he was introduced to the Winnipeg Newcomer Sport Academy (WNSA).
WNSA was founded in 2016 to provide newcomer children and youth in Winnipeg, Manitoba with affordable quality multi-sport programs. Not only does WNSA aim to be both affordable and accessible for newcomer families, but it also strives to provide quality multi-sport programming that is developmentally and culturally appropriate for newcomer children and youth.
"One of the benefits [of the WNSA] is being able to do all of these different sports, literally for free, like, transportation is there for all of the families, food is included, all of that. It's really fun being at the program playing all of these different sports, for nothing in return," says Aljoumah.
With an explicit focus on improving participants' growth and development both in sport and in their broader communities, WNSA seeks to promote fitness and sport skills, improve health and wellbeing, and provide opportunities for civic engagement and leadership. For example, WNSA provides older youth with opportunities for leadership development through coaching and officiating, including assistance to obtain credentials to help with future employment. When Aljoumah turned 13, he entered the leadership program and now works as a WNSA coach.
"I love coaching, you know, I love everything about it," he says. "I love helping the kids getting around, learning about new kids, where they're from, what they like, what they don't like. I also love helping especially the WNSA because I was once just like one of the kids there."
Through sport, WNSA introduces newcomer families to Canadian culture in a safe environment. It's motto, "resettlement, integration, inclusion," speaks to the vital role that sport can play in the settlement process. "You're in a whole new culture. You don't know what's happening around you," explains Aljoumah. But trying new sports (for example, learning to skate) helped him to feel more at home.
Considering all the success that the program has had in Winnipeg, there are 2 things that keep WNSA founder and volunteer Executive Director, Carolyn Trono, up at night: The quality of sport programming that newcomers get across the country, and how to make the Canadian sport system more welcoming.
Trono believes that designing welcoming, inclusive sport spaces for newcomers needs to "start from when they leave the house."  Everything from cost, language and transportation to the relationships that participants build with peers and leaders in the program need to be considered, she says.
Trono also emphasizes that pathways into and through sport might look different for newcomers. For example, trauma-informed and culture-specific programs may play an important role in introducing recent immigrants and refugees to sport in Canada, but there needs to be pathways to "bridge the gap" into mainstream programs, particularly for those who have the motivation and skill to pursue competitive sport. That means that those running mainstream sport programs need to be welcoming and willing to learn about other cultures, says Trono.
With funding from the Canadian Department of Heritage, Trono is a part of a team developing evidence-informed workshops that teach sport leaders and organizations how to create welcoming environments for newcomers in sport. 
WinSport Welcomes Newcomers Initiative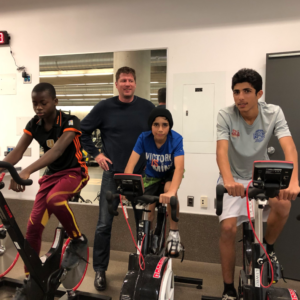 Another program that works to reduce barriers to sport participation for newcomers is the WinSport Welcomes Newcomers Initiative (WWNI). WinSport owns and operates Canada Olympic Park in Calgary, Aberta, one of the key legacy facilities from the 1988 Winter Olympics. It provides programs and facilities that help people of all ages discover, develop and excel at sport. The WWNI was co-founded by Simon Barrick, a then-doctoral student at the University of Calgary, in 2017. Barrick partnered with WinSport, the Centre for Newcomers, and the Calgary Immigrant Women's Association to design the WWNI, an introduction to sport program for new Canadians in Calgary, as part of his doctoral research.
"We designed this program, and my dissertation was really about exploring the lived experiences of the newcomers in these programs, and providing kind of a critical examination of how the program was set up, how it operates and some of the outcomes and some of the barriers that still persisted despite the efforts specifically focusing on introducing newcomers to sport," explains Barrick.
Barrick, who is now an Assistant Professor at Cape Breton University, is passionate about transforming Canadian sport, physical activity, and leisure to be welcoming to all Canadians, particularly marginalized and underrepresented communities. Through his work with WinSport, Barrick explored innovative ways to reduce barriers and foster inclusion for newcomers in sport.
For example, complex registration systems that require knowledge of the language, technology, and the registration platform, as well as access to the technology or the internet to use the system, can pose a significant barrier to program entry. As part of the WWNI, Barrick and his partners tried different ways to make registration easier, from having settlement services counsellors work directly with families to register them for programs to sending a guest services team from WinSport to the settlement service offices to walk participants through the process.
"I think the lesson there is looking at kind of a step-by-step process to make it a really positive experience [for newcomers]," he says.
Learnings around program registration extended to other challenges for participants. For instance, while WinSport waived the cost of equipment rentals and partnering organizations held a winter clothing drive to make clothing freely available, many participants required education about what type of clothing is appropriate (for winter sports in particular) or how to properly fit the equipment. So, the registration process evolved again. Newcomer families could go to the settlement services offices on targeted days and go from room to room to access each thing they would need, from program information and registration to clothing and equipment, including the education they need to use it.
According to Jennifer Konopaki, WinSport's Vice President of Sport, understanding the needs of newcomers and where they are at in the settlement process is critical:
"What [new Canadians] go through in the first month to the first 6 months to the next year to 5 years looks very different. And their requirements and needs along that process or journey are very different. And so, as a facility operator or programmer, you need to know where you're entering their journey. And then your services and the design of what you offer should be a reflection of where they're at in their journey to become a new Canadian."
More than 600 newcomers have participated in the WWNI since it was established in 2017, and the program has continued to evolve to meet the needs of newcomers in Calgary and surrounding areas during that time. For example, WinSport has hosted an annual Family Fun Day for newcomers, made possible through sponsorship from Capital Power, for the past 2 years.
"The families loved it. It removed some of the challenges with the longer commitment programs that we originally started with. Because the longer commitment programs, you have to participate, you have to show up, you have to be consistent, and that was a challenging, challenging element with some newcomer [families]," says Konopaki.
WinSport is currently engaged in a new research partnership with Matthew Kwan, an Associate Professor in the Department of Child and Youth Studies at Brock University. The project will explore physical literacy programming for newcomer youth.
Konopaki sees great value in engaging researchers to support program design and delivery: "It's been really great. Like, Simon [Barrick] was instrumental in helping us get started. And Matt [Kwan] has been instrumental in helping us become better operators and programmers."
Tips for creating welcoming, equitable spaces for newcomers in sport
Co-design programs with newcomers through an intersectional lens
When possible, sport programs for newcomers should be co-designed with newcomers and agencies or service organizations that advocate for them. This is an important step to ensure that relevant barriers are addressed, and that the program as a whole is meeting the target group's needs. It's also important for building trust between the organization offering the program and the newcomer community. 
"When you're involving anybody, any group that has historically been excluded, or at least doesn't have a presence in your sport space… I would say the biggest thing is you also need to directly involve [them]," says Barrick. "So, working with those entities, right from day one, to identify what individuals and the communities as a whole need, and start building that trust."
As a newcomer herself, Abdykadyrova emphasized the importance of understanding the situation that newcomers are in and being compassionate. This requires speaking to newcomers about their experiences: "You know how it is cold in Edmonton [in winter], minus 20 but it feels minus 30. And we stood in the bus stop waiting for the bus. And my daughter was crying because she was so cold. Nobody from the board or the local parents don't experience this, right?"
Boru adds that designing programs through an intersectional lens is important for understanding the overlapping influence of diverse identities and barriers on sport participation.
Collaborate and share resources and capacity with relevant partners
According to Konopaki, the success of the WWNI is due in large part to partnerships. "What's critical is the partnership between the facility operator and programmer, the agency who has the relationship and is currently servicing newcomers, and researchers. When those three groups of experts come together and co-design, it's beautiful," she says.
Barrick, the researcher who co-founded the WWNI, highlighted how meaningful collaborations with relevant partners can reduce the burden on any one organization through the sharing of resources and capacity (such as cost, expertise, and access to equipment or facilities). "When you're working with different organizations, there's a certain cost-sharing that comes about and especially in terms of in-kind support," he explains. "So, for example, when we were working with settlement service organizations, they would offer to do translation services, and different things like that."
Find innovative ways to reduce barriers to newcomer's participation
A key issue with inclusion in sport is whether its performative or structural, says Barrick. "A performative piece of inclusion that could be problematic is if a sport club or organization releases a statement saying, 'We welcome everybody, please come out.' … Yes, that's nice to hear. And it can, in some cases, get people in the door. But if the organization hasn't thought about innovative strategies to support those folks once they're in the space, then it's performative. And that is a problem."
To be truly inclusive, organizations need to address barriers to participation, including cost, equipment, transportation, access to information, and religious or cultural considerations, whenever possible. For example, Aljoumah underscored the need to get buy-in from parents when promoting a sport program for newcomer children and youth: "If the parents get out there and see what we're doing, I think it will be much better for the parents to know what we're doing [and] to appreciate what we're doing."
Think beyond the barriers to the quality of programming that you are offering
Trono, founder and volunteer Executive Director of WNSA, highlights the quality of sport programming as a key issue for newcomers. Reducing barriers is how you get participants in the door, but welcoming and inclusive spaces are needed to foster growth, development and life skills, she says.
Aljoumah, a former participant and current program leader at WNSA, emphasizes the importance of fostering positive relationships between program leaders and participants. He says its important that the relationships are about more than sport. "We talk not just about score, but we talk about, like, how their day is, how things are going, other feelings. So, it's about more than just them coming in. They're not just playing sports and leaving, but actually having good, good connections between the kids and the leaders."
One last piece of advice: "You don't have to make it too strict. They're there to have fun," he adds.
Recommended programs and resources
---
About the Author(s)
Veronica Allan, Ph.D., is the Manager, Research and Innovation at SIRC. In this role, she leads SIRC's research and evaluation initiatives. She also solicits, supports and curates content from researchers, experts and thought leaders to mobilize knowledge for Canada's sport and physical activity sector. Her experiences as a researcher, journalist and athlete have equipped her with a unique skillset and passion for data, storytelling and sports!
References
Abdykadyrova, A., & Smith, S. (2022). Barriers of racialized newcomer youth in sport participation [PowerPoint presentation]. Action for Healthy Communities.
Barrick, S. (2022). Immigration, integration and intersectoral partnerships: A critical examination of introductory winter sport programmes for newcomers in Canada [Unpublished doctoral dissertation]. University of Calgary.
Barrick, S., Bridel, W., & Bard Miller, J. (2021). Striving for newcomer inclusion: a critical analysis of Canadian Intro to Sport programmes. Leisure/Loisir, 45(1), 1-34. https://doi.org/10.1080/14927713.2021.1872406
Kramers, S., Sabourin, C., Martin, L., & Camiré, M. (2021). Designing quality sport environments to support newcomer youth and their families: the case of one program founder/leader. Case Studies in Sport and Exercise Psychology, 5, 42-51. https://doi.org/10.1123/cssep.2020-0009
Robinson, D. B., Robinson, I. M., Currie, V. & Hall, N. (2019). The Syrian-Canadian Sports Club: A community-based participatory action research project with/for Syrian Youth Refugees. Social Sciences, 8, 163. http://doi.org/10.3390/socsci8060163
---
The information presented in SIRC blogs and SIRCuit articles is accurate and reliable as of the date of publication. Developments that occur after the date of publication may impact the current accuracy of the information presented in a previously published blog or article.