Why early childhood educators are key to developing children's physical literacy
June 14, 2023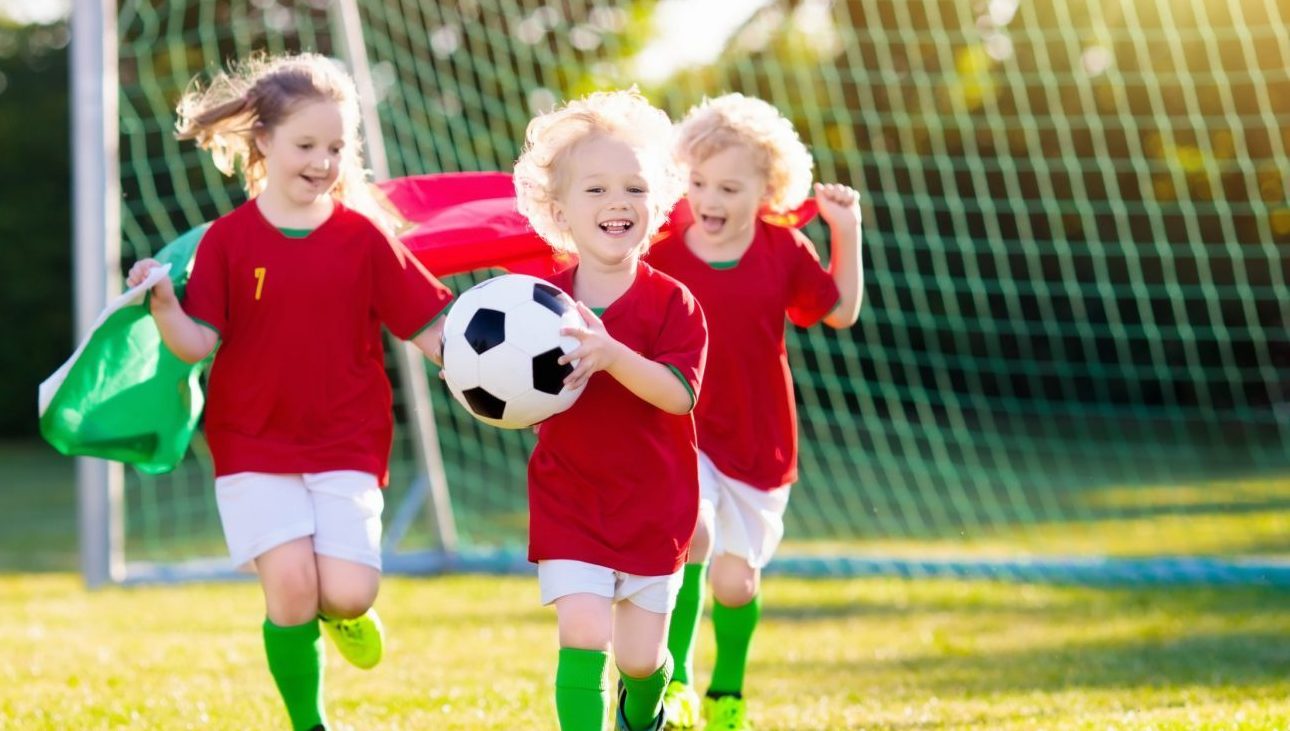 Early childhood is the foundational stage for developing physical literacy (motivation, confidence, physical competence, knowledge and understanding) needed to participate in sport and other physical activities throughout life (Whitehead, 2013). During early childhood, children are developing the foundational skills that can develop into sport and activity-specific skills (Barnett et coll., 2016; Robinson et coll., 2015). For example, with practice and feedback a basic overarm throw skill can develop into a javelin throw, baseball pitch or a forward pass in football.
Young children are very motivated to try new things, which makes it a perfect opportunity to engage them in learning these important movement skills (Robinson et coll., 2015). With increasing numbers of children attending childcare, this is a great location to start teaching children the foundational skills needed to participate in sports (Sinha, 2014; Friendly et coll., 2020). Sport participation can have a positive impact on children even when they are still preschoolers (Harlow, Wolman & Fraser-Thomas, 2020).
However, most early childhood educator trainee programs do not provide dedicated learning on physical activity, physical literacy, or other related concepts (Buckler & Bredin, 2021; Martinyuk & Tucker, 2014). Therefore, professional development programs are crucial in supporting educators in gaining the skills, confidence, knowledge and capacity to support children's development in these areas. Providing training to early childhood educators has been successful in supporting increased knowledge, confidence, and intention to support physical activity and physical literacy (Hassani et coll., 2020).
Our recent systematic review has demonstrated that interventions designed to teach early childhood educators how to support children's physical literacy and physical activity participation can be successful (Buckler et coll., 2023). However, there are a few key elements that are necessary to have a successful training program: ongoing support, theoretical basis, and program adherence.
1. Ongoing support
Professional development courses are often a 1 time "information dump" where educators attend a weekend or evening session, are provided training, and then the course ends. Our research suggests that training programs that offer ongoing support are more likely to be effective. This ongoing support could be in the form of a "booster session" or second shorter training session to refresh on the material, a community of practice where educators can share ideas and knowledge with each other, or a program champion or mentor who provides ongoing check ins, as well as opportunities for questions and support.
2. Theoretical Basis
Programs that had a theoretical foundation, for example the socioecological model of health or the social determinants of health, were more likely to be effective. This is probably because there are lots of theories or concepts around how to support children in participating in physical activity that have evidence to support the reasons and ways people can change their behaviours.
3. Program Adherence
Research suggests that having someone check in on educators, which could be through in-person visits or video recordings of educators teaching, will ensure a program is more likely to be successful.
Movement ideas for early childhood education:
Catching: Use scarves, beach balls, or foam balls to practice throwing and catching. The slower movement of the objects will encourage confidence and skill development in young children.
Dancing and music: Movement based songs like head, shoulders, knees and toes, will help children develop body awareness, and adding in actions to songs the children enjoy can help promote skills like balancing, turning, twisting, and swaying, which are important for developing more complex skills.
Follow the leader: When moving from one location to another an educator (or a child as they get older) can act as the leader, choosing the locomotor skills and changing it as you move along. Try jumping, hopping on one foot, skipping, backwards walking, or running.
Concluding thoughts
Providing training opportunities to early childhood educators in physical activity and physical literacy will have positive benefits on the children who regularly attend early childhood education and care programs. Efforts to make this training high quality include offering ongoing support, a theoretical basis for training, and opportunities to ensure educators are adhering to intents of the training contribute to more effective training opportunities. We still have lots to learn about the best ways to support early childhood educators in promoting physical literacy and physical activity within early childhood education, but we do know that training can be a huge benefit.
Ultimately, providing lots of opportunities to participate in physical activity, and lots of opportunities to develop confidence and movement skills is going to help support the physical activity and physical literacy of young children.
These formative experiences with movement create the building blocks for active, healthy, and engaged children, and will help support their future opportunities to participate in sport. If you are a parent or guardian, encourage your children's educators to participate in professional development in physical activity and physical literacy in order to help support your child's movement opportunities. Canadian sport organizations have played a part in creating resources for getting started in supporting sport skill development in beginner athletes. We all play a role in supporting child health and getting kids into the game!
Resources
If you are looking for in depth resources for early childhood educators or for parents to support children's physical literacy and physical activity development, check out: · Appetite to Play for comprehensive activities, games and information. · Coaching Association of Canada for courses on coaching at the community, competition, or instructional level · Sport for Life for resources and e-learning modules on physical literacy, long-term athlete development, and quality sport and physical literacy experiences
---
About the Author(s)
Jean Buckler, Ph.D., is an Assistant Professor at the University of Victoria's School of Exercise Science, Physical and Health Education. Her research examines the links between physical literacy and physical activity participation at key time points where activity behaviours are developing (in early childhood), and when life transitions can make activity participation harder (adolescence and older adulthood). She is also a mom, with two active children who attend childcare. Jean can be reached at ejean@uvic.ca or you can connect with her on Twitter @ejeanbee.
References
Barnett, L. M., Stodden, D., Cohen, K. E., Smith, J. J., Lubans, D. R., Lenoir, M., … & Morgan, P. J. (2016). Fundamental movement skills: An important focus. Journal of Teaching in Physical Education, 35(3), 219-225.
Buckler, E. J., & Bredin, S. S. (2021). Examining the knowledge base and level of confidence of early childhood educators in physical literacy and its application to practice. Early Years, 41(2-3), 202-217.
Buckler, E.J., Faulkner, G.E., Beauchamp, M., Rizzardo, B., DeSouza, L., & Puterman, E. (2023). A systematic review of educator-led physical literacy and activity interventions. American Journal of Preventive Medicine, 64(5), 742-760.
Friendly, M., Feltham, L.E., Mohamed, S., Nguyen, N. T., Vickerson, R., & Forer, B. (2020). Early childhood education and care in Canada 2019. Toronto: Childcare Resource and Research Unit.
Harlow, M., Wolman, L., & Fraser-Thomas, J. (2020). Should toddlers and preschoolers participate in organized sport? A scoping review of developmental outcomes associated with young children's sport participation. International Review of Sport and Exercise Psychology, 13(1), 40-64.
Hassani, K., Buckler, E. J., McConnell-Nzunga, J., Fakih, S., Scarr, J., Mâsse, L. C., & Naylor, P. J. (2020). Implementing appetite to play at scale in British Columbia: evaluation of a capacity-building intervention to promote physical activity in the early years. International Journal of Environmental Research and Public Health, 17(4), 1132.
Martyniuk, O. J., & Tucker, P. (2014). An exploration of early childhood education students' knowledge and preparation to facilitate physical activity for preschoolers: a cross-sectional study. BMC Public Health, 14(1), 1-10.
Sinha, M. (2014 October 30). Spotlight on Canadians: Results from the General Social Survey–Child Care in Canada. Ottawa, ON, Canada. http://www.statcan.gc.ca/pub/89-652-x/89-652-x2014005-eng.pdf (13 February 2023, date last accessed).
Robinson, L. E., Stodden, D. F., Barnett, L. M., Lopes, V. P., Logan, S. W., Rodrigues, L. P., & D'Hondt, E. (2015). Motor competence and its effect on positive developmental trajectories of health. Sports Medicine, 45, 1273-1284.
Whitehead, M. (2013). Definition of physical literacy and clarification of related issues. ICSSPE Bulletin, 65(1.2).
---
The information presented in SIRC blogs and SIRCuit articles is accurate and reliable as of the date of publication. Developments that occur after the date of publication may impact the current accuracy of the information presented in a previously published blog or article.