CANADIAN PARALYMPIC COACH PERCEPTION OF TEAM COHESION
December 9, 2015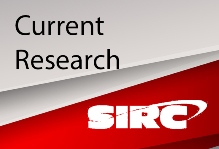 SIRC is pleased to be working together with Sport Canada to share current research on topics informing policy and promoting quality sport programming. This week we are sharing highlights of a recent article examining CANADIAN PARALYMPIC COACH PERCEPTION OF TEAM COHESION.
Coaches' Perceptions of Team Cohesion in Paralympic Sport.
Falcão, W.R., Bloom, G.A., & Loughead, T.M. (2015). Adapted Physical Activity Quarterly, 32(3), 206-222.
Full text of this article can be access here:
http://sportpsych.mcgill.ca/pdf/publications/APAQ_Falcao_et_al_2015.pdf
SIRC Highlights from the research
Research suggests that coach education programs in the area of developing team cohesion create a positive team environment that is linked to team satisfaction and success. This study used thematic analysis of semi-structured interviews of seven head coaches of summer and winter Canadian Paralympic athletes, representing both individual and team sports, to examine coaches' perceptions of cohesion in Paralympic sport and the strategies used to foster cohesion with their teams.
Coach observations:
All coaches felt that Paralympic athletes should be coached at the same high-level athletic approach as Olympic athletes, fostering athlete autonomy and success.
While agreeing that there were few differences coaching Paralympic athletes and elite athlete without a disability, coaches did acknowledge the importance of adapting their practices to meet the specific needs of their athletes.
Team makeup:

It is important to develop core team values that represent the group as a whole and to share in a common vision.
All coaches described the need to set individual goals as well as team-based goals. This may be constructed through the use of a psychologist or developed individually between coach and athlete. While individual goals were obviously more important to athletes participating in individual sports within a team setting, it was also seen as important for the individual athletes participating in a team sport.
For team sport athletes, having team members spread across different parts of country made team-based goal-setting challenging when the team only gathered as a whole for training camps or competitions. Use of technology (phone, Skype, iMessenger, Black Berry Messenger, etc.) becomes a staple tool in building and enhancing cohesion. Coaches felt that frequent communication was necessary for building the team dynamics and maintaining personal interactions.
Personal Coach Interactions:

Communication is seen as the most important element within this theme and was identified through interactions with individual athletes, with teams as a unit, and with support staff.
Types of communication included talks about sport-related matters, personal sport goals and commitment. Some coaches felt it was important to check in with their athletes on a personal level to foster team building.
Communication with support staff (equipment technicians, support personnel, physiotherapists, sport psychology consultants, etc.) was deemed to be a key component, stressing the high level of importance and value coaches see in these individuals and their vital role in building cohesion.
Cohesion:

Coaches defined cohesion as "a group with similar goals, good personal relationships, and good communication, which has a direct impact on team performance".
Individual-sport coaches also felt that cohesion was important for maintaining a positive training and competition environment.
In a Paralympic setting, coaches mention that some athletes may have to rely on their teammates for support, both emotionally and to complete daily tasks, which has a significant effect on cohesion and team chemistry, but also contributes to athlete quality of life.
Again, with the geographic spread of national team members, creating opportunities to build team cohesion is important and often is built into smaller training camps or events and is focused around social interaction.
Coaches feel that that they are part of the shared responsibility of building cohesion amongst the athletes, but also rely on members of the team to take ownership as well.
Coaches indicate that building cohesion can be harder in a Paralympic setting than an able-bodied setting due to accessibility issues. For many Paralympians, social outings cannot be spur of the moment but must be planned in advance to in order to accommodate all athlete needs.
The current research highlights that similarities and differences between coaching in the Paralympic context and coaching athletes without disabilities. Cohesion themes around goal-setting and the importance of communication reflect many similarities, however interpersonal activities present more challenges in the Paralympic context, with coaches often relying on team leaders to facilitate these opportunities and highlighting the unique characteristics of these interactions in building cohesion.
---
---
The information presented in SIRC blogs and SIRCuit articles is accurate and reliable as of the date of publication. Developments that occur after the date of publication may impact the current accuracy of the information presented in a previously published blog or article.