Active transportation: the use of human power
January 13, 2015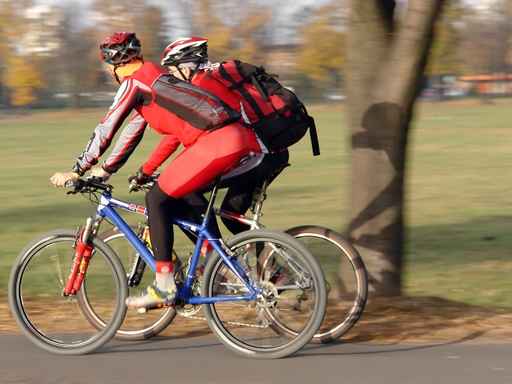 Active transportation (AT), can be a great way to get to and from work, school, grocery shopping or simply as a means of visiting friends in your community. It can also be a way of staying active while getting the recommended level of daily physical activity. For those who have busy schedules and feel they lack the time to follow an exercise routine, using AT as a means of commuting can address this obstacle.
Active transportation is any mode of transportation using human power. Rather than using motorized vehicles, it advocates biking, walking, skateboarding, jogging, skiing or using a non-motorized wheelchair to get to and from your desired destination. The most popular forms are biking and walking – sometimes these can also be combined with public transit.
According to the 2011 Statistics Canada National Household Survey, Canadian commuters who walked or biked spent the least amount of time traveling to work with an average of 12.7 minutes and 20.0 minutes respectively. The average Canadian vehicle commuter spent about 23.7 minutes getting to work.
Benefits of active transportation:
Health: Promotes public health by decreasing the risks of obesity, increasing physical activity levels and minimizing chronic health conditions such as type 2 diabetes and heart disease.
Environment: It is the most environmentally friendly form of commuting available. Using human power, especially on short trips, can significantly reduce air pollution.
Economic: It is cheaper to maintain than any other form of transportation infrastructure.
Community: The infrastructure promotes walking and cycling, creating an environment that is accessible to all members without discriminating on income or disability.
In a study prepared by the British Columbia Recreation and Parks Association, research revealed that in neighborhoods where walking was more accessible, adults drove less for home-based trips such as shopping and recreation. The study also showed that public transit use was highest in neighborhoods where walking was more common.
Active transportation is a phenomenon that can address the trends of physical inactivity facing our population. It also provides the opportunity for individuals to attain their recommended daily physical activity while commuting to their desired destinations.
References from the SIRC Collection:
1. Buliung R, Faulkner G, Beesley T, Kennedy J. School Travel Planning: Mobilizing School and Community Resources to Encourage Active School Transportation. Journal Of School Health. November 2011;81(11):704-712.
2. Loitz C, Spencer-Cavaliere N. Exploring the Barriers and Facilitators to Children's Active Transportation to and From School From the Perspectives of Practitioners. Journal Of Physical Activity & Health. November 2013;10(8):1128-1135.
3. Ransdell L, Mason S, Wuerzer T, Leung K. Predictors of Cycling in College Students. Journal Of American College Health. July 2013;61(5):274-284.
4. Ryan S, Sidelinger D, Saitowitz S, Browner D, Vance S, McDermid L. Designing and Implementing a Regional Active Transportation Monitoring Program Through a County-MPO-University Collaboration. American Journal Of Health Promotion. January 2, 2014;28:S104-S111.
5. Steckly R, McEwan L. Active Transportation for the School Journey. Wellspring. October 2014;25(6):1-4.
6. Van Dyck D, De Meester F, Cardon G, Deforche B, De Bourdeaudhuij I. Physical Environmental Attributes and Active Transportation in Belgium: What About Adults and Adolescents Living in the Same Neighborhoods?. American Journal Of Health Promotion. May 2013;27(5):330-338.
---
---
The information presented in SIRC blogs and SIRCuit articles is accurate and reliable as of the date of publication. Developments that occur after the date of publication may impact the current accuracy of the information presented in a previously published blog or article.