Why Should You Make Your Fruit and Vegetable Selection Colourful?
December 14, 2016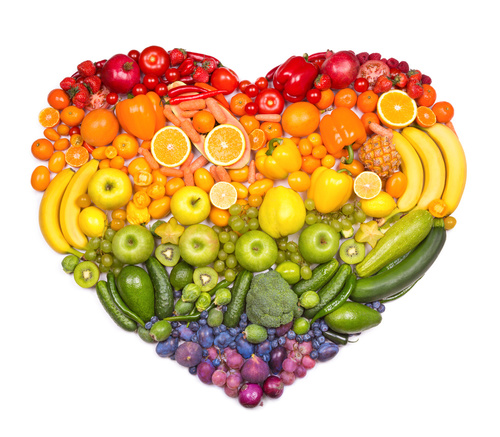 Many people often say that you eat first with your eyes. Selecting a menu full of colour not only makes your meal more appealing to the visual senses, it will benefit your health too. Different colours of foods generally mean that it contains different vitamins and minerals. When you think about it, no one single food can contain all the nutrients that an individual needs, so eating different coloured foods will provide access to all the varieties that we need to promote health and fight disease. The phytochemicals which only occur in plants provide colour to fruits and vegetables and contain disease preventing properties. Science is still learning all about the interactions between the vitamins, nutrients and phytochemicals and the resulting health benefits of these interactions, but what we do know so far reinforces the importance of the need for this food group in our diet.
What's in a Colour?
Red
Adults should try to eat 5½-6 cups of red and/or orange fruits and vegetables per week. This group derive their colour through natural plant pigments called lycopene or anthocyanins. Lycopene is the predominant pigment and may help reduce risk of several types of cancer, especially prostate cancer. Anthocyanins act as powerful antioxidants that protect cells from damage. They are also linked to keeping hearts healthy. Many red fruits and vegetables contain vitamin C, fibre, quercetin and folate and are also sources of flavonoids, which reduce inflammation and have antioxidant properties
Examples: apples, beets, blood oranges, pink/red grapefruit, red onions, papaya, cherries, cranberries, red peppers, pomegranates, red potatoes, raspberries, strawberries, tomatoes, watermelon.
Orange/Yellow
This group of vegetables find their colour through carotenoids. Beta-carotene is found in this colour group and is converted to Vitamin A which helps to keep your eyes, skin, bones and immune system healthy. Citrus fruits like oranges may not be a good source of vitamin A, but they are an excellent source of Vitamin C and folate, a B vitamin that helps reduce risk of birth defects.
Examples: butternut squash, carrots, sweet potatoes, corn, yellow potatoes, yellow apples, cantaloupes, oranges & lemons, pumpkins, orange & yellow peppers, nectarines, peaches, pineapples, apricots, grapefruit.
Green
It is recommended that most adults should try and eat 1½-2 cups of dark green vegetables per week, but are worth adding to your daily diet. Green vegetables are excellent sources of vitamin K, folic acid, potassium, as well as carotenoids and omega-3 fatty acids. The range of phytochemicals in this group (carotenoids, indoles and saponins) has anti-cancer properties, while leafy greens are excellent sources of folate. The nutrients in this green group contribute to lowering blood pressure and LDL cholesterol levels, normalizing digestion time, supporting retinal health and vision, fighting harmful free-radicals, and boosting immune system activity.
Examples: artichokes, asparagus, avocados, broccoli, Brussel sprouts, celery, cucumbers, endives, green apples, green beans, green grapes, green peppers, honeydew melon, kiwi, lettuce, limes, peas, spinach, watercress, zucchini, cabbage, kale.
Blue/Purple
These fruits and vegetables derive their colour from natural plant pigments called anthocyanins which are powerful antioxidants that help protect cells from damage and may help reduce risk of cancer, stroke and heart disease.
Examples: eggplant, blueberries, purple cabbage, purple potatoes & carrots, blackberries, plums, purple grapes, pomegranates, black currants, raisins.
White
While the white/brown group appear not to have colour, they do contain pigments and contain a range of health promoting phytochemicals such as allicin. Allicin is a sulfur containing compound that protects against atherosclerosis and heart disease, lowers cholesterol and increases HDL. It is also known for its antiviral and antibacterial properties and has been related to reduced risk of colon, breast, and prostate cancer. Some of the vegetables in this group are also great sources of Vitamin C, Vitamin K, folate and fibre.
Examples: bananas, cauliflower, parsnips, garlic, ginger, potatoes, onions, turnip/rutabaga, mushrooms, dates, kohlrabi.
With all the colourful options available to us, it isn't hard to make sure that you include a variety of colours in your diet. Colour can spruce up of the look of any dish and make it more fun to eat by trying out different coloured versions of many favorite vegetables and fruit. So make sure you select a rainbow of colour when choosing your food and reap the rewards of the multiple health benefits you will be including in your diet.
References
Disabled World. Color Wheel of Fruits and Vegetables.
Everyday Health. Pick From a Rainbow of Beautiful Fruits and Veggies.
Garden-Robinson J. (2016). What Color is Your Food? (FN595 (Revised). North Dakota State University Publications.
Nutrition Australia ACT Division. (2013). Eat a Rainbow.
Schaeffer J. (2008). Color Me Healthy — Eating for a Rainbow of Benefits. Today's Dietitian, 10(11); 34.
Wright B, (2011). The 3 colors you should be eating more of. Eating Well.
---
---
The information presented in SIRC blogs and SIRCuit articles is accurate and reliable as of the date of publication. Developments that occur after the date of publication may impact the current accuracy of the information presented in a previously published blog or article.