Wheelchair Curling
June 12, 2014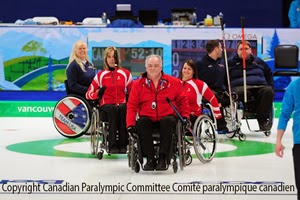 The 2014 Sochi Winter Paralympic Games are set to begin on March 7. Since wheelchair curling made its Paralympic debut in Torino in 2006, Canada has been the only country to stand atop the podium as Paralympic gold medalists. The 2014 Sochi Games represent another opportunity for the Canadian wheelchair curling team to continue its dominance and cement Canada as the world's greatest curling nation.
The team comes into these games as the reigning world champions, a feat they accomplished in Sochi a year ago. It will be lead by skip Jim Armstrong who will be joined by Ina Forrest and Sonja Gaudet, who is perhaps the world's most decorated wheelchair curler. Sonja has 2 gold medals, which she won at the Torino and Vancouver Games. She is also a 3-time wheelchair curling world champion, winning titles in 2009, 2011, and 2013. With all her great accomplishments, Sonja has been awarded the honour of being the Canadian flag-bearer for the 2014 Sochi Paralympics opening ceremonies.  Dennis Thiessen and alternate Mark Ideson will also be joining this experienced group.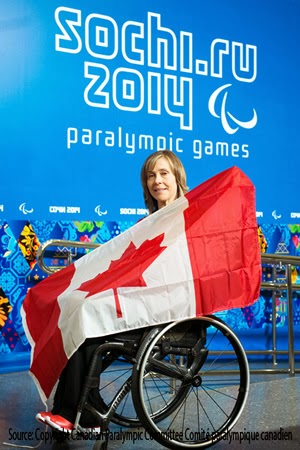 Each wheelchair curling team has 4 members in all. The game consists of 8 ends. Teams are comprised of both males and females who have significant lower leg mobility impairments including spinal injuries, cerebral palsy, multiple sclerosis and double leg amputation. Players often use a wheelchair for daily mobility. In the game itself, there is no sweeping and the athlete's wheelchair has to be stationary during the throw, which is more of a slide. The rock can be thrown by hand or it can be pushed by a cue or pushing stick. At the finish of each end, the team with the rock closest to the center of the house is awarded one point  for each of its own rocks that is closer to the centre than the opponent's closest rock.
House – The area within the concentric circles at each end of the sheet.
Skip – captain of the team, the person who calls the shots.
Rock or stone – a curling rock is made of rare, dense granite that is quarried on Scotland's Ailsa Craig. Each rock weighs 19.1kg and is polished.
The Canadian wheelchair curling team is scheduled to begin its quest to defend its gold medal on March 8 at the Ice Cube Curling Center. The 2014 Sochi Paralympic Winter Games will take place from March 7 to 16. For television listing, news updates and additional coverage, follow the CBC Paralympic website page.
References Available from SIRC Collection:
1. Blachford K. Chess on ice: if you're looking for an activity with a little less contact – and chance of broken bones – than basketball or quad rugby, check out wheelchair curling. Sports 'N Spokes Magazine. January 2003;29(1):10-15.
2. Giving Wheelchair Curling a Second Chance. Palaestra . March 2009;24(4):11.
3. In The Game. Sports 'N Spokes Magazine. May 2013;39(3):8-13.
4. Miller R, Washington K. CHAPTER 48: EVENTS FOR ATHLETES WITH DISABILITIES. Sports Marketing. January 2011;:238-241.
5. Murray E. PARALYMPIC Exuberance. Sports 'N Spokes Magazine. May 2010;36(3):46-57.
6. Preparing for the 2010 Paralympic Winter Games: coaches perspective. Coaches Plan/Plan Du Coach. 2010 2009;16(4):42.
---
---
The information presented in SIRC blogs and SIRCuit articles is accurate and reliable as of the date of publication. Developments that occur after the date of publication may impact the current accuracy of the information presented in a previously published blog or article.