Unprecedented times call for unprecedented sport events: Competition During COVID-19
April 19, 2021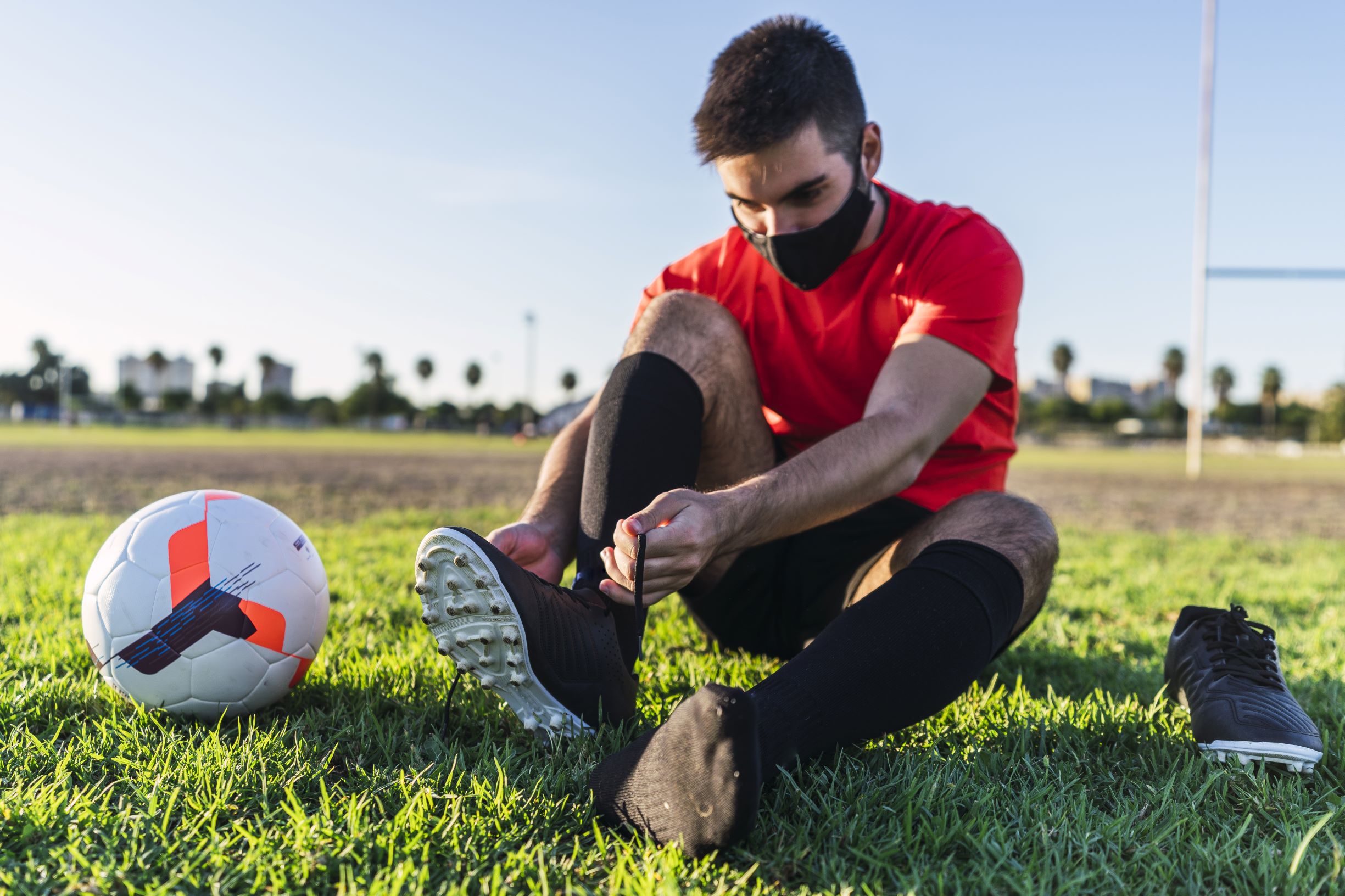 ---
Highlights
Sport leaders from Hockey Canada, Curling Canada, Gymnastics Canada, Equestrian Canada, Swimming Canada, and Sail Canada share their learnings from hosting a sport event during the COVID-19 pandemic.
When planning a pandemic sport event, collaboration with key stakeholders, including federal, provincial, and local health authorities, is critical.
For in-person competitions, minimize the amount of time athletes spend at the venue and keep them distanced as much as possible. Recognize that participants may experience extra stress wearing masks, following safety protocols, and competing in person.
To host successful virtual competitions, educate stakeholders on the process, from procedures and rules to using the technology. Be prepared to respond and adapt to challenges or feedback.
In-person or virtual, advancements in the use of technology have created novel and cost-effective ways to engage with fans and stakeholders, including livestreamed events, fantasy pools, and online 50/50 draws.
---
Teddy Katz, a former award-winning sports journalist and the founder of communications company, Think Redefined Inc., sat down with Canadian sport leaders for SIRC to hear some of the valuable lessons they learned hosting safe events during the pandemic. The crisis led to some of the biggest challenges in their history for these sport leaders, but it also led to some innovative new ways of thinking that will last long after the virus is in the past.
Hockey Canada – A World Junior Hockey Championship like no other
In the words of Dean McIntosh, Vice President of Hockey Canada, if you want to host a sport event during COVID-19, you have to prepare 10 different plans and expect to use the eleventh.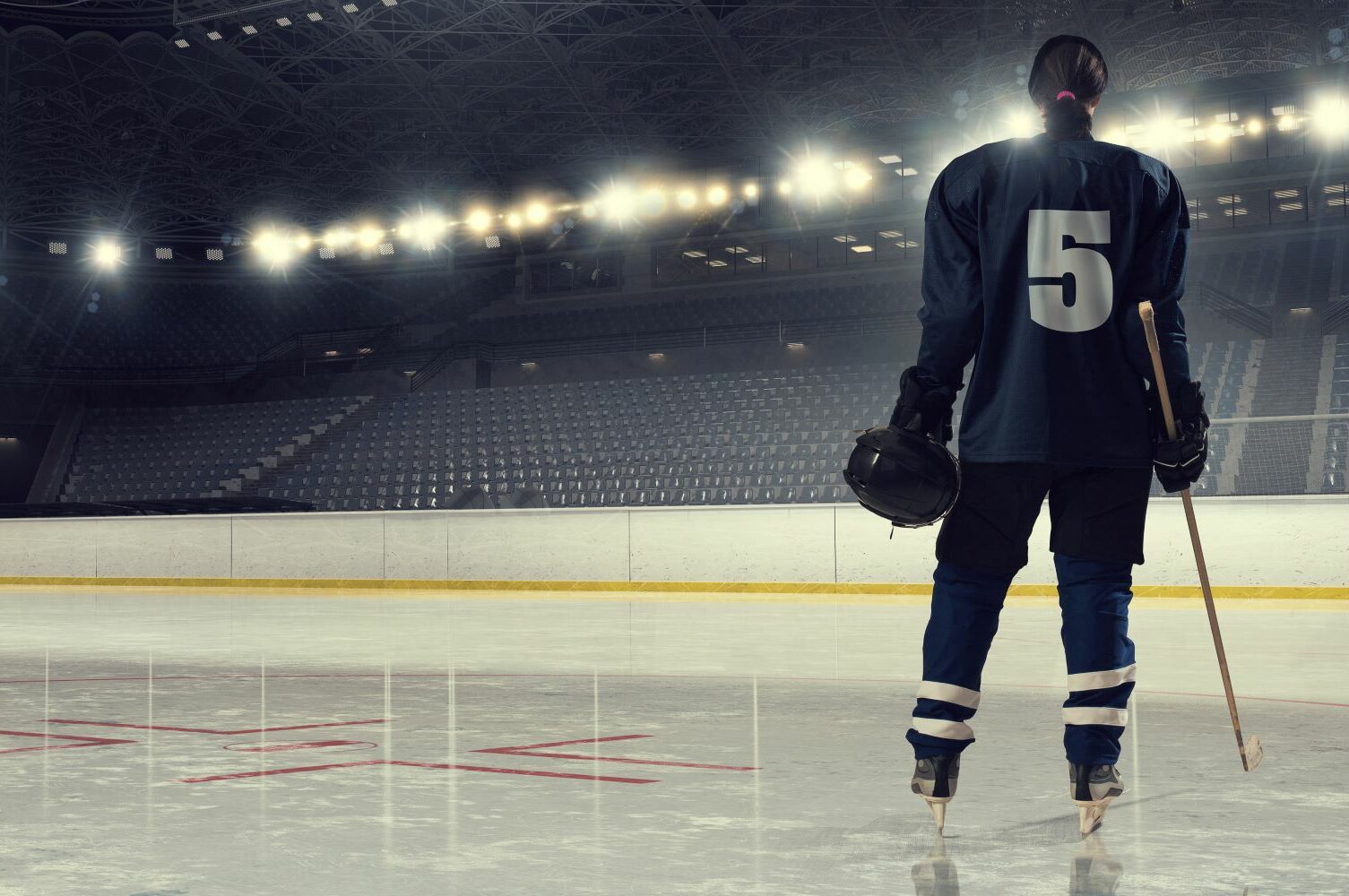 Two years ago, Hockey Canada started planning to host the 2021 World Junior Hockey Championship—a ritual for Canadians during the last week of December—in Red Deer and Edmonton, Alberta. Fans had scooped up nearly all the tickets when suddenly the pandemic, which forced many sports around the world to shut down in March 2020, threw everything into disarray. Could Hockey Canada somehow deliver the championship to 130 million television viewers in Canada and around the world? With no fans in the stands, there was little chance of breaking even.
"Until we had gold medals awarded on January 5th, I think we always felt there was a little bit of risk that we weren't going make it through," McIntosh says.
In March 2020 and the month that followed, Hockey Canada cancelled most events including its domestic championships. But in early August, with the support of funding partners including its broadcasters, Hockey Canada decided it would move ahead with the International Ice Hockey Federation (IIHF) World Junior Hockey Championship. The IIHF helped make it possible by agreeing to Hockey Canada's unprecedented request to host the event again the following year (December 2021) in Red Deer and Edmonton, which ensured Hockey Canada could deliver the kind of event it had planned for 2020 plus guaranteed revenue going forward.
McIntosh says that was critical. "I can tell you honestly, without that [agreement], that might have been something that would have prevented us from trying to deliver it this year."
The move to allow Canada to host the World Junior Hockey Championship two years in a row also benefitted the fans. When Hockey Canada offered fans a choice between refunding their tickets for this year or keeping them for next year, 80% chose to retain their seats despite the financial toll the pandemic has taken on many Canadian families.
With the event set to move forward, Hockey Canada worked through the summer with federal, provincial, and local health authorities to ensure the proper COVID-19 protocols were in place to keep the players, community, and everybody else safe. It was a complicated process that involved many different groups, including Immigration Canada (with teams flying in from overseas). McIntosh and the team had weekly calls with the IIHF, Sport Canada, and Alberta Health. They learned they needed to be flexible when it came to getting the final approval from the authorities to move ahead.
"I can tell you very frankly that staff at the office of Alberta's Chief Medical Officer, Dr. Deena Hinshaw, were probably very tired of seeing my number come up on their phones."
Before coming to Canada, each national team quarantined and needed everybody to test negative for COVID-19 a minimum of three times. Several players and staff from different federations tested positive and were unable to come. Three chartered flights from Europe brought the teams directly into Edmonton's International Airport. They needed to get special authorization to land there because at the time the airport wasn't accepting international flights. Everyone went directly by motor coach to the bubble hotel and spent another five days in quarantine, eating meals in their rooms. Everyone had to wear a tracking bracelet to let organizers know if anyone broke quarantine, and the rules were put to the test immediately. A staff member from one team left the hotel for a couple of hours the night he arrived. After investigating, Hockey Canada sent the person home the next day.
"You need to set the tone early," McIntosh says. "We had made commitments to Alberta Health, to the Public Health Agency of Canada, and to our corporate partners to deliver this event safely. If it was going to happen, we needed the support of everyone."
Another new element included compliance officers for every team. There was even an online portal where people could report non-compliance anonymously. And, of course, testing continued throughout the event—a total of 10,476 tests to be exact.
"I'd wake up at six o'clock, and I'd get notes on the test results from the previous day," McIntosh says. "On day one, when you see positive tests, your heart sinks and your mind starts to race."
In all, there were 12 positive cases of COVID-19 among players and staff who were in the hotel bubble over the course of the three weeks. After the first positive cases, organizers cancelled some of the exhibition games and increased the quarantine time for some. With carefully planned protocols in place, McIntosh says those plans allow organizations to make rational decisions in stressful times but also need to be constantly re-evaluated.
"We went to our protocols. We had clear lines of communication on who was going to be told and what we needed to do as it related to positive tests."
Curling Canada – Seven events, one bubble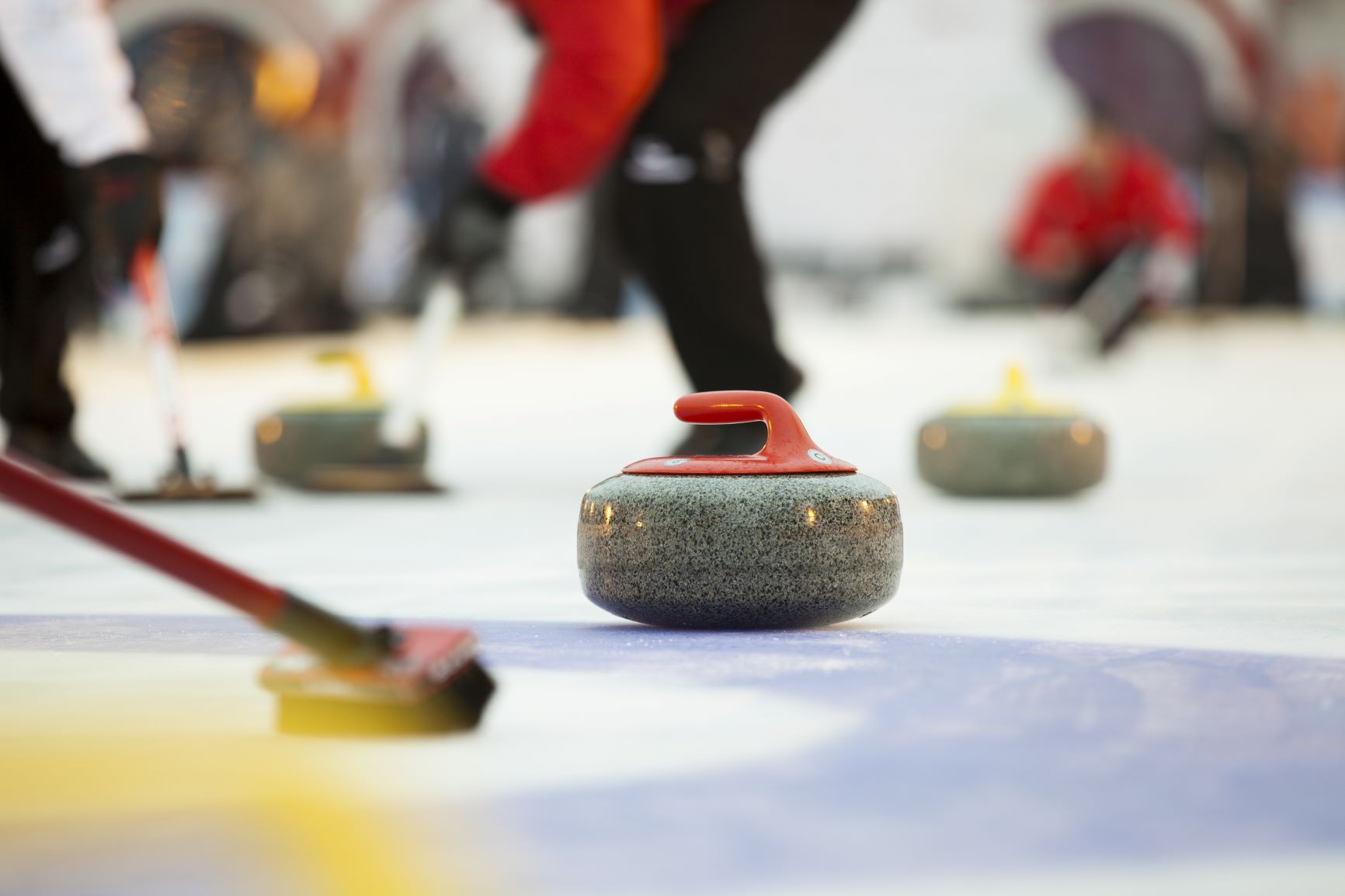 As somebody who has been involved in planning multi-sport events—including the Toronto 2015 Pan American and Parapan American Games—Curling Canada's CEO, Katherine Henderson, thought she had prepared for every possible scenario and potential crisis. But creating a mega bubble for a series of events to take place in Calgary between February and May 2021 was a new experience altogether. The first thing her team had to determine was if they could safely deliver key national and international events, including the Scotties Tournament of Hearts, the Tim Hortons Brier, the Home Hardware Canadian Mixed Doubles Championship, the BKT Tires and OK Tire World Men's Championship, the Women's Curling Championship presented by BKT Tires, and two Grand Slam of Curling events: The Players' Championship and Champions Cup.
"This is just one huge exercise in risk management… the health risks, financial risk, reputation risk, and compliance risk. It's sort of risk management on steroids," Henderson says.
Considering the complexities and cost of orchestrating a safe event amid a global pandemic, not every sport is able to host a bubble event, says Henderson. "When we took a look at the fixed costs of setting up a situation that involves really strict health protocols with quarantines and lots of testing, I couldn't see doing this for a single event… There's a high barrier to entry."
But curling, like hockey, was fortunate to have sponsors and financial partners, including its broadcast partner, TSN and RDS, on board. Henderson says other important partners were the athletes, many with goals to compete at the World Championships and 2022 Olympic Games, as well as Curling Canada's member associations.
"The other part that's really important here is we have kind of a moral duty to our member associations. Their business models depend very much on sending teams to national championships," says Henderson.
Hockey Canada was generous with its time and shared lessons. Curling Canada implemented many of the same COVID-19 protocols, and had their own red, blue, and green zones separating athletes, media (TSN), and officials, respectively.
The bubble opened with the Scotties in February 2021. In the first few days, there was one false alarm: an athlete with food poisoning, which forced one game to be rescheduled. More recently, four positive COVID-19 tests among players – later deemed to be "false positives" – interrupted play at the 2021 BKT Tires and OK Tire World Men's Curling Championship.
"I look forward to the day where I'm just on the edge of my seat because I'm watching great shots, rather than worrying about COVID-19," says Henderson. "This virus is really sneaky, you cannot let your guard down for one second. It wears on you."
Still, Henderson says it has been worth it. "We've had such a positive reception. I see it with athletes and staff, and even with how fans are reacting on social media. It gives you that little glimmer of normalcy." Curling lovers even sent in photos to have their faces placed on cardboard cut-outs representing fans in the stands.
According to Henderson, keeping fans engaged is crucial—because when the pandemic is over, Curling Canada wants the 1,000 clubs across Canada to be filled to the brim with their two million curlers.
Gymnastics Canada – Virtual events become reality
At the end of 2020, Canada's top gymnasts were facing another round of COVID-19 restrictions as the second wave of the virus roared around the country. Some could not even access their home gyms. So, in December 2020, Gymnastics Canada had to find a creative way to select the senior team athletes who would compete on the World Cup circuit to prepare for the 2021 Olympics Games in Tokyo. And, like many of us, they turned to virtual events.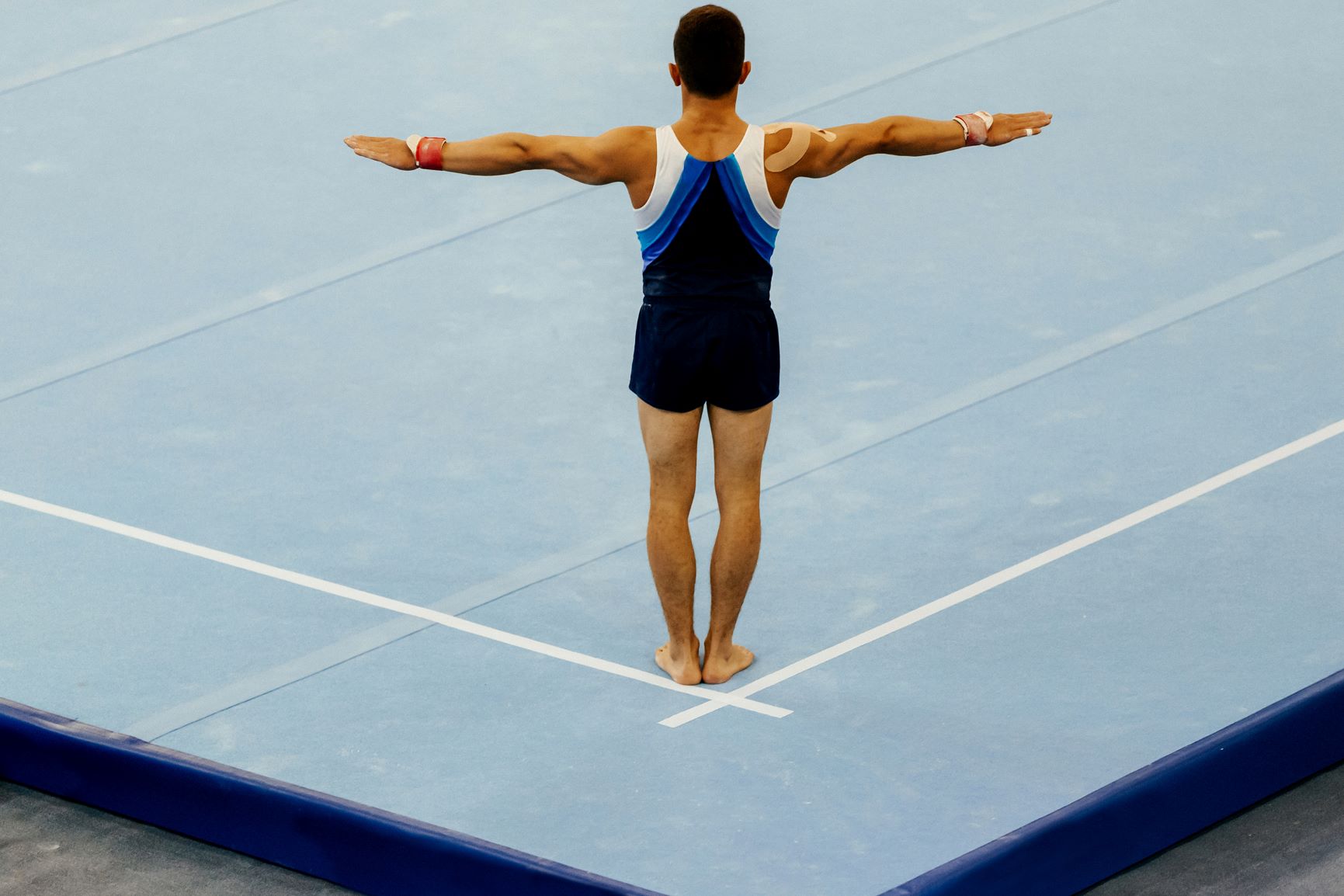 The athletes recorded videos doing routines in their home gyms, and a few days later, judges scored them. Amanda Tambakopoulos, the Program Manager for Women's Artistic Gymnastics at Gymnastics Canada, says the response was positive.
"We saw how important it was for the athletes to compete again and to be under that kind of positive pressure because it is very different than their regular training. Getting athletes in front of even virtual judges was really beneficial in terms of their preparation for Tokyo."
However, she admits it took some getting used to for everyone involved. Even the athletes, who were able to compete in their home gyms on familiar equipment with their coaches at their side, described feeling stressed, says Tambakopoulos.
"It's really strange. It requires so much work. We're grateful to have everybody on board and showing so much adaptability and resilience in the face of everything going on this year."
Gymnastics Canada hosted three more Elite Canada virtual competitions for junior and senior high performance athletes from February through April 2021. This gave gymnasts across Canada opportunities to compete in the event of their choice when they felt safe and ready. Virtual competitions also reduced costs for Gymnastics Canada, eased travel demands for athletes, and reduced barriers to the recruitment of volunteer officials, whose competition duties could be worked around at-home work obligations.
But to make these virtual competitions successful, Gymnastics Canada learned that education, for everyone involved, needed to be baked into the process. They held educational sessions for athletes and coaches on Zoom, using videos from the senior team virtual competition to demonstrate what worked well and not so well. They showed things like how best to set up the gym and where to place the camera for the best angles. The technology also needed to be adapted for the judges because the athletes are smaller on-screen than in person, making it harder to see some moves. They did a number of test sessions for the judges to help them get comfortable.
Considering the benefits and lessons learned, virtual events are a competition option that Gymnastics Canada will consider for the future, says Tambakopoulos.
"I think it's really opened our eyes on how we can be even more adaptable and flexible with people's realities. I think there's going to be a lot of reflection going forward on how we can benefit from this virtual competition environment."
Equestrian Canada – How regional events and livestreams kept the sport active
One of the busier national sport organizations during the past year was Equestrian Canada, with 124 Equestrian Canada sanctioned events run regionally around the country and more shows sanctioned by the provincial/territorial equestrian sport organizations, many of them streamed online in new ways. But according to James Hood, the High Performance Director for Equestrian Canada, that was only 25% of their usual competition schedule.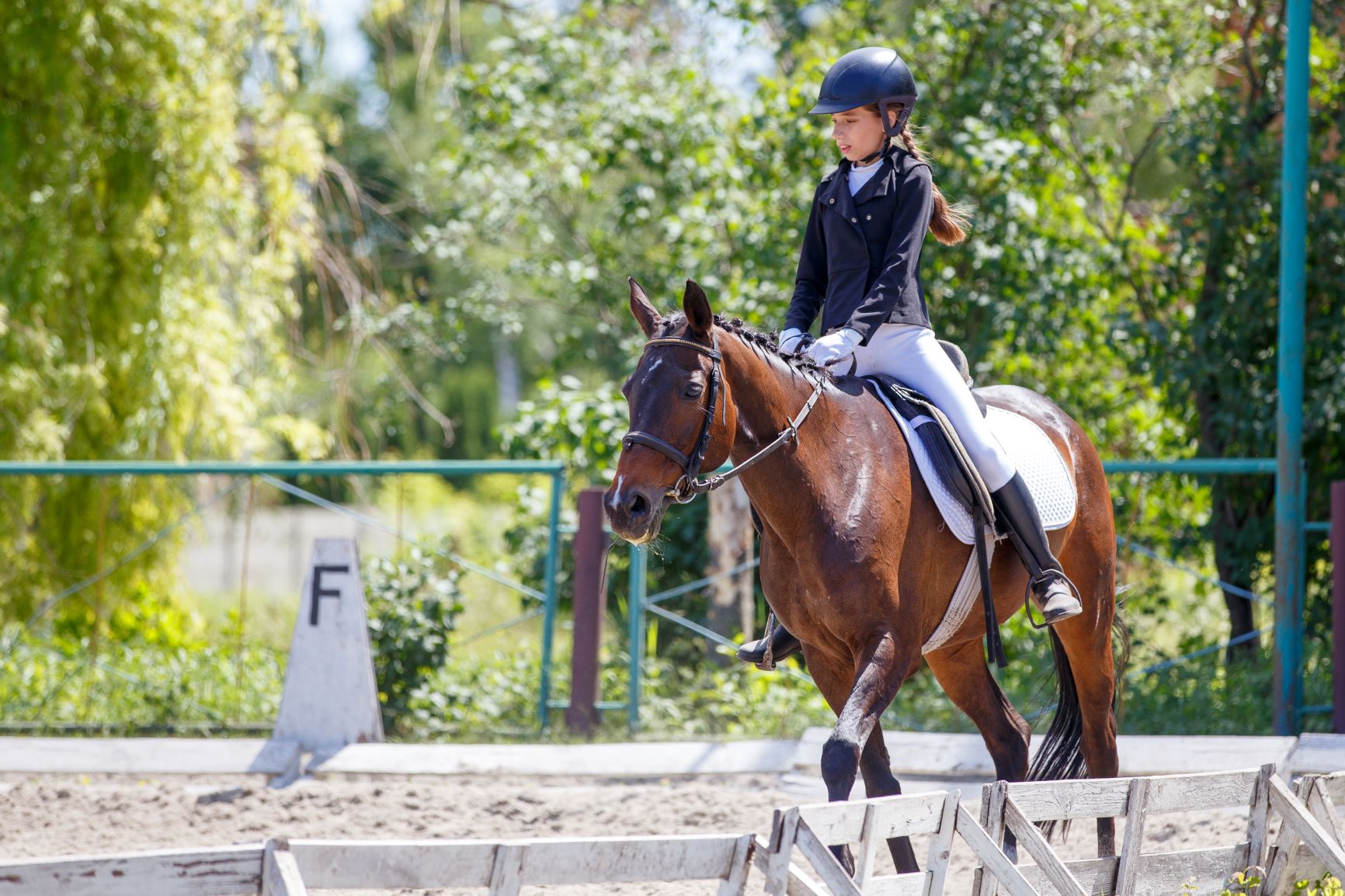 Cheval Quebec hosted the first Equestrian Canada regional event in June, just a few months after the World Health Organization declared a global pandemic. They worked with their local health authority to incorporate the latest COVID-19 protocols, which meant running the event with no spectators, keeping officials to a minimum, and tightening up the schedule to ensure no unnecessary bodies were milling about the competition area.
According to Hood, the sport made an early return because training and competition is mostly outdoors and the horses need to be kept in good physical and mental health (e.g., fed, exercised) as there are health and welfare considerations. "The other advantage we have is that social distancing is relatively easy to maintain—you're on a 2,000-pound animal so it automatically forces you into two metre distancing," says Hood.
Despite the challenges of overseeing sanctioned competitions amid a global pandemic (and in the lead-up to the Olympic and Paralympic Games, no less), Hood identified some notable silver linings. For example, there were important advancements in the use of technology born out of necessity. "We were much more paper based," explains Hood. "The technology shift in scoring and transmission will be really good in the long term."
In addition, many show operators used cameras to livestream events so people could tune in online. They weren't high-end broadcasts, but they were cost effective.
"The competition organizers were thinking about how to make it safe for the moms and dads, grandparents, and aunts and uncles to watch without being in the stands," says Hood.
While Spruce Meadows and some of the sport's more popular events have been livestreamed in the past, there was nothing done on this scale. Show operators and Equestrian Canada even worked with the Canadian Broadcasting Corporation to have some of the events shown on its streaming platform, which helped to increase the visibility of the sport on a national scale.
"I think technology will continue to create those opportunities," says Hood. "We need to be willing to adopt technology and look at those pieces to operate events going forward."
Swimming Canada – A hybrid Olympic and Paralympic Trials
With 1000 participants and thousands more spectators expected to attend, Swimming Canada had the biggest Olympic and Paralympic Trials in its history scheduled for April 2020—until COVID-19 forced it to be postponed. After considering eight or nine different contingency plans, a scaled-down event in spring 2021 was announced to determine the athletes on its Olympic and Paralympic teams.
Typical championships have a preliminary round where the fastest athletes qualify for the final. The final race for the medals usually takes place that same evening. In contrast, the 2021 trials will involve only one race per event with a limited number of the top athletes invited to participate. Swimming Canada has invited 280 athletes to compete in the five-day event.
Jocelyn Jay, Senior Manager of Sports Development for Swimming Canada and a former national team swimmer, says one key criteria for the event is to minimize the amount of time swimmers are in the building and to keep them distanced as much as possible.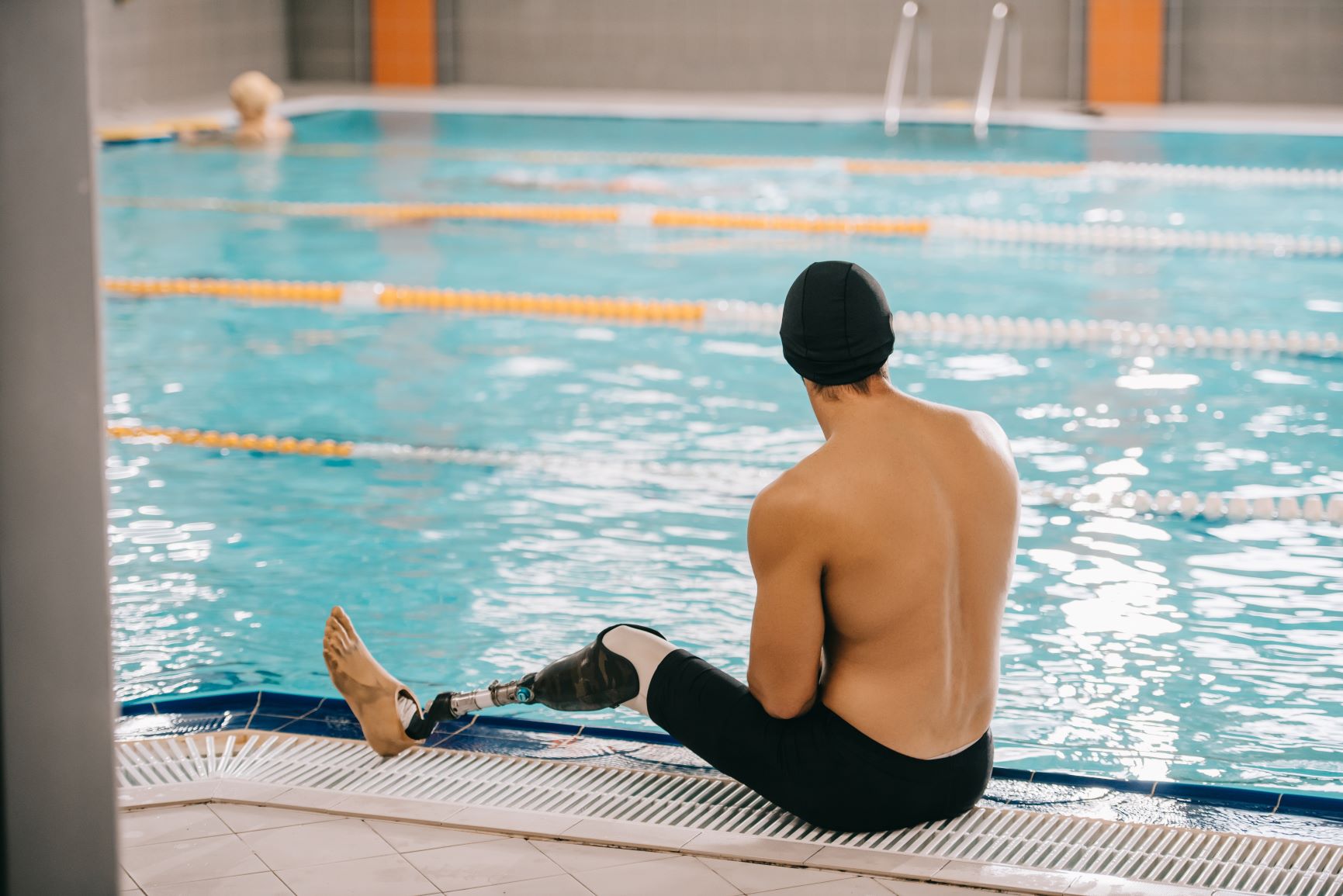 "We've got 40 swimmers in a block of time. The swimmers come into the building, they do their pre pool activation, they warm-up, they race, they warm-down and they leave. Then the next group of swimmers come in. It's kind of a conveyer belt. They are moving through the building, making sure there's no crossing paths."
Jay says Swimming Canada has factored in layers upon layers of risk mitigation measures in a 35-page safety plan, which will be shared with the swim clubs sending athletes to the trials. Unlike the bubbles that hockey and curling created to run their championship events, clubs will be responsible for ensuring members are following COVID-19 protocols for travel and accommodation.
"The amount of time required for this one event with everything that needs to be considered is just as much work as running six or seven national events. It's overwhelming because it's constantly changing as restrictions fluctuate throughout the country," says Jay.
Swimming Canada recognizes the extra stress participants may experience wearing masks, following protocols, and competing in person for the first time in months. That's why another element in their plan will be regular check-ins with everyone, including athletes, coaches, and officials, once they are on site.
For now, Jay tries to prioritize and not think too far ahead.
"This event is at the end of May 2021. Who knows what the virus is going to look like at the end of May, with the variants and with vaccinations?"
While the question of what the virus will look like at the end of May is still up in the air, the evolving COVID-19 situation in Ontario and other provinces has already forced Swimming Canada to make changes to the Olympic and Paralympic Swimming Trials, Presented by Bell. The Olympic Trials will now be held in Toronto at the end of June, and the Paralympic Trials have been cancelled as the new dates conflict with a World Para-swimming event in Berlin. Swimming Canada will create alternative competitive opportunities for athletes hoping to earn a spot at the Paralympic Games in Tokyo.
Sail Canada – Making the most of an outdoor sport
Although Sail Canada postponed its different regional and national championships last year, which typically offer athletes a chance to compete with high-level sailors in their regions, it was able to host a national invitational event with 10 days of racing at the end of August in Kingston, Ontario. The event allowed national team athletes preparing for the Tokyo Games to get in some much needed competitive racing.
"We are fortunate in the sport of sailing," says Katie Sweeting, High Performance Manager for Sail Canada. "We're an outdoor sport that is naturally physically distant."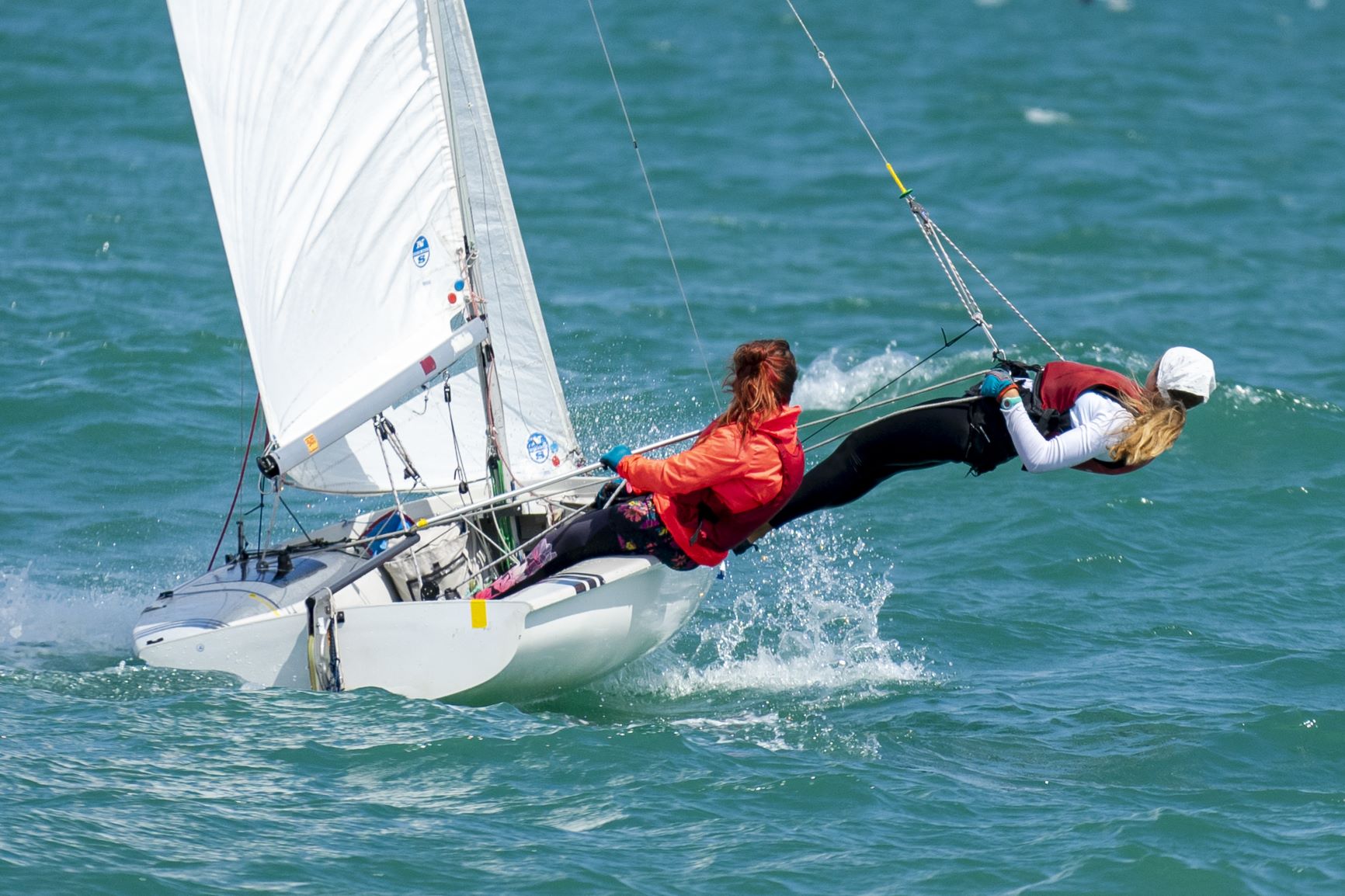 Sweeting says they chose Kingston for their event because that is where the Sail Canada head office is located, many of the athletes were already there (reducing the need for travel), and it has ideal training conditions. Also, it was important that at the time of the event in August 2020, Kingston had no COVID-19 cases. Sweeting, who was in charge of COVID-19 protocols for the event, at first found it a daunting task but was able to work closely with the experts at the local health authority.
"We didn't want to be creating an event in a community where there were no cases and bringing cases to them," Sweeting says. "No one wants to be the sport that runs an event that causes an outbreak."
The invitational event was limited to 40 of Canada's top athletes. Protocols included the use of a fenced-off, restricted area for event participants at Portsmouth Olympic Harbour, which is open to the public. Even though they were outside, masks were mandatory at all times when athletes were not competing. All boats were set two metres apart. If athletes were experiencing any symptoms, testing was required and the individual was not allowed back onsite until they had a negative test. A doctor was also onsite throughout the event.
Sweeting says the biggest lesson she learned is to over-plan. On site porta-potty washrooms were professionally cleaned three times a day. Disposable masks were restocked several times during the event, even though participants were expected to provide their own. As the event wore on, Sail Canada learned that they needed to have someone on the ramp as the boats came in to hand out new masks to athletes, whose masks would get wet while racing as they would often stuff them in their lifejackets.
"It is possible. That was a big learning lesson for us," says Sweeting. "If you follow the right steps, consult with the experts and you do it properly, it can work out well.
Knowing that building resilience is a key skill for athletes, Sail Canada has modelled that behaviour, says Sweeting.
"It would have been a lot easier for us to just say, 'No, we're going cancel everything. It's too risky or too much work.' We were showing the athletes that we're willing to be resilient and get creative. And I think they really valued that."
Event reinvention post COVID-19
The different sport leaders spoke about what they learned not in spite of, but because of COVID-19. Their stories showcase the Canadian sport community's resilience and dedication to athletes, coaches, officials, staff, volunteers, and fans alike. And perhaps most notably, the myriad pivots and plans these organizations have made to run safe events have led to innovative new ways of thinking that will be harnessed long after the pandemic.
For example, the pandemic accelerated and forced all sports to embrace the use of technology. As a result, many found novel and cost effective ways to connect with stakeholders that may continue in the future. That same technology reduced the number of volunteers and hours required for them to be on site, which may alleviate the expected attrition of volunteers in the coming years. The use of technology also allowed some sports to bring in new sources of revenue: Curling Canada started new fantasy pools to engage with fans and Hockey Canada moved fundraising initiatives such as 50/50 draws online. Beyond technology, many sports uncovered new ways to collaborate with partners, including Hockey Canada. When they needed a sponsor for contact tracing, they approached Telus. That fit with the companies' core values around connecting Canadians.
COVID-19 has changed everything, says Hockey Canada's Dean McIntosh. "How we plan events, what the priorities are, how we drive revenues, how we manage expenses, how we engage communities, I think it's all changed. I do believe that we are going to see a reinvention."
---
About the Author(s)
Teddy Katz was an award winning journalist at the Canadian Broadcasting Corporation where he worked as a national sports reporter covering the world's top sports events for close to two decades. Teddy now runs his own communications company, Think Redefined Inc. where he assists national and international organizations with their storytelling and thought leadership.  As a volunteer, Teddy is on the Board of the Canada Games Council as well as the Niagara 2022 Canada Summer Games. 
Sydney Millar has worked in the Canadian sport system for more than twenty years, sharing her experience and skills in knowledge mobilization and project management with a range of organizations, including SIRC and Canadian Women & Sport. Sydney stays active with her dog Shadow, and exploring the roads of Gatineau Park on her bike and skis. 
Veronica Allan is SIRC's Research and Innovation Specialist and a Postdoctoral Fellow in the School of Kinesiology and Health Science at York University. Her education and training to date—which includes a PhD in Sport Psychology from Queen's University and a Munk Fellowship in Global Journalism at the University of Toronto—has equipped her with a unique skillset grounded in innovative research design and knowledge translation, as well as a specialized focus on research communications.
---
The information presented in SIRC blogs and SIRCuit articles is accurate and reliable as of the date of publication. Developments that occur after the date of publication may impact the current accuracy of the information presented in a previously published blog or article.