The Athlete Biological Passport: Enhancing clean sport
March 4, 2015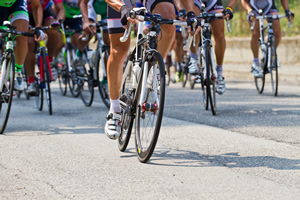 Promoting fair play and implementing ethical sport policies are among the options for promoting clean sport. Rules and regulations are created in order to protect the health and safety of participants – as well as the integrity of sport. However, in the world of elite performance, in which millimeters, milliseconds and milligrams matter, the equipment you use and what you put into your body can mean the difference between winning and losing.
The use of performance-enhancing drugs (PEDs), in elite sports is something that national sporting organizations and the World Anti-Doping Agency (WADA) have been trying to eliminate. Even as policies and technology to deter cheating have improved, some athletes still manage to stay a step ahead of the regulators.
In an effort to combat athletes who are willing to cheat, WADA has introduced a new system of detecting doping violations, the Athlete Biological Passport. Before exploring this new technique of catching doping cheats, let's look at some of the measures already being used.
The registered testing pool is a program that requires top athletes both on the international and national levels to register their whereabouts for random testing.
Sporting organizations have educational programs to inform their athletes about their rights and new policies being implemented.
Anti-doping organizations, with the collaboration of WADA annually provide identified athletes with a Prohibited List of supplements banned under the World Anti-Doping Code.
These measures are in place to protect not only the athletes, but to also promote a fair playing field. The Athlete Biological Passport comes into play as another measure to ensure that athletes are operating within the rules. This new method allows for testers to compare an athlete's blood or urine samples over a period of time. Over the short term, data may not reveal an infraction but over a period of 10, 20, and 30 samples it can provide invaluable information in combating doping in sports. It is a marked improvement on the old system used by testers to find the presence of banned substances. Having a system which looks for irregularities between samples is more likely to detect cheating over time.
Though the Athlete Biological Passport is still technically in its infancy and not a cure-it-all, it is another tool to create an equal playing field. Getting faster, higher, and stronger ethically gives every athlete an equal chance standing atop the podium.
References from the SIRC Collection:
1. CHARLISH P. THE BIOLOGICAL PASSPORT: CLOSING THE NET ON DOPING. Marquette Sports Law Review. Fall2011 2011;22(1):61-89.
2. Enéa C, Boisseau N, Dugué B. Facteurs biologiques influençant les concentrations urinaires en stéroïdes anabolisants lors de contrôles antidopage. / Biological factors influencing urinary anabolic steroid concentrations in doping control analysis. Science & Sports. June 2009;24(3/4):119-127.
3. Dvorak J, Budgett R, Saugy M, Vernec A. Drawing the map to implement the 2015 World Anti-Doping Code. British Journal Of Sports Medicine. May 15, 2014;48(10):800.
4. Saugy M, Lundby C, Robinson N. Monitoring of biological markers indicative of doping: the athlete biological passport. British Journal Of Sports Medicine. May 15, 2014;48(10):1-8.
5. Vernec A. The Athlete Biological Passport: an integral element of innovative strategies in antidoping. British Journal Of Sports Medicine. May 15, 2014;48(10):1-3.
6. Wagner U. The International Cycling Union under Siege—Anti-doping and the Biological Passport as a Mission Impossible?. European Sport Management Quarterly. June 2010;10(3):321-342.
---
---
The information presented in SIRC blogs and SIRCuit articles is accurate and reliable as of the date of publication. Developments that occur after the date of publication may impact the current accuracy of the information presented in a previously published blog or article.