Sport Participation on a Budget
September 6, 2017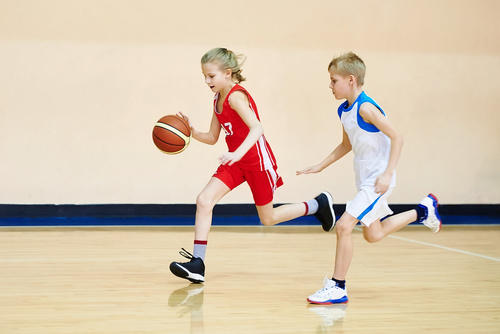 The new school year is on the horizon and parents want to make sure that their children stay active and healthy. One of the easiest ways to help that along is by signing them up for a sport. A 2015 study noted that 85% of Canadians agree that sport builds communities and has an overall positive effect on participants, however 90% have also stated that the rising costs of sport are a barrier. How can caregivers overcome this obstacle and still provide their child the best sport experiences?
Listen to your child
Before getting started, it's a good idea to sit down with your child and discuss their interest in a particular sport or after-school activity. Do they prefer individual or team sports? Are they interested in more than one activity and how much time would it require? Is there a friend that is in a sport that they would like to join, or vice versa?
Try Before You Buy
Signing your child up for short-term community programs, drop-in sport and recreational leagues can be an excellent way for your child to "sample" some different sports without the commitment of a year-long program. Sports will vary by centre and age group, and promote and encourage participation, regardless of ability level. These organizations often offer short-term programming for a low cost over Christmas holidays, March break or PD Days as well. If park and recreational programs are still out of your reach, check out local or provincial funding options, you may end up qualifying for athletic programs based on your net family income and the number of people in your family.
"The most recent data shows that six out of 10 children from low-income households are active in sports, compared with 8.5 out of 10 from families with incomes over $80,000."  – Jamie Strashin, CBC Sports
Reuse Equipment
Until your child has decided what sport they would like best, committing to brand new equipment might be a waste. Consider buying used equipment or, if available, borrow from a friend, family member or check a local recreational league and see if they're selling equipment from a previous year. Other great places to check out used items are Kijiji, Play it Again Sports, community garage sales, or Value Village. If you have more than one child, hand-me-downs are your friend.
Sign yourself up!
Getting out on the field can be a great way to reduce cost for sport participation. Not only will you get to spend more time with your child, and maybe get some exercise yourself, many programs offer volunteer coaches a reduced registration rate.
Plan Ahead
No matter which sport your child chooses to pursue, some advanced planning is necessary. Map out all potential costs (as well as time allocation) including, enrollment fees, proximity to sport facility, fuel, food, equipment, etc. and create a budget. Extras like eating fast food or buying water bottles every week add up quickly so aim to bring your own, if you can, share the driving with other parents.
Sport participation has many benefits but the cost of equipment, travel, registration fees, etc. can be overwhelming. Luckily, with a little leg work and some planning ahead, sport parents can have their child in sports without being worried it will break the bank.
---
About the Author(s)
Michelle is an information management specialist with many years focusing on sport and fitness research and education. Michelle has been sharing her expertise with SIRC for over 4 years.
References
Forde S, Lee D, Mills C, Frisby W. Moving towards social inclusion: Manager and staff perspectives on an award winning community sport and recreation program for immigrants. Sport Management Review (Elsevier Science). February 2015;18(1):126-138.
Kirk D, Carlson T, O'Connor A, Burke P, Davis K, Glover S. The economic impact on families of children's participation in junior sport. Australian Journal of Science & Medicine In Sport. June 1997;29(2):27-33.
Oana R, Camelia S. THE IMPACT OF SPORTS ACTIVITIES AS LEISURE ACTIVITIES. / IMPACTUL ACTIVITĂŢILOR SPORTIVE CA ACTIVITĂŢI DE TIMP LIBER. Gymnasium: Scientific Journal of Education, Sports & Health. January 2014;15(1):6-21.
Rosso E, McGrath R. Promoting physical activity among children and youth in disadvantaged South Australian CALD communities through alternative community sport opportunities. Health Promotion Journal of Australia. August 2016;27(2):105-110.
Steenhuis I, Nooy S, Moes M, Schuit A. Financial Barriers and Pricing Strategies Related to Participation in Sports Activities: The Perceptions of People of Low Income. Journal Of Physical Activity & Health. November 2009;6(6):716-721.
---
The information presented in SIRC blogs and SIRCuit articles is accurate and reliable as of the date of publication. Developments that occur after the date of publication may impact the current accuracy of the information presented in a previously published blog or article.