Sport organizations must adapt to extreme heat
August 2, 2023
The Intergovernmental Panel on Climate Change (IPCC) (2018) has recorded rising temperatures throughout the world. Extreme heat events are causing risks to workers' health, organizational productivity and infrastructure and the sport sector is being forced to adapt (Glasser, 2020; Heal & Park, 2016).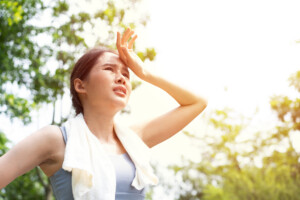 For example, the 2022 Manitoba Marathon was cancelled mid-race, with runners already on the course, due to extreme heat (Strachan and Van Winkle, 2022). Many marathons face similar concerns, including during the Tokyo Olympics when organizers had to move the marathon start to an earlier time to reduce heat impacts. It's not just distance running events that are a risk though, for example, the U.S. Open has instituted a rule that in times of extreme heat, tennis players must be given a 10-minute recovery break between the second and third sets (Taylor, 2019).
As temperatures continue to rise and extreme heat becomes a recurring phenomenon, sport needs to continue to adapt to the climate challenges. An inadequate response leaves sport at risk of adverse heat impacts. These impacts can include athlete heat stroke and, potentially, decision-making impairment by referees (Gaoua et coll., 2017). Additionally, extreme temperatures can increase the temperatures felt while on artificial fields (Abraham, 2019), and can compact grass-based fields resulting in an increase in injuries (Dingle & Stewart, 2018). Brookes (2023) has even noted that future extreme heat impacts could effectively make certain sport events "unplayable," including the Australian Tennis Open and the cycling Tour Down Under.
In this blog, we summarize the findings of our recent study, which focused on a university athletics department in Canada's response to extreme heat conditions for outdoor sports. Based on our research, we offer recommendations for athletic departments and sport organizations working to ensure sport safety amid extreme heat events.
The research process and results
We surveyed anonymous participants at a university in Canada (including athletes and administrators involved in sport) about their experiences concerning extreme heat and sport. A report was compiled based on the findings, and then shared back with participants for further comment. The resulting manuscript outlined the impact of heat on athletes, game officials and sports fields during outdoor activities (Mallen, Dingle and McRoberts, 2023).
Overall, the study revealed that the athletic department at the surveyed institution was responding to extreme heat time periods with a hot weather plan. The plan involved required risk assessments during times of extreme heat, along with risk reduction actions. However, the study also showed that more could be done to protect outdoor sport participants in the case of extreme heat events.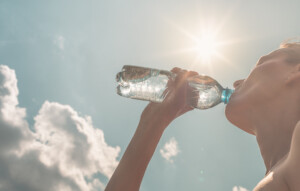 For example, the athletic department made water stations available throughout any outdoor sport event it hosted. However, the study identified that even more stations are required for easy access by athletes, along with water stations with easy access for game officials. Shade options are also currently made available for varsity events but, again, more are necessary. Likewise, moving practices and games to cooler times of the day during extreme heat events is happening, but participants do not have access to the data used in the decision-making to determine when the move is to occur or not. 
Participants surveyed in this study proposed additional adaptation strategies for safe participation in university athletics, including:
Enhance awareness and education concerning safety risks due to extreme heat

Athletic departments can raise awareness through repeated educational statements directed at all participants, including athletes, coaches, trainers, therapists, game officials and spectators

Set up "buddies" or partnerships that monitor each other for symptoms during practices and games, including monitoring game officials
Provide Wet Bulb Global Temperature (WBGT) information for all participants to utilize

The WBGT involves the use of an online calculator that determines the combination of heat and humidity at any time for any site
A WBGT of 35 degrees or above means that the human body cannot cool itself through evaporation, as the air is too saturated with water
Temperature and humidity data can be taken from any surface (for example, the grass-based sports field or artificial turf) and plugged into the online calculator
Further, the researchers propose that those in athletic departments consider the use of alternative surfaces to manage a changing climate. Grass-based fields get compacted and utilize critical water resources during extreme heat conditions, and artificial turf can get dangerously hot. There may be a time when alternative surfaces are needed for practices and games in times of extreme heat. Remember that sports such as tennis and volleyball are already played on multiple surfaces. It is time for other sports to consider such a transition to manage extreme heat conditions. The time is now to begin exploratory use of alternative surfaces for continuing sport during times of extreme heat.
Final thoughts
Extreme heat is a challenge for varsity sport. Researchers and practitioners need to work together to understand the impacts and best practices concerning responses. This collaboration is needed now to ensure the safety of the participants, officials, facilities and organizational infrastructure.
---
About the Author(s)
Cheryl Mallen, Ph.D., is an Associate Professor at Brock University in the Department of Sport Management. She teaches sport event management with a research focus is on sport and environmental sustainability. She has published in a range of journals such as: the Journal of Sport Management, Sport Management Review, European Sport Management Review, Managing Sport and Leisure, Sustainability, Journal of Management and Sustainability, Management and Organizational Studies, and Sport in Society.
Greg Dingle, Ph.D., is a science-informed researcher and educator at La Trobe University focused on sport and climate change, and business. Greg is a Lecturer in Sport Management in the Department of Management & Marketing in the La Trobe Business School, and a Member of the La Trobe Centre for Sport and Social Impact. He has previously been a researcher and educator at Victoria University, and began his career in industry as a manager of sport programs, and as a sports coach in schools. Greg is a founding member of the La Trobe University Climate Network (2019), and was the first Australian academic to join the Sport Ecology Group (2020-present) as an Affiliate Member.
Scott McRoberts is the Director of Athletics at the University of Guelph. He has spent more than 15 years in strategic management and fundraising with universities, national sport organizations and municipalities throughout North America. Scott is committed to partnership development, equity, community engagement, improving life and developing students as leaders. He is a true believer in sport's power to shape communities, implement change and develop individuals of all ages.
References
Abraham, J. (2019). Heat risks associated with synthetic artificial fields. International Journal of Hyperthermia, 36(1), 515–516. https://doi.org/10.1080/02656736.2019.1605096
Brookes, S. (2023, January 9). WA's summer of sports wilts as heat wave intensify. The Sydney Morning Herald. Retrieved from https://www.smh.com.au/environment/climate-change/wa-s-summer-of-sports-wilts-as-heatwaves-intensify-20221205-p5c3uq.html
Dingle, G., & Mallen, C. (2020). Community sports fields and atmospheric climate impacts: Australian and Canadian perspectives. Managing Sport & Leisure. https://doi.org/10.1080/23750472.2020.1766375
Gaoua, N., de Oliveira, R. F., & Hunter, S. (2017). Perception, action, and cognition of football referees in extreme temperatures: Impact on decision performance. Frontiers in Psychology, 8, 1479. https://doi.org/10.3389/fpsyg.2017.01479
Glasser, R. (2020). The climate change imperative to transform disaster risk management. International Journal of Disaster Risk Science, 11(2), 1–3. https://doi.org/10.1007/s13753-020-00248-z.
Goodwin, S. (2021, June 28). This is awful: Olympic trials suspended after frightening incident. Yahoo Sports Australia. Retrieved from https://au.sports.yahoo.com/olympics-2021-us-track-and-field-trials-suspended-collapse-030226975.html
Heal, G., & Park, J. (2016). Reflections – temperature stress and the direct impact of climate change: A review of emerging literature. Review of Environmental Economics and Policy, 10(2), 347–362. https://doi.org/10.1093/reep/rew007
Intergovernmental Panel on Climate Change (IPCC). (2018). Annex I: Glossary. In V. Masson-Delmotte, P. Zhai, H.-O. Pörtner, D. Roberts, J. Skea, P. R. Shukla, A. Pirani, W. Moufouma-Okia, C. Péan, R. Pidcock, S. Connors, J. B. R. Matthews, Y. Chen, X. Zhou, M. I. Gomis, E. Lonnoy, T. Maycock, M. Tignor, & T. Waterfield (Eds.), Global warming of 1.5°C. An IPCC Special Report on the impacts of global warming of 1.5°C above pre-industrial levels and related global greenhouse gas emission pathways, in the context of strengthening the global response to the threat of climate change, sustainable development, and efforts to eradicate poverty (pp. 541–561). Cambridge, UK: Cambridge University Press.
Keenan, R. (2015). Climate change impacts and adaptation in forest management: A review. Annals of Forest Science, 72(2), 145–167. https://doi.org/10.1007/s13595-014-0446-5
Mallen, C., Dingle, G., & McRoberts, S. (2023). Climate Impacts in Sport: Extreme Heat as a Climate Hazard and Adaptation Options. Managing Sport and Leisure. http://doi.org/10.1080/23750472.2023.2166574
Mallen, C., & Dingle, G. (2021, September). Organizing sport for climate related adaptations: Lessons from the water and forestry industries. Sustainability – Special Issue: Sport Ecology, 13(18), 10462. https://doi.org/10.3390/su131810462
Neto, J.F. & Kennedy, M.D. (2023, January 23). Exercising outdoors in Canada: What the research tells us about exercising safely and effectively in extreme heat. Retrieved from https://sirc.ca/blog/exericsing-safely-and-effectively-in-extreme-heat
Orr, M. (2021, April 19). Sports at risk: Addressing climate change in the Canadian sport sector. Retrieved from https://sirc.ca/blog/addressing-climat-change/
Sprecher, M.H. (2019, July 24). Extreme heat cancels, reschedules sports. Sports Destination Management. Retrieved from https://www.sportsdestinations.com/management/safety-security/extreme-heat-cancels-reschedules-sports-16911
Strachan, S. & Van Winkle, C. (2022, August 9). Lessons from a cancelled marathon: Athletic events, heat and the effects of climate change. Retrieved from https://theconversation.com/lessons-from-a-cancelled-marathon-athletic-events-heat-and-the-effects-of-climate-change-186021
Taylor, L. (2019, July 24). Cancelled races, fainting players: Climate change turns up heat on sports. Retrieved from https://www.reuters.com/article/us-climatechange-sport-idUSKCN1UJ0OC
---
The information presented in SIRC blogs and SIRCuit articles is accurate and reliable as of the date of publication. Developments that occur after the date of publication may impact the current accuracy of the information presented in a previously published blog or article.