The Sport Information Resource Centre is celebrating its 50th anniversary!
April 20, 2023
Ottawa – The Sport Information Resource Centre (SIRC) is thrilled to announce we are celebrating our 50th anniversary! Founded in 1973, as a library for sports-related information, SIRC has evolved into a leading knowledge broker for the Canadian sport community.
Over the past 5 decades, SIRC has focused on synthesizing evidence-based information into practical, easy-to-understand tools for sport organizations, serving athletes, coaches, officials, and administrators. With a commitment to research to practice, SIRC facilitates conversations between sport, government, and researchers to enhance the Canadian sport landscape.
SIRC has played a critical role in advancing safe sport and safety in sport, ensuring that Canadian athletes can compete at the highest level while feeling safe and supported. As a one-stop-shop and go-to reference for sports organizations, SIRC has become a trusted resource for anyone seeking sport-related information.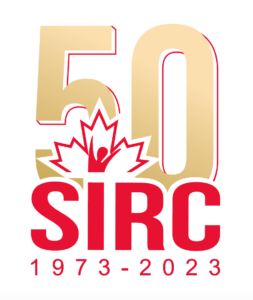 "As we celebrate SIRC's 50th anniversary, we reflect on the journey from a simple library to a leading knowledge and communication hub for Canadian sport community. The team's ability to embrace innovation and focus on what is relevant for sport continues to drive us at SIRC," said Debra Gassewitz, President and CEO of SIRC. "We are proud to be the go-to reference for sports organizations and look forward to continuing to serve the Canadian sport community for the many years ahead."
In addition to its wealth of knowledge, SIRC hosts the leading sport job board in Canada, connecting qualified candidates with exciting opportunities across the country.
We invite you to join us in congratulating SIRC on this remarkable milestone.
Follow us on Twitter, Facebook, Instagram and LinkedIN for some retro fun facts throughout the year and look for a 50th themed SIRCuit publication in the fall.
To learn more about the Sport Information Resource Centre and the valuable services they provide, please visit their website at Sirc.ca.
About SIRC
Incorporated in 1973, SIRC, the Sport Information Resource Centre, is Canada's leader and most trusted partner in advancing sport through knowledge and evidence. SIRC is committed to engaging with organizations and individuals involved in the development of sport, recreation and physical education in Canada and around the world, to enhance the capacity of our shared community to foster growth and the pursuit of excellence.
---
---
The information presented in SIRC blogs and SIRCuit articles is accurate and reliable as of the date of publication. Developments that occur after the date of publication may impact the current accuracy of the information presented in a previously published blog or article.