SIRC at the 2017 Sport for Life Canadian Summit
January 25, 2017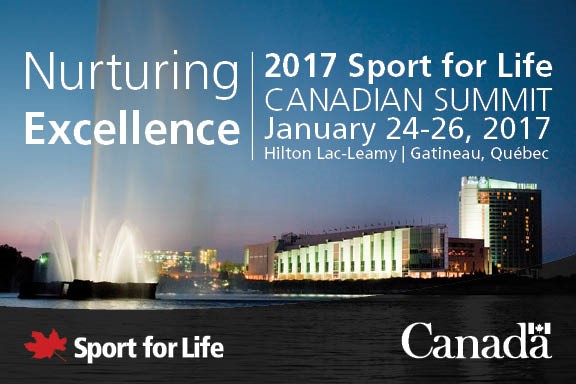 The Sport for Life (S4L) Canadian Summit will be taking place from January 24-26, 2017 at the Hilton Lac-Leamy hotel in Gatineau-Ottawa and brings together leaders to enhance the quality of sport and physical activity in Canada. The 2017 Summit will feature more than 70 sessions from upwards of 100 presenters. The theme for this year's summit revolves around "Nurturing Excellence" delivered through a variety of presentation streams including: Excellence for all, System excellence, Excellence for life, Technology contributing to excellence, Nurturing excellence in sport development, Nurturing excellence in high performance sport, and a French stream focusing on excellence.
"The term "excellence", however applied, can be described as achieving outstanding results. Excellence can be realized in any number of ways – through personal achievement, organizational or system effectiveness, or by changing the culture of an entire nation for the better.
The concept of nurturing excellence suggests that an environment can be created in which excellence can flourish, both in quality and scale, through the intentional actions of an individual or group." -S4L Canadian Summit
What's the conversation about this year?
By attending the presentations, panel discussions, keynotes and workshops, you will learn about successful examples of Long-Term Athlete Development implementation across a range of sports; you will hear about initiatives to advance physical literacy and opportunities for inclusion throughout sport, physical activity and communities; you will develop an understanding of the work and resources that Sport for Life is rolling out in Canada and abroad; and you will discover best practices for how to nurture excellence, in both quality and scale, through the intentional actions of an individual or group. Check out the full program
Come visit us at the SIRC booth
SIRC is pleased to be hosting a booth at the Canadian Summit again this year supporting learning opportunities around athlete development, physical literacy, and sport organization leadership and governance. The SIRC booth is the place to find information about Long Term Athlete Development (LTAD) programs, practical resources around sport leadership and governance. The SIRC website is home to 1000's of resources as well as links to over 45 National Sport Organization LTAD documents.
Sample topics include:
How do you integrate LTAD programs into your governance plan?
What does the board need to do to implement a strategic plan?
Who should be on the board and how do we recruit them?
Where the resources can be found: Sport Governance, Governance, Leadership and Policy on the SIRC website
This is just a sampling of what SIRC and the Summit has to offer so make sure you drop by and visit the onsite resource centre where we will be displaying various S4L and LTAD materials both in print and online.
---
---
The information presented in SIRC blogs and SIRCuit articles is accurate and reliable as of the date of publication. Developments that occur after the date of publication may impact the current accuracy of the information presented in a previously published blog or article.