Officiating Styles
October 23, 2014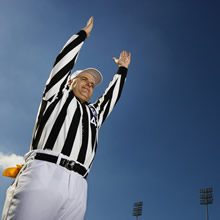 Officiating is an integral part of sports whether athletes find themselves at the introductory or professional level. Officials ensure that sporting events are played according to the governing guidelines by overseeing and implementing the necessary ruling when a sport infraction occurs as well as ensuring the safety of players and promoting fair play. Officiating a game depends on the style a referee decides to implement. Some like the game to be played according to the rules, others like the game to be more flowing and some like to think of themselves as just managing the game.
Depending on the level of competition or the flow of the game, an official might oversee a game using various styles. Three commonly applied styles are:
Rulebook Style: A rulebook style official is the one who knows the rules like the back of their hand and does not leave anything to interpretation. In other words, everything is black and white.  Such officiating can sometimes slow down the flow of the game. This style is important when dealing with boundary lines, as they are a defined part of the game. It is also well suited when implementing safety concerns. When using such a style, it's important to remain consistent with calls made for or against both teams.
Laissez-Faire Style: This style of officiating lets the players play without interfering very much. This maybe useful if both teams are playing well, if neither team is gaining an advantage and if there are no conflicts. Problems can arise when the game gets heated and calls become complicated. This style of officiating is good when the players can take control of the game and the teams have great respect for each other.
Common Sense Style: This style of officiating allows the referee to use common sense when making decisions. They use the rules when it is necessary and allow players to play the game. They make sure the flow of the game is maintained and intervene only when necessary. An official who uses this style is usually very experienced and knows that sometimes, a no call can be the best call.
Officials will determine and modify their styles as they become more experienced. Over time, they will get to understand how rival games are played, the magnitude of certain games and the varying levels of play between different leagues. A person's style of officiating is also enhanced by their ability to signal the right calls, interpret body language and communicate effectively during different situations.
A good referee is one who knows the rules and vocabulary of the game, while letting players play and at times, taking charge when necessary while maintaining common sense. Ultimately, it is the responsibility of officials to ensure that games are played according to the rules, creating an environment for fair play and good sportsmanship on the playing field.
References from the SIRC Collection:
1. Anderson K, Pierce D. Officiating bias: The effect of foul differential on foul calls in NCAA basketball. Journal Of Sports Sciences. May 2009;27(7):687-694.
2. Bernal J, Nix C, Boatwright D. Sport Officials' Longevity: Motivation and Passion for the Sport. International Journal Of Sport Management, Recreation & Tourism. July 2012;10:28-39.
3. Dyche L. How to Become a Collegiate Official. Amateur Wrestling News. September 15, 2014;60(2):19.
4. Slack L, Butt J, Maynard I, Olusoga P. Understanding mental toughness in elite football officiating: Perceptions of English Premier League referees. Sport & Exercise Psychology Review. March 2014;10(1):4-24.
5. Warner S, Tingle J, Kellett P. Officiating Attrition: The Experiences of Former Referees Via a Sport Development Lens. Journal Of Sport Management. July 2013;27(4):316-328.
6. Weston M, Castagna C, Helsen W, Impellizzeri F. Relationships among field-test measures and physical match performance in elite-standard soccer referees. Journal Of Sports Sciences. September 2009;27(11):1177-1184.
---
---
The information presented in SIRC blogs and SIRCuit articles is accurate and reliable as of the date of publication. Developments that occur after the date of publication may impact the current accuracy of the information presented in a previously published blog or article.