My Kind of Fun
June 13, 2014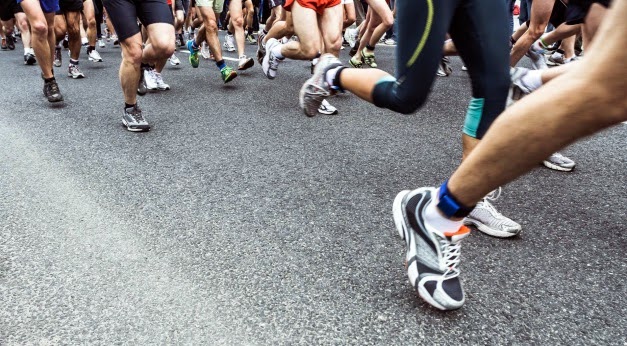 What does fun mean to you? Does it involve donuts, maybe a pint of beer, or possibly becoming a human kaleidoscope? No matter how you define fun, the odds are pretty good that it's been combined with a race course to create the perfect fun run just for you.
Here is selection of fun runs that might inspire you to start training for a race.
A challenge that might get your stomach growling or turning, the race started as a dare between undergraduate students in 2004. Runners have one hour to cover a five mile course and eat a dozen Krispy Kreme donuts along the way. The original race in Raleigh, North Carolina, is now in its tenth year and has approximately 8000 registered runners.
As soon as the sun goes down, this race is ready to start. Night racers are given LED headlights and glow in the dark t-shirts so they can run or walk as one fluorescent mob. Glow stations are set up where runners can be painted with glow-in-the-dark paint and are equipped with glow sticks before heading out on the 5/10km course. After the race, runners have free admission to a live DJ and dance party.
Mud and Chocolate
Runners can choose from 4.5 mile or half marathon course. The course is set to take runners along tree-lined trails (and they promise only a little bit of mud) with chocolate aid stations located throughout. The finish line is dubbed chocomania, where racers can indulge in a chocolate buffet once they complete the race. To top off the event, medals are presented to the participants – which also happen to be made of chocolate.
This race got its start in a Welsh pub as a debate among patrons. While the horse was the clear favourite when then the challenge started thirty years ago, modifications have been made to the course to even the playing field. It wasn't until 2004 that the first man was able to win the race against the horse.
Whether you feel like trying a race to support a worthy cause, or to have a laugh with your friends, the selection of fun runs means there is something for everyone. So find a race that interests you, lace up your runners, and go have some fun.
References Available from the SIRC Collection:
1. Minniti A, Tyler C, Sunderland C. Effects of a cooling collar on affect, ratings of perceived exertion, and running performance in the heat. European Journal Of Sport Science. November 2011;11(6):419-429.
2. Mullins N. Obstacle Course Challenges: History, Popularity, Performance Demands, Effective Training, and Course Design. Journal Of Exercise Physiology Online. April 2012;15(2):100-128.
3.  O'neal E, Davis B, Thigpen L, Caufield C, Horton A, Mcintosh J. Runners Greatly Underestimate Sweat Losses Before and After a 1-hr Summer Run. International Journal Of Sport Nutrition & Exercise Metabolism. October 2012;22(5):353-362.
4. Sanders A, Redhead J. Heat stroke and 10K "fun runs": new safety measures are called for. British Journal Of Sports Medicine. October 2006;40(10):880.
5. Vadeboncoeur T, Silvers S, Mohseni M, et al. Impact of a High Body Mass Index on Lower Extremity Injury in Marathon/Half-Marathon Participants. Journal Of Physical Activity & Health. January 2012;9(1):96-103.
6. Wilk B, Timmons B, Bar-Or O. Voluntary fluid intake, hydration status, and aerobic performance of adolescent athletes in the heat. Applied Physiology, Nutrition & Metabolism. December 2010;35(6):834-841.
---
---
The information presented in SIRC blogs and SIRCuit articles is accurate and reliable as of the date of publication. Developments that occur after the date of publication may impact the current accuracy of the information presented in a previously published blog or article.