Mission Impossible? Not for these 2018 Chefs de Mission
July 11, 2018
2018 has already been an exciting year, with four major international games – the Arctic Winter Games hosted in the South Slave region of the Northwest Territories, Canada (March 18-24, 2018); the Olympic and Paralympic Winter Games hosted in PyeongChang, South Korea (February 9-25 and March 9-18, 2018); and Commonwealth Games hosted in Gold Coast, Australia (April 4-15, 2018). SIRC sat down individually with four Chefs de Mission to talk about all things leadership. This SIRCuit article presents a compilation of those conversations.
SIRC: The role of the Chef de Mission is typically as the figurehead of the delegation of athletes, coaches and staff. What did that position look like in practice?
Todd Nicholson, Team Canada Chef de Mission, 2018 Paralympic Winter Games: For the bigger Games, the Chef has some freedom to create their own vision for the team. For me, it was a platform to promote and celebrate Canada's amazing Paralympic athletes to Canadians. Athletes' families and friends in PyeongChang took this message to heart – the "team" atmosphere at Canada Paralympic House was amazing, with everyone rooting for all Team Canada athletes. I regularly challenged our sponsors to become more familiar with the athletes and their stories, and to think about how they could support the athletes during competition and after, for example through employment and profile. I also had an opportunity to connect with 25-30 Canadian schools during the Paralympic Games, increasing their knowledge of the athletes (and challenging my own knowledge too!).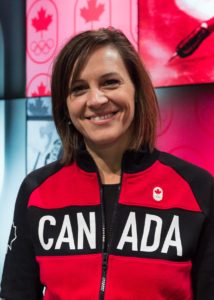 Isabelle Charest, Team Canada Chef de Mission, 2018 Olympic Winter Games: As the Chef at the Olympic Games, I was the face of the team, the spokesperson for media and partners. But also mentor and advocate for the athletes and coaches, ensuring they had what they needed to succeed. Beyond the focus on Team Canada, I also used the role as a platform to raise awareness about an issue important to me – engaging more girls in sport. While Team Canada athletes provide great role models to inspire Canadians to be active and achieve their goals, girls need people in their daily life to be sport mentors and role models.
Claire Carver-Dias, Team Canada Chef de Mission, 2018 Commonwealth Games: For me, the vision for Team Canada at the Commonwealth Games was all around "connection" – to help athletes connect with their optimal performance, help them connect with the broader commonwealth community, and help them connect with each other.
Doug Rentmeister, Team NWT Chef de Mission, 2018 Artic Winter Games: The role of Chef at smaller Games, such as the Arctic Winter Games, is much more operational. I was involved in final Northwest Territories team selection, and managed the team at the Games. As the host community, myself and team staff and volunteers also worked closely with the Host Society, taking on tasks such as coordinating Canadian customs processes for the international delegations. The Games were split over two sites (Hay River and Fort Smith), so during the Games I travelled back and forth and worked closely with Assistant Chefs at each location.
SIRC: How did you prepare for the role?
Claire: There is definitely a risk of becoming overwhelmed leading up to any major games – there are so many emails and information crossing your desk. Stepping into this role, it's essential to be able to lean on and trust the expertise and experience of the operations team and mission staff. Regular status updates, progress calls, and specific conversations when needed, ensured we felt on top of things.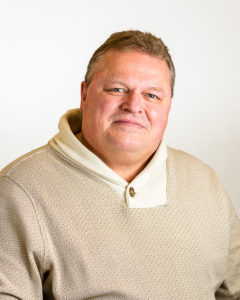 Doug: The community focus of the Arctic Winter Games required the development of strong partnerships and collaboration. I attended a lot of local events to build support for and engagement in the Games.
Todd: Having competed in five previous games, I had some amazing role models, and took their advice and insights to heart. I remembered the impact they had on me as an athlete, and was very intentional about how I wanted to support the team. Athletes, coaches and staff new I was available for anyone, anytime, with advice, guidance and support.
Isabelle: I think I started preparing for this role in 2012 when I worked as the Canadian Olympic Committee's Athlete Services Coordinator. Gearing up for 2018 it was really important to understand the roles and responsibilities of the volunteers, staff and organizations involved, and create strong working relationships so we could focus on the athletes.
SIRC: Describe your overall leadership approach.
Isabelle: I try to lead by example, and walk the talk. I work to really understand key situations and keep the bigger picture in mind when considering strategy and related outcomes. On a working level, having that shared understanding about everyone's roles and responsibilities, especially when collaborating with so many individuals and organizations, means communication and action can be much more efficient.
Doug: I use a bottom-up approach to leadership. With a good team, you can rely on them to use their strengths to get the job done. Given the high stress environment of the Games, we need communication, consistency and transparency to ensure the climate is as pleasant and supportive as possible.
Todd: I am definitely a team player! I work to surround myself with the right people to help me accomplish my goals. The Games is an interesting environment, because you're working with both staff and volunteers. Navigating the politics between various groups can be difficult. Understanding that landscape, knowing peoples' roles and responsibilities, and most importantly their priorities, helps everyone work well together.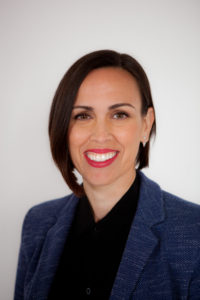 Claire: Leadership is not about authority, it's about effectively influencing others to obtain a vision. Good leadership requires strong observational and listening skills so you can optimize the interests and skills of others to achieve the shared goals. It's also important to understand your own limitations – this is why having a great team you trust is important, so you don't feel like everything rests on your own shoulders.
SIRC: How did you develop your understanding of leadership? What role did sport play in your development as a leader?
Todd: I feed my brain with as much information as possible, tapping into the information highway and the ability to connect with anyone in the world at any time. I keep up to date with the news and social media, and be sure to review press releases from key organizations in Canada and internationally. I also maintain my network to learn from mentors and colleagues. Sport has played an important role in developing not only my leadership style, but also me as a person. Before my accident at age 18, I was a strong athlete but super shy. After my accident, I was often cast into the role of expert, initially by doctors and residents during my recovery and rehabilitation. This gave me confidence and taught me the value of collaboration.
Claire: As a communications consultant for corporate leaders, my job is to observe leaders around me, how they motivate and push others out of their comfort zone. I also read a lot about leadership and communication. In developing my own leadership style, I have been able to borrow and learn from what I've witnessed and read. My experiences in sport have been equally instructive. As an athlete I had amazing leaders, typically coaches. These leaders taught me about the art and science of setting objectives, building buy-in, and motivating others.
Doug: I learned a lot about leadership through my involvement in cadets, and participation in a wide variety of sports. I also coached a number of sports, where I learned what it takes to inspire and build commitment amongst athletes. I've been a leader for a number of years in my community, and within sport. I've been able to watch and learn from other leaders. These types of experiences have really informed my leadership style.
Isabelle: For me, the confidence and skills to communicate with others and earn their respect came naturally – I was always the team captain. However, through sport and other volunteer opportunities I watch other leaders in action, reflect on the outcomes, and integrate learnings into my own approach. What's always worked well for me is taking time to build relationships to best support the team – whether that team is on the field or in the boardroom.
SIRC: What specific strategies did you use to build and support the Team at the Games?
Isabelle: Amongst the Mission staff, it again goes back to the roles and responsibilities, ensuring everyone knows the expectations and end goals. We had a competent and reliable group that respected and trusted each other, and took care of each other. When mistakes inevitably happened, everyone shared responsibility for making things right. Amongst the athletes, I valued in-person gatherings to build those bonds so that in Korea they wouldn't feel like they were with a bunch of strangers. Social media really helped build the relationships.
Doug: We invested time and financial resources to bring coaches and mission staff together. Getting to know each other prior to the stress of the Games enabled any situations to be addressed quickly. At the Games I was conscious to not make people stretch too far. We made time for dinner or breakfast meetings, and I ensured I was honest and upfront, and quick to respond to any requests.
Claire: We assembled a stellar team of support staff at the Games. Their role was to bring their knowledge and passion for the Games to life. My job was helping them achieve their optimal performance, as this would ultimately support the athletes.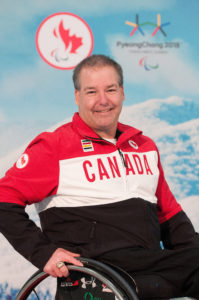 Todd: I wanted every athlete and coach to remember me as a positive force at the games. As part of the "Team Canada" culture, I had a Don Cherry-inspired suit I said I'd wear every time we won a medal. I had to wear that suit every day.
SIRC: How did you help athletes navigate the highs and lows of competition?
Claire: Active listening was again important for this. I had a meal with every sport where I was able to listen, ask questions, and create space for athletes to talk and process their experiences. Depending on the situation, some individuals and teams need comfort and reassurance, others need encouragement
Isabelle: We had a team of four Olympians at the villages in the lounge every day for the athletes. I also tried to have a high profile at competition sites where I could interact with athletes, whether they were there that day as competitors or spectators. Certainly support was needed for athletes with specific roles (e.g., the flag bearer), or those with high medal expectations. With all athletes, I worked to assure them that Canada would support them regardless of the outcome, and also remind them that the success of their career would not be measured in a single day.
Todd: The athletes lounge at the Paralympic Village was a great spot to connect with athletes. I was able to share my own successes and challenges dealing with the stress and anxiety of competition, managing the demands of training, working and family, and bringing perspective to the whole experience. We also paired athletes with mentors from other sports to ask questions and talk about their struggles with some level of privacy and objectivity.
Doug: At the Arctic Winter Games the coaches were the main source of support for athletes. However, I occasionally stepped in to help an athlete reframe a negative experience, and also, unfortunately, to deal with disciplinary issues. The Team NWT core values served to remind all team members why we were there, and to put our best foot forward.
SIRC: What's one key learning that will impact your leadership approach moving forward?
Doug: A serious disciplinary incident required one athlete to be sent home from the Arctic Winter Games. This took a lot of time and effort, and was a distraction for athletes and other team members. However, we rallied to address the issue, and it provided an opportunity for the mission team to tweak our processes and hopefully avoid similar situations in the future. It was a reminder that there is always a risk of crises; how they're managed is an indicator of the strength of the team.
Claire: Major Games are stressful situations – lots pressure, demanding hours, and high stakes. I've seen first-hand the impact of stress and fatigue, especially on interpersonal interactions. At the Commonwealth Games I constantly had my eyes open for extreme fatigue, and created opportunities for rest and recovery.
Isabelle: The Olympics provided some difficult situations, in particular supporting short-track speed skater Kim Boutin who was the target of backlash and death threats on social media. A core group essentially created a bubble around her to deflect the attention and allow her to focus on her preparation. Even without these types of extreme situations, athletes are under an immense amount of psychological stress. We need to keep in mind that they're people and use an athlete-centred approach to help them cope with the pressure.
Todd: There was certainly lots of stress and challenging situations to learn from. But just as valuable are the inspirational stories from the Games. During one race, a veteran athlete who realized they were not going to medal sacrificed their own overall time to wait for and motivate a rookie to the finishing line, ultimately supporting a podium performance. This happened in an individual sport. It was amazing to see how even in times of competition our Canadian team pulled together for each other. I could not have been more proud of all the athletes that competed during the 2018 Games. It's these types of stories that demonstrate the value of sport, and what drives many of us give up our time and comfort of our own beds to be involved.
---
About the Author(s)
As SIRC's Content Manager, Sydney Millar solicits, supports and curates content from researchers, experts and thought leaders from the broad sport and physical activity sector.
---
The information presented in SIRC blogs and SIRCuit articles is accurate and reliable as of the date of publication. Developments that occur after the date of publication may impact the current accuracy of the information presented in a previously published blog or article.