Mentoring a new official
February 5, 2015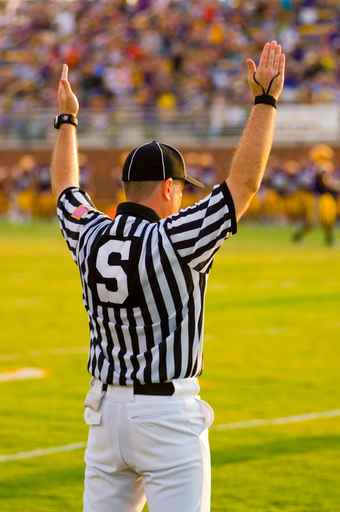 Sports officials assure that competitive events are played by the rules. When these rules are broken, it is up to referees to ensure that the necessary procedures are enforced. This can be a tall order for a new line judge, since what they learn in the classroom or from a book is very different than a live game. In order to develop proficient officials, mentorship can be an excellent way to provide support and expand on the learning process.
It is not necessarily a mentor's job to evaluate a new mentee but rather to provide ideas on how to solve problems and offer suggestions for improvement. It is also a way of sharing knowledge, giving feedback to the mentee and supporting a fellow colleague in meeting the demands needed to succeed. The observations and shared experiences of a seasoned referee can build the confidence of a young official as it helps to nurture and educate them as they follow their own learning curve.
Mentors are viewed as having more experience but they are not necessarily regarded as experts. It is this experience that is important to transfer over to a young referee in the early stages of becoming an official. This process also provides a support system in enabling young officials to face the challenges that go beyond what they learn in a course.
The role of a mentor is to:
Observe the officiating of mentees as often as needed
Provide positive feedback
Share experiences and pass on knowledge
Be supportive and have open communication
Provide guidance
A partnership between a mentor and mentee helps enhance the learning experience for the latter, but more importantly it improves the retention of young referees. Officiating is a tough job that often requires dealing with unruly behavior, which may discourage some new officials from continuing. A mentor can help in such tough moments, since they can serve as a sounding board on how to deal with such situations.
Being an official requires an attention to detail and thorough understanding of one's sport. This takes the right training and qualifications. Having a mentor can be a great opportunity for young referees to reach higher levels of success. Good mentors are experienced, knowledgeable and supportive of young and developing officials and in this way, it enhances the mentee's knowledge and confidence.
References Available from the SIRC Collection:
1. Bernal J, Nix C, Boatwright D. Sport Officials' Longevity: Motivation and Passion for the Sport. International Journal Of Sport Management, Recreation & Tourism. July 2012;10:28-39.
2. Dyche L. How to Become a Collegiate Official. Amateur Wrestling News. September 15, 2014;60(2):19.
3. Ellis-Worthington J. Bringing along a new generation. Ontario Wrestler [serial online]. Spring2009 2009;:14.
4. Forbes S, Livingston L. Changing the call: rethinking attrition and retention in the ice hockey officiating ranks. Sport In Society. April 2013;16(3):295-309.
5. MacMahon C, Mildenhall B. A Practical Perspective on Decision Making Influences in Sports Officiating. International Journal Of Sports Science & Coaching. March 2012;7(1):153-166.
6. Warner S, Tingle J, Kellett P. Officiating Attrition: The Experiences of Former Referees Via a Sport Development Lens. Journal Of Sport Management. July 2013;27(4):316-328.
---
---
The information presented in SIRC blogs and SIRCuit articles is accurate and reliable as of the date of publication. Developments that occur after the date of publication may impact the current accuracy of the information presented in a previously published blog or article.