Interested in sport participation research? Join us at SCRI 2016
October 19, 2016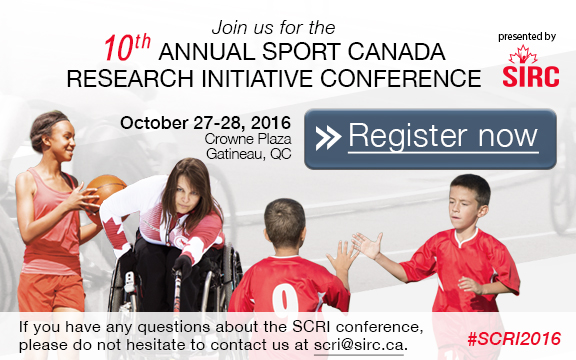 Conference Background
In 2005, as part of the Sport Canada Research Initiative (SCRI), Sport Canada launched a joint initiative with the Social Sciences and Humanities Research Council of Canada (SSHRC) called the Sport Participation Research Initiative (SPRI). Sport Canada funds the initiative to better evidence the benefits of, and barriers to, quality sport participation with the aim of improving Canadian sport policy outcomes.
Conference Information
The 10th annual Sport Canada Research Initiative (SCRI) Conference will be held in Gatineau on October 27th and 28th, 2016 at the Crowne Plaza Gatineau. The purpose of the SCRI conference is to facilitate connections between researchers, policy analysts and sport leaders in order to engage and share the practical applications of sport participation research within the sport community.
Conference Features
This year's conference highlights:
Presentations of recently completed research projects
Dynamic introductions and posters of research in progress
An informative keynote showcasing Sport England's incorporation of research into strategy development
Interactive session discussing sport participation in underrepresented groups
Join us Thursday morning for four exciting research presentations with expert panels. Topics of discussion include survival of sport in rural southern Alberta; and challenges facing teacher-coaches in Canada. A Lightening round of poster presenters designed to introduce new researchers and their sport participation projects will cap off the morning session.
Lunch on Thursday will feature a keynote presentation from Lisa O'Keefe (Director of Insight, Sport England) showcasing how Sport England uses research and insight to drive strategy development and delivery. The afternoon delivers research presentations with panels on the role of growth and maturation on sport participation; and multiculturalism and physical culture in the GTA.
The Friday session will open with a research presentation examining Special Olympic sport retention in Ontario followed by a policy and practitioner Lightening round.  The morning session will be rounded out by a research presentation and workshop on program policy for sport participation in underrepresented groups. If you have an interest in underrepresented participation in Canadian sport and wish to share your expertise with others, this is your opportunity to make a difference. Be part of the discussion that drives change and evolution in sport policy and sport program development.
Click here for a full conference schedule.
Hosted by the Sport Information Resource Centre (SIRC), we heartily invite you to join us. Visit sirc.ca/scri to register to attend in person and for more details.
One week only (October 19-23) register to attend the SCRI Conference as an online participant for FREE! Can't make it to Ottawa, but want to participate in this exciting conference? Register for the SCRI live webinar and join us remotely in real-time. Register for the webinar HERE.
---
---
The information presented in SIRC blogs and SIRCuit articles is accurate and reliable as of the date of publication. Developments that occur after the date of publication may impact the current accuracy of the information presented in a previously published blog or article.