Hurling – The Fastest Game on Grass
August 26, 2014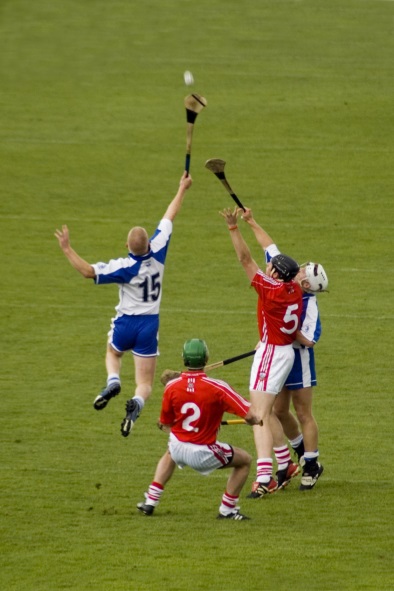 Take a little bit of field hockey fundamentals, the ball carrying and throws of lacrosse, the physicality of rugby, with a sprinkle of hockey and soccer for good measure and you've got the Irish national sport of hurling (Camogie in the women's league). Commonly known as the fastest game on grass, hurling is a designated game of the Gaelic Athletic Association and has been a part of Irish history for over 2000 years.
During a match, each side consists of 15 players: a goalkeeper, six defenders, six attackers, and two mid-fielders. Each player carries a stick called a hurley, or a camán in Irish. The hurley resembles a field hockey stick with a flat curved blade at the base instead of a hook, and can be wielded in either hand. Tradition dictates that each hurley be made out of the wood of an ash tree, grown natively in Ireland and known for its strength and flexibility.
Hurlers use the camán to control the sliotar (the ball used in hurling). Players are allowed to grab the ball out of the air and carry it, but after four steps must bounce it off the hurley or balance it as they continue to run toward the goal. The ball can also be hit down field in the style of baseball.
Hurling Skill Categories:
Gaining Possession
Maintaining Possession
Releasing Possession
Contesting Possession
Points are won by either shooting the ball through a set of uprights and over a crossbar (1 point) similar to a field goal, or scoring on a goalkeeper guarding a net (3 points).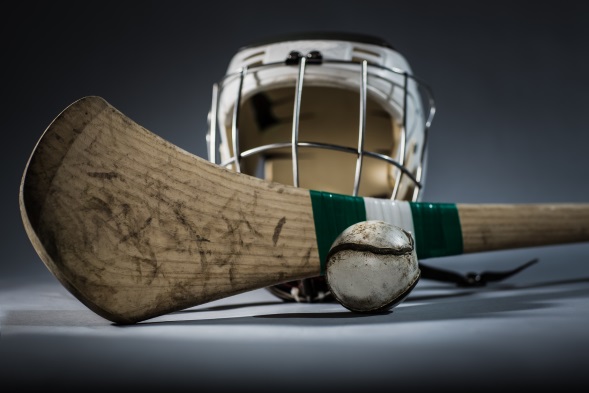 The game of hurling requires outstanding hand-eye coordination combined with every ounce of fearlessness one can manage. While body checking, tripping, and slashing are not allowed, shoulder checks are allowed as well as in air and ground grapples with the camáns. The hurler's only protection is a helmet identical to the one used in lacrosse.
All of these things have resulted in the creation of a fast, free flowing game that is passionately loved by its fans (game attendance can easily fill an 80 000 person stadium). The game of hurling is reaching out from its traditional roots in Ireland, gaining fans abroad and by being adapted to include wheelchair hurling. If you're thinking of learning more about the sport beware, hurling is a game that captures your attention and does not like to let go.
References Available from SIRC Collection:
1. Alsakarneh A, Quinn B, Kelly G, Barrett J. Modelling and simulation of the coefficient of restitution of the sliotar in hurling. Sports Biomechanics. September 2012;11(3):342-357.
2. Duncan M. Plyometric Training in Gaelic Games: A Case Study on a County-Level Hurler. International Journal Of Sports Physiology & Performance. September 2006;1(3):361-364.
3. Flynn T, Fennessy K, Beatty S, et al. Ocular injury in hurling. British Journal Of Sports Medicine. August 2005;39(8):493-496.
4. McIntyre M. A comparison of the physiological profiles of elite Gaelic footballers, hurlers, and soccer players. British Journal Of Sports Medicine. July 2005;39(7):437-439.
5. Murphy J, Gissane C, Blake C. Injury in elite county-level hurling: a prospective study. British Journal Of Sports Medicine. February 2012;46(2):138-142.
6. Reilly T, Collins K. Science and the Gaelic sports: Gaelic football and hurling. European Journal Of Sport Science. September 2008;8(5):231-240.
---
---
The information presented in SIRC blogs and SIRCuit articles is accurate and reliable as of the date of publication. Developments that occur after the date of publication may impact the current accuracy of the information presented in a previously published blog or article.