Hockey in the Streets
June 16, 2014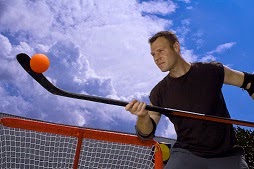 by Richard Halfyard – Library and Information Technician Intern
Now that the Stanley Cup Playoffs are under way many Canadian hockey fans have settled down to watch their favorite team play. This time long tradition of watching ice hockey athletes compete at a high level of competiveness to win Lord Stanley's Cup has inspired generations to follow this dream. Ice hockey is the most identifiable form of hockey, but there are others. One of the more popular alternatives to ice hockey is ball hockey.
How is ball hockey different than ice hockey?
Ice hockey and ball hockey have many similarities, but there are some notable differences. Ball hockey is played primarily on the streets, or on a ground surface as opposed to ice. The size of the playing surface and the enforcement of the rules can be different depending on the competition. In game rules such as the floating blue line and reduced period length also make the game unique from its ice counterpart.
The Popularity of Ball Hockey 
From June 2-9 2013 the International Ball Hockey Championships was held in St John's, Newfoundland and Labrador. The tournament attracted 17 men's teams and 8 women's teams from across the globe to compete for the world championship. This sport is now represented in non-traditional hockey countries such as Bermuda and Greece as these teams competed at the championships. In Canada alone, the Canadian Ball Hockey Association oversees 3 types of national championships, 2 regional championships and sends 4 Team Canada teams to international competitions. There are also many local ball hockey leagues throughout the country.
CBC's Play On! 
The Play ON! Tournament is a national street hockey tournament currently sponsored by the CBC. It is known as Canada's largest sports festival and has grown from 1 tournament in Halifax, Nova Scotia to 21 tournaments held in different cities from coast to coast. This tournament encourages different levels of competition, but more importantly encourages participation from as many people as possible. There is a call for players, officials and conveners every year. If you want to meet new people while being involved in the game then check out the Play ON! website for details.
Ball hockey is part of our hockey culture. It may not offer the same look and feel as a sheet of ice at the local community arena, but it has its own unique characteristics that make it a popular sport. It is cost effective while remaining competitive. People of all ages and backgrounds can play while organizations, tournaments and festivals have taken the sport to new levels. Ball hockey is definitely something that everyone should try.
References from the SIRC Collection:
1, Feist, Larry. "Stand On Guard." Ontario Hockey Now (2014): 5.
2. "Hockey Rules Group Suggests Points Of Emphasis, Future Rules." NCAA News (2009): 2.
3. Mikkola, Juha. "Floorball – An Indoor Hockey Evolution. / L'unihockey – Dans Le Sillon Du Hockey En Salle: Une Activité Parfaite Pour Les Écoles Canadiennes." Physical & Health Education Journal 77.3 (2011): 36-43.
4. Perkins, Graham. "Play On Street Hockey Event Sweeps The Nation." Ontario Hockey Now 8.5 (2009): 21. "Road Hockey Tourney Creates Lasting Heroes." Ontario Hockey Now 7.16 (2008): 11.
---
---
The information presented in SIRC blogs and SIRCuit articles is accurate and reliable as of the date of publication. Developments that occur after the date of publication may impact the current accuracy of the information presented in a previously published blog or article.