Goodbye Sochi!
June 12, 2014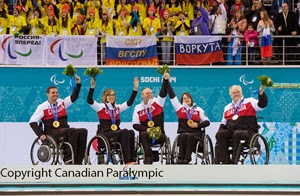 As the flame went out at the Sochi 2014 Paralympic Winter Games, Canada stood third on the medal table. We accumulated 16 medals in total (7 Gold, 2 Silver and 7 Bronze). These games, exemplified by the slogan #WHATSTHERE, truly showed that the impossible can be possible.
There were great moments that made these games memorable. Brian McKeever falling in the 1km visually impaired cross-country race and recovering to win gold is a memory that stands out. McKeever left these games with a total of 3 gold medals, making his Paralympic career total 10. The wheelchair curling team came through once again as they cemented Canada as the best curling nation, maintaining Canada's place as the only country to ever grace the top of the Paralympic podium in the event. We also witnessed 16 years old Mac Marcoux, the youngest member on the Paralympic team, bring home a gold and 2 bronze medals in alpine skiing. Showing the future is bright.
The 2014 Sochi Games were the largest Winter Paralympic Games in history with 700 athletes and 45 countries taking part. For 9 days the games showcased some of the best athletes in:
In 2018, the XXIII Olympic and XII Paralympic Winter Games will be hosted in Pyeongchang, South Korea from February 9th to 25th and March 9th to the 18th respectively. In two years Rio de Janeiro will be host city for the 2016 Olympic and Paralympic Summer Games.
References Available from the SIRC Collection:
1. Blauwet C, Benjamin-Laing H, Stomphorst J, Van de Vliet P, Pit-Grosheide P, Willick S. Testing for boosting at the Paralympic games: policies, results and future directions. British Journal Of Sports Medicine. September 2013;47(13):832-837.
2. Craig J. Paralympic Evolution or Revolution?. Athletics. November 2012;:4-7.
3. Groth J. MEN on a MISSION. Sports 'N Spokes Magazine. March 2014;40(2):16-21.
4. Misener L, Darcy S, Legg D, Gilbert K. Beyond Olympic Legacy: Understanding Paralympic Legacy Through a Thematic Analysis. Journal Of Sport Management. July 2013;27(4):329-341.
5. Tweedy S, Vanlandewijck Y. International Paralympic Committee position stand—background and scientific principles of classification in Paralympic sport. British Journal Of Sports Medicine. April 2011;45(4):259-269.
6. Willick S, Webborn N, Schwellnus M, et al. The epidemiology of injuries at the London 2012 Paralympic Games. British Journal Of Sports Medicine. May 2013;47(7):426-432.
---
---
The information presented in SIRC blogs and SIRCuit articles is accurate and reliable as of the date of publication. Developments that occur after the date of publication may impact the current accuracy of the information presented in a previously published blog or article.