An Official's Journey to the FIFA Women's World Cup
April 1, 2020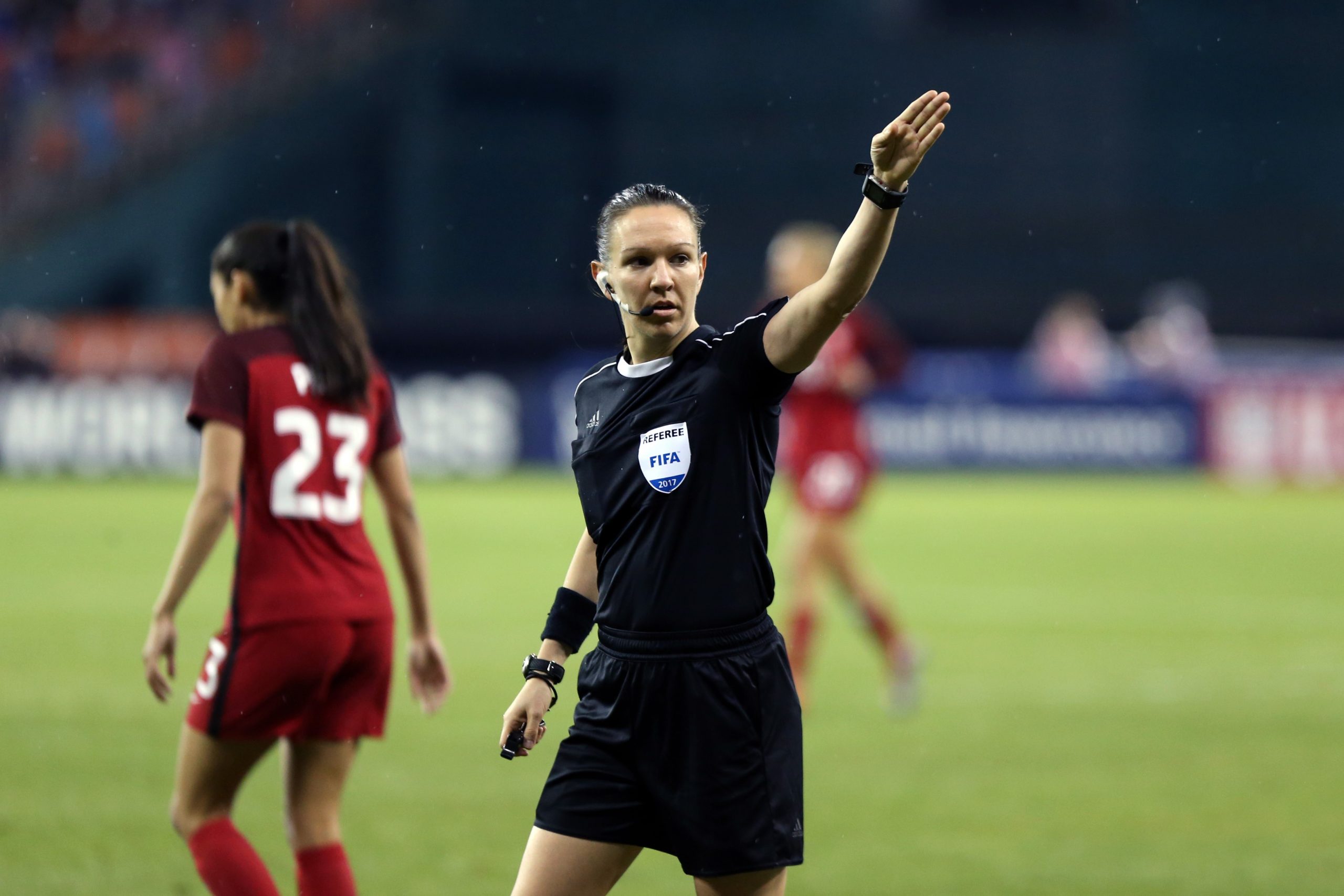 Officials are considered by some to be the unsung heroes of sport, responsible for upholding the rules and intentions of sport. SIRC sat down with Marie-Soleil Beaudoin – Canadian soccer referee and instructor of physiology and biophysics at Dalhousie University – to talk about her journey from the community soccer field to officiating at the 2019 FIFA Women's World Cup.
SIRC: Lets start with your early involvement in sport – did you start in soccer?
Marie-Soleil Beaudoin (MSB): I grew up in a soccer family. I'm the oldest of three girls. We all played soccer and our parents coached. When I was old enough, I started coaching. After my sister started refereeing, I made the switch, motivated by the fact it was a paid position!
At that time, I was 20 years old. Now, individuals often start refereeing at a young age. I think my age and maturity provided a type of buffer against the negative dynamics we sometimes see on the field, between referees, coaches, athletes and parents. If I was younger, those types of dynamics likely would have made me quit.
I really enjoyed refereeing, and started to work my way up the system. I was motivated by the certification processes, enjoying the challenge of competency testing (e.g. laws of the game) and on-field performance assessments. I achieved national certification in 2013 and FIFA certification in 2014.
Refereeing for FIFA opened the doors to range of new experiences and opportunities – traveling internationally and experiencing the sport through different cultures. My first tournament was the FIFA U-17 Women's World Cup in Jordan. It was absolutely eye-opening coming from Canada and refereeing a women's tournament in the Middle East. It wasn't at all what I expected. There I was, officiating a match for 16 and 17 year old girls, surrounded by 17,000 cheering spectators. It blew my mind, and challenged what I thought the middle east was about.
SIRC: How are officials managed at the international level?
MSB: FIFA works in cycles, so they started preparing for the 2019 Women's World Cup in 2016. Many people also don't realize that at the international level, officials are assigned into teams, with one centre referee (that's me!) and two assistant referees (Princess Brown and Stephanie-Dale Yee Sing), that work together through the cycle. For me and my team, our first FIFA tournament was the one in Jordan. Our performance led us to be included in the preliminary list of officials considered for France 2019. From then on, FIFA appointed us to different tournaments and seminars to give us the best chance to be ready for the Women's World Cup. The final list of officials selected for the WWC was released in December 2018.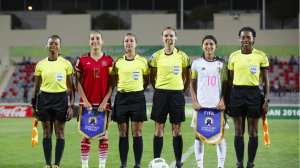 This team approach to officiating is valuable. On the field, I make the final decisions, but I may only have part of the information during play – so we rely on each other. Good communication within our team is critical to success. As the referee, I'm responsible for building our relationship through training, game experience and discussion. For example, to support decision-making on the field, we have developed communication shortcuts, providing efficient ways for communicating fouls, penalty kicks and offsides.
However, I also play a leadership role in building our relationships off the field – another important component to success. As international-level officials, we are away from family and friends for extended periods of time, living in hotels, participating in stressful meetings, and dealing with the pressure of games. There are a lot of emotional ups and downs and we can't take those pressures onto the field. As a leader, my role is to ensure my teammates are happy, feeling emotionally stable, focused on our goals, and are well trained so we can perform well. Luckily my assistants are as driven, motivated and as focused as me.
Working with my two assistant referees, I'm also reminded how privileged I am to be in this position. My two assistants are Jamaican – their lifestyle at home is completely different than mine. For example, one of my assistants used money she received from a tournament to install running water at her parents' house. For them, officiating is their life and livelihood, with impacts on quality of life for them and their extended family. For me, officiating is a second career, which I balance with my role as an instructor at Dalhousie University. I really value the opportunities officiating at this level have given me to have my eyes opened to the lived realities of people around the world. I am honoured to work with people who came from such a relatively challenging position and who have excelled at the highest levels of sport.
SIRC: What are some of the challenges and success you have experienced over the years?
MSB: One of my most difficult experiences with the game was as a high-level provincial referee in Ontario. To get a national badge I needed to perform well in the men's league, and in one game I made a number of important mistakes on the field. The experience really affected my confidence and I actually considered quitting for a time because I was unable to enjoy the game. There is a very important mental component to being an official. You need to develop the coping skills and resilience to get over mistakes so they don't affect the next game. I ended up turning to a sport psychologist to help me regain my confidence.
On the flip side, one of the greatest things I have experienced is the sense of community that exists amongst referees. I have made strong friendships within the community – friends that believed in me before I believed in myself, and who I could lean on during tough times.
In 2018 I gave birth to my first child. During the pregnancy, I wasn't sure how my body and mind would be affected, and I questioned whether I would be able to step back into the same level of the sport. It could have been easy for decisions makers to skip over me, but I received a lot of support to get back on the field. In fact, at a FIFA event in 2018, seven of 44 women officials had given birth in the last year, enhancing the support within our group. Many of us struggled with fear of judgement, from others as well as ourselves, that returning to our officiating roles made us inadequate mothers (I was back on the field after only 7 months). Certainly, support from our partners and families makes doing that possible, but support from my community of officials helped normalize and give confidence to my decisions.
SIRC: Stepping onto an international stage as a referee must be stressful. How do you prepare for the games?
MSB: Preparation is key! For World Cup games there are technical and tactical coaches that help us prepare. They meet with us in advance to review how the teams play, discuss the key players, and generally what to expect. On the field we need to make split second decisions. Those decisions are easier if you know what to expect and can understand situations as they are happening.
In other games, responsibility for preparation rests on the officials' shoulders. In addition to familiarizing myself with the teams, I really focus on my mental preparation. On the field I use key words to keep me focused, such as "breathe" to calm myself, and "next" to not dwell on specific situations and keep me grounded in the moment. I also often think of the teams as their colours so I don't get caught up in the history and pressure that the teams bring to the field. At the 2019 World Cup I was officiating a game between France and Brazil. It was a high stakes game between the home team and an iconic team – France and Brazil. But I tried to think of them as simply "white" versus "yellow."
All of this preparation does make a difference. Once the first whistle is blown I'm able to get into the zone. As officials, we've done it so many times, and we're so well trained, that it feels natural. It's leading up to the event that you have to stop yourself from getting caught up in the anticipatory stress.
SIRC: Officials play the role of diplomat or rule enforcer. Tell me about some of the interactions you've had on the field and the importance of communication skills.
MSB: Yes, refereeing is an art and a science. I'm more of an introverted person, so quick, responsive communication isn't one of my natural strengths. Plus, I'm often required to communicate in English – my second language. As referees, we are often in situations where we have to calm athletes down or communicate a message to someone who doesn't want to talk to you. However, communication skills are something I actively work on.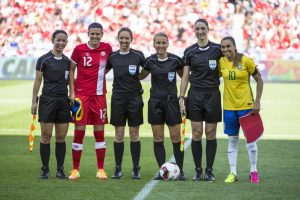 I think empathy and respect are undervalued by a lot of referees – many step onto the field as authority figures. For me, when I step onto the field, I see 22 players, each with their own story, their own goals/injuries/pressures, who are all under pressure. My approach is to communicate where the line is, and hopefully the players work with you to uphold the laws and intentions of the game. But this is the best-case scenario. When conflict situations arise, I don't take it personally. A lot of pressure is transferred by the athletes to the officials, who are sometimes considered in the way of the athlete's or team's performance.
Ninety-five percent of the games I officiate are men's games, and sometimes there are raised eyebrows when they see my ponytail. In the past I have been tested by teams the first few times I officiate their games. But soon enough they realize I'm a good referee and forget about gender. There are a lot of challenges for women to officiate men's games at all levels and in all countries. Luckily for me, I live in Canada, where the presence of women in male-dominated professions is more accepted than other places in the world. This makes the inherent challenges of being a woman leading a men's game a little easier to take on.
SIRC: Tell me about the other roles of the referee
MSB: At the highest levels, officials play two important roles. The first has to do with player safety. As officials we prioritize safety by upholding the laws of the game. With concussion, for example, officials are responsible for stopping play in the event of suspected head injury and providing time for an athlete to be medically assessed. The second has to do with the spectacle of the "beautiful game." We have the best seat in the house to enjoy the technical and tactical prowess of the players. We need to let the game flow so it stays interesting.
At the lower levels, ideally there is a reciprocal relationship between the officials and the teams to contribute to the development of the sport. I used to be the head referee at the Guelph Soccer club. There I emphasize a mentoring role amongst referees, that they need to be teachers for athletes or coaches that may not know the rules or etiquette of the game. Again, this is the type of situation that is easier for a 20 year old than a 14 year old.
SIRC: What do you make of the stories about negative coach or parent interactions with youth referees?
MSB: These situations are absolutely unacceptable. People know it's not OK yell at kids in everyday life, but once they step on the field in their official's jersey it's somehow acceptable? Youth sport not only serves as a development opportunity for the athletes, but also for the referees – providing opportunities to develop their officiating skills and important life skills. The sad thing is that a number of measures are in place to deal with this type of abuse – for example, getting rid of standings and scoring for athletes under 12, and badges to indicate referee age. But they have not addressed the issues. These early officiating experiences are a formative time – for some youth, they may ultimately decide to work at a fast food chain than get yelled at on the field. Sadly this culture can affect officials of all ages, causing significant challenges with the long-term retention of officials.
SIRC: Many sports have seen technological advancements influencing training and competition. In soccer, the use of video assistant referee (VAR) was getting a lot of attention during last season.
MSB: I think these types of technical advances in the sport are not going anywhere – they're here to stay. But I recognize their introduction hasn't left anyone indifferent – it seems you either love it or hate it. From a referee perspective, VAR is a positive addition, but it does require some adaptations to what we used to do. For instance, it's the worst feeling in the world to realize, after stepping off the field, that we made a mistake that impacted the outcome of the game. In these circumstances, VAR is a nice safety net. Ideally, the officials on the field see everything perfectly and we don't need it. But, the second-best scenario is having teammates – the VARs – able to recommend we take a second look at the incident. It's comforting for officials and for the teams to know that significant mistakes will be minimized.
I think advances in training and physical conditioning have also influenced the game – for the athletes, obviously; but also for the officials. We now have tools to track the movement of referees on the field and better understand the physical demands of officiating the sport. This helps with our physical preparation for the games. I have to train, just like the athletes.
SIRC: You've talked about some of the challenges you've confronted as a female official. What do you think about the current state of women's soccer overall?
MSB: I really like officiating women's games. Being on the field, the athletes are so technically and tactically gifted. For a variety of reasons, I think it's a purer form of the sport – they play for pride, they play hard, they don't do the drama, they play by the rules of the game. Women pour their hearts out on the field, and I think the spectators notice it too. I think the gains the women's game have made in terms of recognition and respect are well deserved.
SIRC: To wrap up, our time together, what advice would you give aspiring officials?
MSB: These are always tough questions! I think the first would be to enjoy the process. Think about your dreams, but consider what goals you'll have to achieve to make the dream a reality. What has kept me motivated was the challenge of refining my skills and building my experience. I was always looking forward to the next, more difficult game. I think success in this type of role requires that you relish the challenge.
The second piece of advice would be to be humble and learn from every game. This is true at every level, form community sport to international competition. This approach to officiating lets you learn from mistakes and complicated situations to be better for the next game.
About Marie-Soleil Beaudoin
Marie-Soleil Beaudoin is a Canadian soccer referee and instructor of physiology and biophysics at Dalhousie University. At the 2019 Women's World Cup in France, she was the referee in charge of four matches including the Semi-Final between Netherlands and Sweden. Following her performance at the World Cup, she received a prestigious appointment to the inaugural Trophée des Championnes. Beaudoin also refereed the final of the FIFA U-17 Women's World Cup Uruguay 2018 and the inaugural Canadian Premier League match in Halifax, NS; and at the 2015 Toronto Pan American Games. Earlier in her career, she also officiated women's tournaments for U Sports and the Canada Summer Games. Marie-Soleil has a PhD in Human Health and Nutritional Sciences from the University of Guelph, and lives with her partner and son in Halifax, Nova Scotia.
---
About the Author(s)
As SIRC's Manger – Content Strategy, Sydney Millar solicits, supports and curates content from researchers, experts and thought leaders from the broad sport and physical activity sector.
---
The information presented in SIRC blogs and SIRCuit articles is accurate and reliable as of the date of publication. Developments that occur after the date of publication may impact the current accuracy of the information presented in a previously published blog or article.