Photo credit: Denise Maxwell
Organizers of the Birmingham 2022 Commonwealth Games plant trees for a new Commonwealth Games Forest that will serve as one of the Games' legacies.
---
Highlights
SIRC asked Teddy Katz to explore how sport organizations, big and small, are grappling with sustainability and looking for ways to make it a priority.
Teddy looks at the some of the ground-breaking initiatives taking place this summer at the Commonwealth Games in Birmingham, and how Team Canada has added sustainability to its preparation.
He also puts the spotlight on a group of Canadian Olympians offering support to sport organizations in the areas of sustainable practices and carbon reduction, and how a provincial sport organization is leading the way with a sustainability charter.
To conclude, Teddy provides examples of what national, provincial, territorial and grassroots sport organizations can do to reduce their carbon footprint with insights from leading experts.
At a United Nations Conference on the role of sport in combating climate change in April 2022, conference participants noted that sport is both a casualty of and a big contributor to climate change.
Lindita Xhaferi-Salihu is the Sports for Climate Action lead at the United Nations Framework Convention on Climate Change. She says sports leave a large carbon footprint with infrastructure that's built for large and small events, and emissions that go hand in hand with travel of participants and spectators.
"Sports can lead through action but also by example," she says. "Imagine all sports using their platforms to educate their athletes and fans and to bring them along on the journey. Imagine all sports positively advocating for climate action towards policy makers, their supply chain, sponsors, and their communities."
At this same conference, the United Nations representative from Qatar pointed out that one of the main venues constructed to host this fall's World Cup of soccer has been built using 974 recycled shipping containers. It's a symbolic number, as that's also Qatar's country code. After the tournament, many venue seats will be removed and donated to developing nations. Organizers are pledging to host the first carbon neutral FIFA World Cup.
The International Olympic Committee (IOC) has been encouraging global sport bodies to join the United Nations Sports for Climate Change Framework. The IOC and about 300 other signatories have agreed to reduce greenhouse gas emissions by 50% by 2030. To date, there are five Canadian signatories: Tennis Canada, the Canadian Olympic Committee, the Canada Games Council, the Banff Marathon, and the World Athletics Masters event in Toronto.
"We see sports for climate action as a mass movement that has already started but has so much more to give," says Xhaferi-Salihu.
The Birmingham 2022 Commonwealth Games take sustainability to a new level
At this summer's Commonwealth Games in Birmingham, England, organizers want the Games to be remembered for a lot more than just medals and great athletic performance. The organizing committee has set out a bold ambition by pledging to be the most sustainable Commonwealth Games yet and to leave a carbon neutral legacy.
The organizing committee has focused on reducing carbon emissions and where possible changing public behaviour. They've looked at areas that might be considered carbon hotspots and worked with their internal teams and suppliers to find innovative solutions when it comes to energy, food, waste, procurement and transportation, among other things. They're using mostly existing venues and including public transportation for spectators with their tickets. To help educate the public, they're including a journey planner for ticket buyers, which explains the carbon impact from using different modes of transportation.
"From a Commonwealth Games perspective, I think we are pushing the boundaries on what previous Commonwealth Games have done with the carbon management approach and with new standards and new technologies," says Joanna Leigh, who is a Sustainability Coordinator for Birmingham 2022. Leigh, who was part of the field hockey squad which won a gold medal for Great Britain at the Rio 2016 Olympics, says one of the key lessons for others is not to look for perfection before putting a plan in place.
"I think that overcoming that idea of having to be perfect in this journey is a powerful aspect of what I've learned. I think that's something that resonates in sport. As an athlete or as a coach, you start your journey and put out your big ambition (to win an Olympic medal), and then you work incredibly hard to get there. You come up with [seemingly insurmountable] challenges and barriers. [It's the same with fighting climate change]. Everyone's actions move that ambition forward and can make it happen."
Birmingham 2022 estimated what the carbon footprint would be for the Games in 2020, updated those numbers with more accurate figures the next year, and plans to issue a full sustainability report when the Games end. Leigh says measuring the impact and holding yourself accountable are two other important lessons.
"Understanding what the carbon footprint of sport is, whether that's for sport organizations or events, it's very difficult because there's not a lot out there for benchmarks. Our aim is to be open and transparent about our process so that we can add to that picture. We've gone on a massive process of learning over the last couple of years and plan to share some of that learning as part of our legacy."
Another part of the legacy is to offset emissions that can't be eliminated. One of the main ways they plan to do that is by planting 2022 acres of a new Commonwealth Forest in the area. That forest is to be managed by Birmingham 2022's Nature and Carbon Neutral Supporter, Severn Trent, one of Britain's largest water companies.
Leigh says having sustainability as a key priority from the leadership at Birmingham 2022 from the beginning has allowed all of this to happen. "I think that's probably something of real fundamental value—that by having sustainability as one of your biggest priorities, it helps ensure that there's budget secured and resources, which is a massive thing."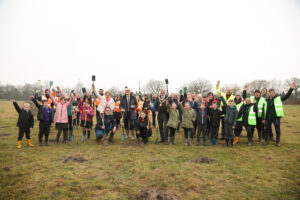 Leigh says a lot of times that doesn't happen. "I think we're waking up in sport to the fact that this issue of sustainability, climate change, and carbon emissions is something that sport needs to address. But we're not. There are many instances across sport where it's coming up, but the budget isn't there or needs to be negotiated out of someone else's budget because it's been thought of too late. But things are starting to change."
Team Canada to be carbon neutral in Birmingham
For those Commonwealth Games, the team Canada is sending has implemented its own plan to be carbon neutral in Birmingham. That plan involves a carbon reduction strategy.
One of the first things Commonwealth Sport Canada (CSC) did was consult with Canadian researcher Madeleine Orr, Ph.D., a leader in sport and sustainability and founder of the Sport Ecology Group. Orr, who has written about sport and sustainability for SIRC, helped the team calculate what its emissions will be, somewhere between 750 to 900 tonnes of greenhouse gas. Most emissions will come from air travel to and from Birmingham for Canadian athletes and staff.
Ryan Pelley is helping oversee the program for Commonwealth Sport Canada. He says it can feel daunting to get started. "I would say just take the first step. That's done by realizing and acknowledging that we have a responsibility to the environment and need to take action."
Another key, Pelley says, is to reach out to these experts in the field who can guide you. Orr helped the team devise a strategy that limited travel in the lead-up to the Games by holding more video conferences, using e-documents rather than paper, reducing packaging on supplies and equipment, and staying in low-energy and low-water hotels.
Pelley says they'll issue a report about how they did after the Games. "The biggest thing is to be able to measure that impact. So not just say, 'Hey, we're responsible, we believe in these things.' It's about having a plan set forward, taking meaningful action, and then showing the results of those actions through measurement, including what we accomplished and where we can improve in the future."
Team Canada has also provided athletes, coaches and mission staff with online climate awareness training and education, in which Orr highlighted Team Canada's carbon neutral efforts.
At home, Commonwealth Sport Canada is investing several thousand dollars in carbon offset projects. In areas where carbon emissions cannot currently be eliminated or reduced, the goal is to remove the equivalent volume of gases from the atmosphere in Canada compared to what the team has produced in the lead-up to the Games or will create during Birmingham 2022. "A lot of verified, high quality carbon offsetting projects are located in Canada, for example, projects converting loggable land to protected forests on Indigenous land in BC and projects in Ontario which see forests being protected to retain their carbon capture potential," Pelley says.
He adds with government and corporations focused on environmental, social, and governance (ESG) goals, sport organizations must do their part. "I think it's absolutely a priority for environmental responsibility and climate action within sport in Canada. I don't know what the future holds with regards to environmental responsibility obligations for sport organizations. But I would anticipate that there might be a need to meet certain (sustainability) standards, in order to potentially receive funding," Pelley says.
Olympians Racing to Zero
One organization that's helping to bring world-leading sustainability practices to provincial and local sport organizations in Canada is Racing to Zero, a not-for-profit founded by two-time Canadian Olympian Seyi Smith. Alongside fellow Olympians Oliver Schofield, Martha McCabe, and Donna Vakalis, Racing to Zero offers sustainability education and audits to sport organizations. It also provides support to sport organizations working on carbon improvement initiatives.
For example, Racing to Zero has worked with local track and field meets in Calgary to evaluate their overall sustainability. For this project, they helped the meet directors develop baseline emission and sustainability scores for each meet. Learn more about the evaluation findings.
One of their conclusions was that there's lots of room for improvement when it comes to changing behaviours around transportation, where the bulk of emissions are generated. It was partly a by-product of COVID-‑19, but most participants and spectators drove to the events in their own cars rather than cycling, car-pooling, or using public transportation.
Another key finding related to procurement. Event directors were often unaware of their influence over suppliers. Smith recommended race directors collaborate with their food, awards, clothing, equipment and hotel suppliers and ask about their sustainability practices. For example, Racing to Zero identified race bib and medal suppliers that meet minimum sustainability thresholds for track and field events.
They also examined the waste at these meets and found most was going to landfills even though much of that waste could have been composted or recycled instead.
Smith has had similar conversations about sustainability with about 25 national and provincial sport organizations (NSOs and PSOs) from around Canada. "The main thing I'm finding is that 98% of the sport organizations don't have knowledge or awareness about what they can do. Those are the same people who do host 90% plus of all the sporting events in the country. That's the opportunity we see."
Smith believes Olympians like himself can make a huge difference in the fight against climate change. "Olympians are uniquely positioned as role models who cross cultures, and we need to embrace that power and our platforms." He adds, "We can be players in the biggest comeback story the world has ever seen: the climate comeback."
A provincial association leads the way
While many sport associations are struggling to figure out where to start, a group that Smith says is light years ahead of others is the Quebec provincial cycling federation, Fédération québecoise des sports cyclistes.
In 2020, the association published a sustainability charter after working with Triathlon Quebec who were leading the way on that front. The charter, which began in 2019 with the staff at the Quebec cycling federation, lays out clear objectives and actions for staff, members and events to reduce their carbon footprint, waste, and energy. In addition, the federation introduced 3 levels of certification for their events (gold, silver and bronze) with 50 actions that can be taken to make events more sustainable.
To achieve the gold standard, events must complete 40 of these 50 action items. This includes actually measuring the carbon footprint when it comes to transportation, which is the biggest source of emissions. The aim is to reduce those emissions from year to year. For silver, events need to complete 30 of the action items.
Bronze is designed to get events to start thinking more sustainably. Among other things, the event has to put two people in charge of their sustainability efforts. One must attend an educational webinar hosted by the Quebec cycling federation. The hope is this will be the start and events will eventually go even further in their sustainability efforts.
"If athletes and participants have the choice between two events, they probably will choose the event which gets certification if they are aware of sustainability. Then, if the choice is between a bronze event or silver, this could be another motivation for the organizers to get a little better," says Aurélien Morel, the sustainability lead for the Quebec cycling federation.
He says the goal is to see these sustainability actions lead to more sponsorship dollars for the federation that it could pass on to events that reach the gold standard. Morel, who is originally from France, says there's a green charter in place for sport events there."We felt it was about time to do it. We really want to be in line with what is happening in the world."
Expert insights on sport and sustainability
A good place for any sport organization to turn to at its outset, if it's trying to become more sustainable, is groups like the World Resources Institute. It offers a global standard for organizations to measure their carbon footprint.
But there's a danger if that sport body isn't fully committed, according to Rob Millington, who's an assistant professor of Sport and Social Change at Brock University. He says sometimes groups choose carbon offsetting, but that doesn't undo the carbon emissions and can take years to provide meaningful results. "There's a real risk of greenwashing from sport organizations and individuals who feel external pressure to commit to sustainability, but end up only doing so in a superficial way."
There are useful Canadian websites offering information about carbon offsets, including:
Adam Ali, who's an assistant professor of Sociocultural Studies in Kinesiology at the Western University, says he believes sports must think in bold new ways about how they operate which could involve making big compromises to their core business. "We saw during the pandemic, we could decrease the amount of travel. [NBA or NHL] teams played a series of games in one place, which significantly cut down on things like carbon that's produced via travel. We need to think creatively about how we can reimagine a sporting venue that actually contributes to environmental health rather than simply try to limit the destruction it causes."
Rob Millington agrees it's time to reimagine sport. "What we really need to be doing is looking at reducing our carbon footprint and reducing the scale of these sporting events. I think during the pandemic we saw that there are other ways to envision sport and mega events moving forward that doesn't mean building bigger and bigger every year."
Millington says there are some great examples of teams functioning in new sustainable ways, trying to serve as role models and making a big impact including the Forest Green Rovers, a soccer team in the United Kingdom. "The owner of that team owns a green energy company. He's trying to model what a sustainable future for sport could look like. The pitch they play on is organic. They used reclaimed wood to build the stadium, green energy to power the stadium and serve only vegan food to players and fans. Through these types of initiatives, it's feasible to make societal changes to work towards more sustainable futures."
For organizations just starting out though, Ali says to begin with internal conversations about what they can do, look at their capacity to set realistic expectations and seek out experts. "There are many researchers around Canada that do this work who would be absolutely willing to speak to or provide support to NSOs and PSOs. From a researcher perspective, we're always thinking about ways we can translate our research into meaningful action at various levels."
Both Millington and Ali agree it's now time for urgent action around sport and sustainability. "All sport organizations should be reflecting upon how they're impacting the environment, and what steps they can take to mitigate some of those things. Even if it's just having these types of conversations, I think that's such an important first step," Millington says.