Fast and Female Champ Chat – Edmonton (AB)
Event Date:
Jul. 27, 2017
1:30pm
Hawrelak Park
Register here: https://www.fastandfemale.com/programs/edmonton20170727/

Fast and Female Champ Chat presented by Fuelling Women Champions in Edmonton, AB
Join us for an afternoon of empowerment through sports during the ITU World Triathlon Edmonton! This Champ Chat includes a physical activity circuit, yoga, autographs, and an inspirational chat with our Fast and Female Ambassadors.
Fast and Female Ambassadors:
Alison Criscitiello - Iron Woman
Danielle Wotherspoon Gregg - Long Track Speed Skating
Melissa Lowe - Bobsleigh
Victoria Spence - Long Track Speed Skating
WHEN: Thursday, July 27, 2017 from 1:30pm-4:30pm MDT
WHERE: Hawrelak Park, 9330 Groat Road, Edmonton, AB, T6G 2A8
WHO: Girls ages 8-18 years old 
COST: $30 
Online registration closes Tuesday, July 25th at 11:59pm MST.
Day of event registration is $35
REGISTRATION INCLUDES: 
CHAMP CHAT SCHEDULE:
1:00pm - Check-in / Registration (30 minutes prior to event)
1:30pm - Welcome to Fast and Female / Introduce Ambassadors / Group Photo
1:45pm - Physical Activity Circuit with Fast and Female Ambassadors
2:45pm - Milk Break presented by Fuelling Women Champions
3:00pm - Inspirational Chat and Q&A with Fast and Female Ambassadors
3:30pm - Yoga / Dance Session
4:00pm - Autographs & Photos
4:30pm - Event Conclusion
WHAT TO BRING:
A freind with you!
Water Bottle
Active Clothing
Gym Shoes
Snack 
Yoga Mat (Optional)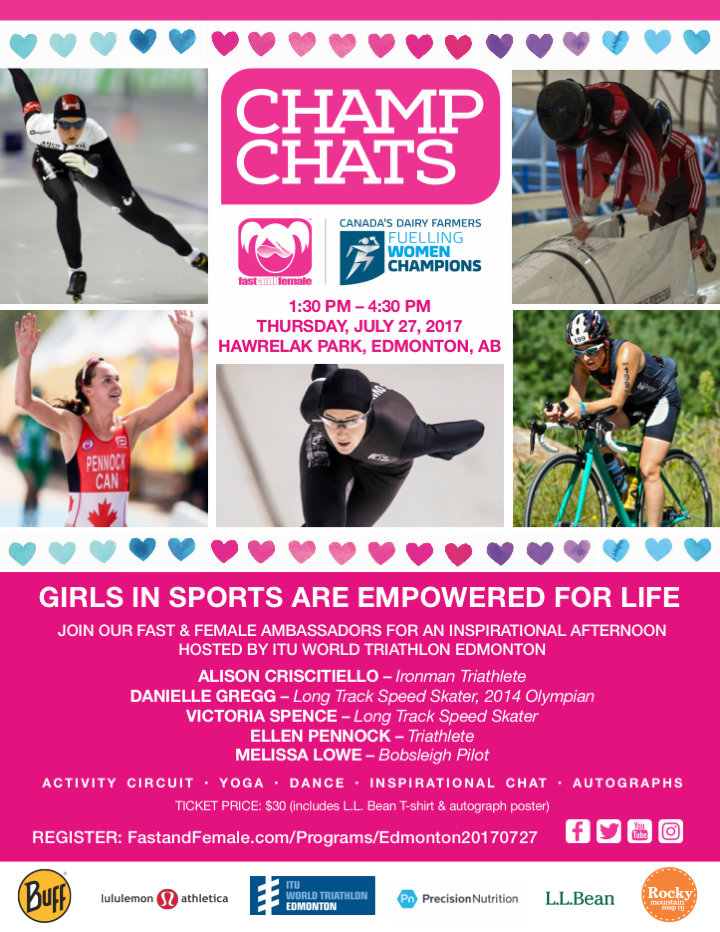 SaveSave